Brad Thomas wrote this article and it has previously appeared on Seeking Alpha.
I'll be honest, the last pick was the hardest.
I was torn between the last pick, debating most of my Saturday as to whether I would go with American Tower or AvalonBay.
I was really leaning to go with AvalonBay, but I decided at the last minute to include American Tower.
As a reminder, the DAVOS REITs were picked because of their high-quality attributes and most importantly for their dividend repeatability. While these REITs do not represent all of my favorite picks, they embody a diversified basket that serve as a proxy for robust dividend growth in the REIT sector.
I'll be honest, the last pick was the hardest.
It was easy for me to select DLR, VTR, O, and SPG – because these four REITs have scale, experience, and muscle – all essential elements of durability. However, I was torn between the last pick, debating most of my Saturday as to whether I would go with American Tower or AvalonBay (AVB).
I was really leaning to go with AvalonBay, but I decided at the last minute to include American Tower. It was a tough call, but after reading this article you should have better insight into why I selected American Tower.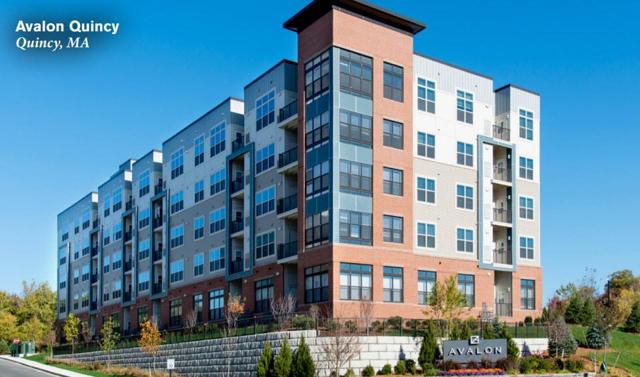 As you know, I have written a handful of articles on Multi-Family REITs, but they have been limited to a few small cap names like Preferred Apartment Communities (APTS) or NexPoint (NXRT). The primary overhang for the sector has to do with over-supply and the returns (year-to-date) have been lackluster.

Again, there are outliers, like APTS, but the performance has not been particularly impressive. At some point, supply will improve, and Multi-family REITs should become more popular investment vehicles, but until the dust settles, I am not getting too excited (the cranes in NYC and Seattle seem a bit "bubbly" to me). As Hoya Capital summed up,
"Since 2014, multifamily construction has surged off these low levels and has returned to pre-recession levels. The boom in multifamily supply has resulted in soft rental conditions, particularly in the luxury segment…
2017 was supposed to be the year that we saw a spike in new supply, but construction delays have pushed back many of the completions into the second half of 2017 and into 2018…We expect completions to remain in the 350-400k/year range through 2018, which will continue to put downward pressure on rent growth, all else equal."
AvalonBay Communities is an equity REIT with a long-term track record of developing, redeveloping, acquiring and managing distinctive apartment homes in some of the best U.S. markets, and delivering outsized, risk-adjusted returns to shareholders.
The company has over twenty years of experience in some of the best performing US markets – those with key structural advantages. These markets are located in the Northeast, Mid-Atlantic, Pacific Northwest, and Northern and Southern California regions of the country.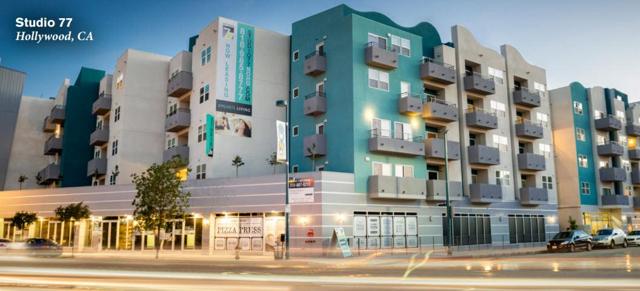 AvalonBay's in-house market research team, guided by their proprietary models, identifies the best submarkets for growth. Often challenging conventional wisdom, their data-driven insights guide the company to smart, targeted growth.
AvalonBay has created three distinct apartment community brands based on a deep knowledge of customers and what they are looking for in an apartment living experience. These three offerings – Avalon, AVA and eaves by Avalon – allow AvalonBay to address different needs of the renter market, more deeply penetrate core markets, reach new customers, and better serve existing residents.
Since development is a local business, AvalonBay maintains 11 regional offices, each fully staffed with a team of professionals in development, construction, and residential services. AvalonBay chooses to act as its own general contractor in most cases, allowing the company to further control costs and quality while ensuring that the communities are developed to last.
As of Q2-17 AvalonBay holds a direct or indirect ownership interest in 287 apartment communities containing 83,123 apartment homes in 10 states and the District of Columbia, of which 23 communities are under development and nine communities are under redevelopment.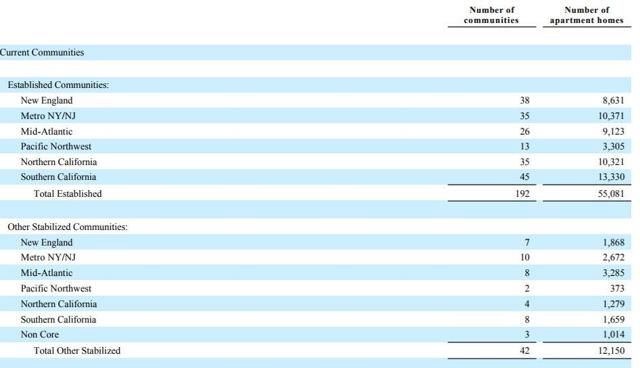 The Quality Balance Sheet
One of the reasons that I was attracted to AvalonBay as a potential DAVOS pick was because of the company's balance sheet strength.
So far in 2-17 AvalonBay has raised $1.5 billion of external capital, much of it in connection with the refinancing of maturing debt. The company expects to raise another $400 million or so for the balance of the year.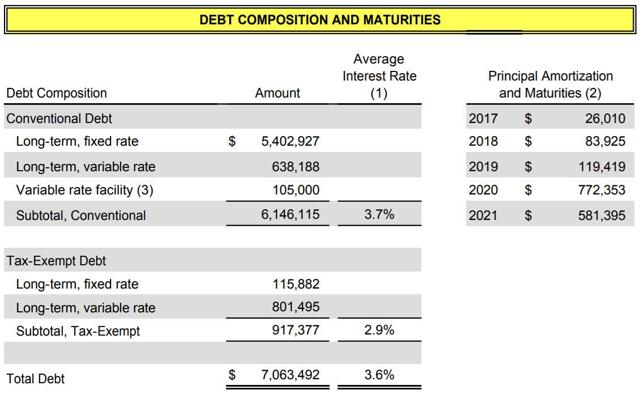 The capital activity this past quarter significantly improved AvalonBay's debt profile. Duration is increased with average years to maturity above 10%, an increase of a couple years versus the average so far this cycle.
Also, the average interest rate on total debt has fallen by 150 basis points since the beginning of the cycle and now stands at 3.6%. The company has little exposure to debt maturities over the next two and a half years, with just over $200 million coming due before 2020.
In addition to reduced liquidity needs related to rolling debt over the next two to three years, the strength of AvalonBay's credit metrics provides the company with plenty of financial flexibility: Debt to EBITDA remains at 5x, which is the low end of the target range. Fixed charge coverage stands at 4.7x and unencumbered NOI is up materially to 88% of total NOI.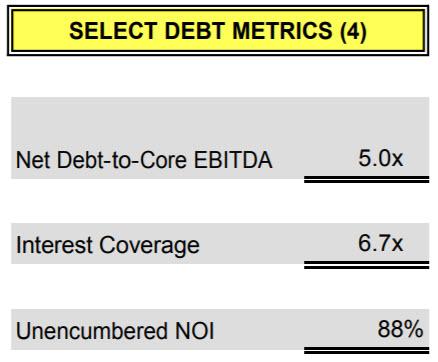 AvalonBay's balance sheet and credit profile is well positioned and gives the company flexibility to support continued growth through new development, while also providing a healthy margin of safety as the company moves into the latter years of this cycle.
Keep in mind, AvalonBay is rated A- by S&P and American Tower is rated BBB-. This is important to recognize and is also one of the reasons that I struggled with the inclusion of AMT in the DAVOS model.
Mediocre Earnings Results
AvalonBay's saw core FFO per share growth of 3% in Q2-17 and Same-store revenues grew 2.6% including redevelopment. The company completed $400 million in new developments at an initial projected yield of 7%, representing net value creation of close to $200 million.
AvalonBay updated outlook for the year, and now expects core FFO growth of 5%, which is down 50 bps from the original outlook of 5.5%. Same-store NOI is forecasted to be a little bit lower at 25 basis points.
NOI from development and other stabilized communities is expected to be off by roughly $7 million from AvalonBay's original outlook driven by schedule delays at a few developments. Development starts are expected to be about $100 million less than expected and nd external funding is expected to be up by about $200 million from the initial outlook, driven mainly by the payoff of a $550 million Freddie pool that was scheduled to mature in 2019.
Here's how AvalonBay's FFO forecast compares with the peers: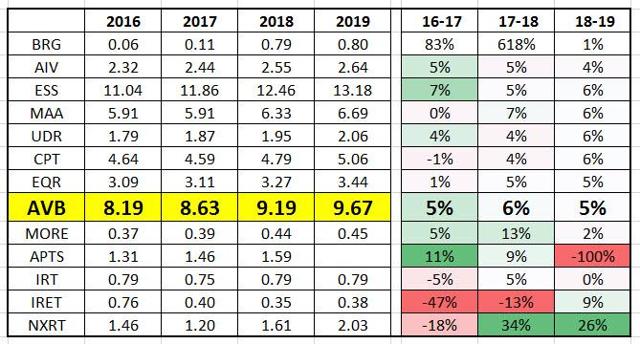 As you can see, AvalonBay is projected to generate stable FFO/share growth…Let's compare that to the company's historical (FFO/share) performance:

Since 2010, AvalonBay has grown FFO/share by an impressive 10%, but now let's compare that to American Tower:

Now let's take a look at AvalonBay's dividend growth history:

Now let's compare that to American Tower's dividend growth history:

Why AvalonBay Is Not In My DAVOS Portfolio
Now you can see why I included American Tower over AvalonBay; however, I would still like to own this Multi-Family REIT. Remember, there are just a handful of A- rated REITs that deliver such strong performance. Just take a look at AVB's historical earnings and dividend growth history: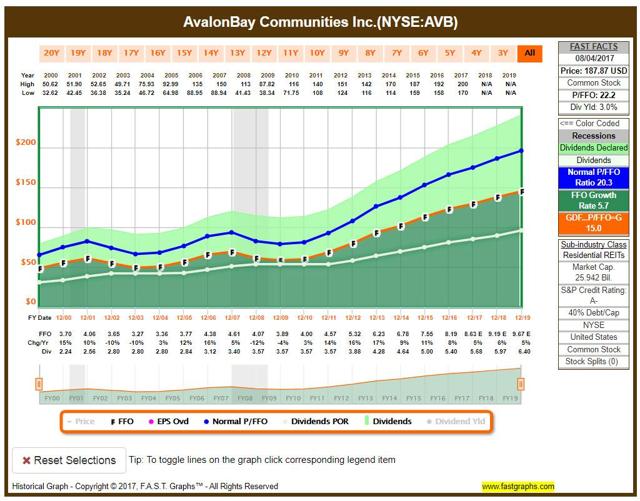 Now let's take a look at AvalonBay's dividend yield compared with the peers:

Now let's compare the Payout Ratio:

Now let's compare the P/FFO multiple:

The Bottom Line: I like AvalonBay and I consider this REIT one of the best in the Multi-Family sector; however, I am not inclined to include this company in the DAVOS portfolio due to the less exciting dividend growth. Although AvalonBay has enjoyed a good history of dividend growth, there were a few years in which the company did not grow its dividend.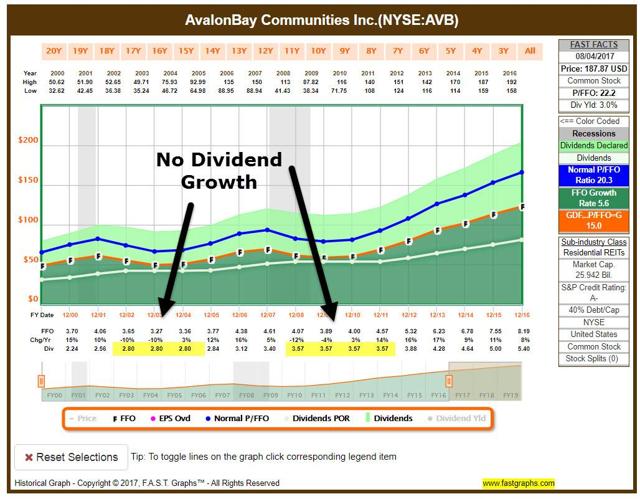 I believe that AMT is better-positioned to deliver double-digit dividend growth and ultimately superior Total Return performance. I'll continue to monitor AvalonBay in hopes that I will be able to become an investor, but now I don't see the necessary margin of safety that would encourage me to hit the buy button.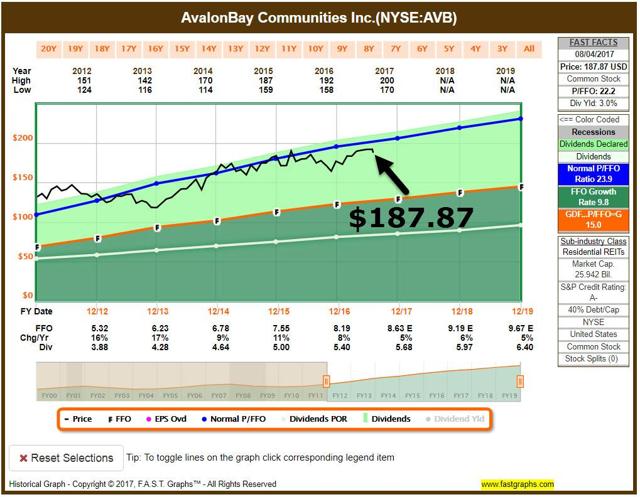 For a limited time, I am providing new subscribers with an autographed copy of The Intelligent REIT Investor. This is a limited offer, so don't miss out!
Note: Brad Thomas is a Wall Street writer, and that means he is not always right with his predictions or recommendations. That also applies to his grammar. Please excuse any typos, and be assured that he will do his best to correct any errors, if they are overlooked.
Finally, this article is free, and the sole purpose for writing it is to assist with research while also providing a forum for second-level thinking. If you have not followed him, please take five seconds and click his name above (top of the page).
Sources: F.A.S.T. Graphs and AVB Investor Presentation.
Disclosure: I am on the Advisory Board of NY Residential REIT, and I am also a shareholder and publisher in theMaven (OTCQB:MVEN).
Disclosure: I am/we are long APTS, ARI, BRX, BXMT, CCI, CHCT, CLDT, CONE, CORR, CUBE, DLR, DOC, EXR, FPI, GMRE, GPT, HASI, HTA, IRM, JCAP, KIM, LADR, LTC, LXP, O, OHI, OUT, PEB, PK, QTS, ROIC, SKT, SNR, SPG, STAG, STOR, STWD, TCO, UBA, UNIT, VER, VTR, WPC.
I wrote this article myself, and it expresses my own opinions. I am not receiving compensation for it (other than from Seeking Alpha). I have no business relationship with any company whose stock is mentioned in this article.