Brad Thomas wrote this article and it has previously appeared on Seeking Alpha.
If an investor had purchased an equal-weight version of FANG on January 1st, he or she would have generated returns of around 36%.
Now, I'm closing the loop and providing you with my last pick, and as you know, the five-letter acronym is DAVOS.
This means that I am now writing on a REIT that has a ticker symbol beginning with the letter "A".
As many of you know, I recently decided to create my very own FANG for REITs portfolio and instead of using the best-performing tech stocks - Facebook (NASDAQ:FB), Amazon (NASDAQ:AMZN), Netflix (NASDAQ:NFLX), and Google (NASDAQ:GOOG) (NASDAQ:GOOGL) – I decided to construct a basket of the best Equity REITs.
Technology firms are certainly among the most valuable – Alphabet, Amazon, and Apple are just the ones starting with A – and there is no question that the four stocks that represent FANG are larger than the entire U.S. Equity REIT universe.

If an investor had purchased an equal-weight version of FANG on January 1st,he or she would have generated returns of around 36%.
That's pretty darn good and certainly much better than REITs have performed year to date.
However, most of us own REITs for the primary motive of obtaining predictable sources of dividend income, and while the FANG stocks have been on fire, the dividend income (for the FANG stocks) provides investors with no "sleep well at night" characteristics.
Over time, REITs provide investors with reliable sources of income, and when I decided to construct my REIT version of FANG, I knew that it was extremely important to include the very best REITs that had the most reliable and predictable dividend growth potential.
Now, I'm closing the loop and providing you with my last pick and, as you know, the five-letter acronym is DAVOS. This means that I am now writing on a REIT that has a ticker symbol beginning with the letter "A".
While these are all REITs worth owning, I did not see the value for including them in the prestigious DAVOS portfolio. As I said, these five REITs must have the very best dividend growth potential, and they must be consolidators with a track record of integration and for managing risk through multiple economic cycles.
Some of you guessed the last pick would be American Tower (AMT), and if you were able to accurately guess all of the five REITs, congratulations. Unfortunately, Vanna White is not here to provide you with a gift, so I hope this article provides you (and everyone reading) with valuable reasoning and insight into "more dividend power for American Tower".

American Tower is a Global Consolidator
In the 2016 Annual Report, American Tower's CEO James D. Taiclet, Jr. explains that "the mobile phone has emerged as an indispensable part of our daily lives. It has evolved from a simple talk and text device to a multi-functional necessity capable of internet access, entertainment, travel, health monitoring, document delivery, and personal navigation, among countless other functions. As these handsets and their capabilities have grown and evolved, so too have the mobile networks upon which they rely."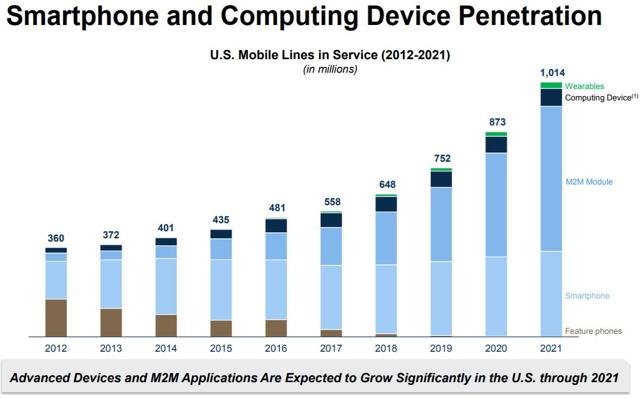 Network deployments will consist of multiple layers - traditional macro cell towers provide a blanket of coverage, while underneath this umbrella, a combination of other technologies is deployed to increase network capacity, particularly in dense urban areas.
Macro sites will continue to provide wide area coverage for high mobility users and be the core of wireless networks. Multiple solutions, including DAS, Rooftops, Wi-Fi, and Small Cell networks will complement the coverage provided by towers.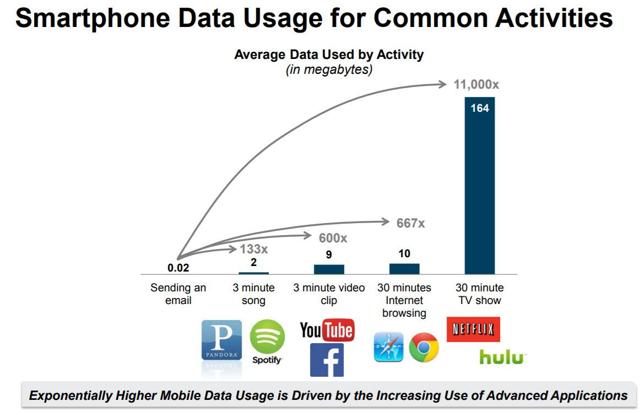 Tower sites continue to be the preferred solution, as they provide the most technologically efficient and cost-effective option for coverage and capacity requirements.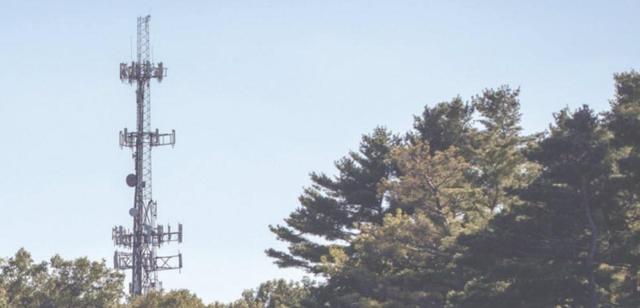 As devices become more advanced, the increasing demand for high-bandwidth applications and higher quality of service result in a narrower range at which signals can be transmitted. As a result, carriers are investing in denser networks.
Cell Tower REITs are more than towers, though they are a network of connectivity. So, when towers are not available, they provide a number of alternative in-building and outdoor solutions that keep people and businesses connected, no matter where activities take them.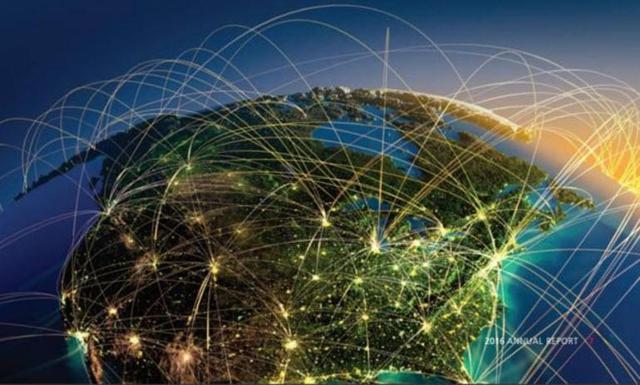 Founded in 1995, American Tower is the fastest-growing player in the world of telecommunications infrastructure. The Boston-based company started out as a subsidiary of American Radio and expanded operations in Mexico, Brazil, India, Chile, Colombia, Peru, Ghana, and South Africa.
The company announced its intentions to become a REIT in 2010, and after obtaining a private ruling letter from the IRS, the company officially converted to a REIT in January 2012. In the same year, AMT reached a historic milestone of 50,000 communication sites (and also launched operations in Uganda and Germany).
AMT grows to meet demand as the demand for mobile device connectivity is exploding and more sites will be necessary to keep people connected.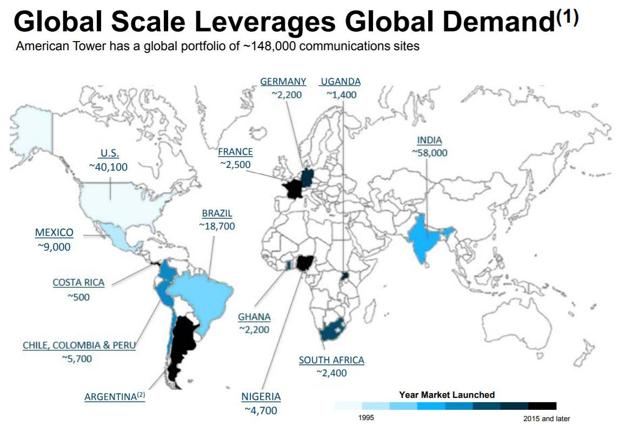 AMT's direct peer, Crown Castle (CCI), was a few years late to the REIT game as the company opted to delay the change until it had exhausted all of its net loss carryovers (an accounting adjustment that allows companies to use past operating losses to offset current tax obligations).
CCI began operating as a REIT on January 1, 2015, and the company owns, operates, and manages approximately 40,100 towers and 27,500 route miles of fiber primarily supporting small cell networks in the United States. See my recent article on CCI here.
AMT has a market cap of around $57 billion, and CCI has a market cap of around $36 billion; combined, these two REITs are larger than Simon Property. Again, I selected American Tower for its size and for its reliable dividend growth.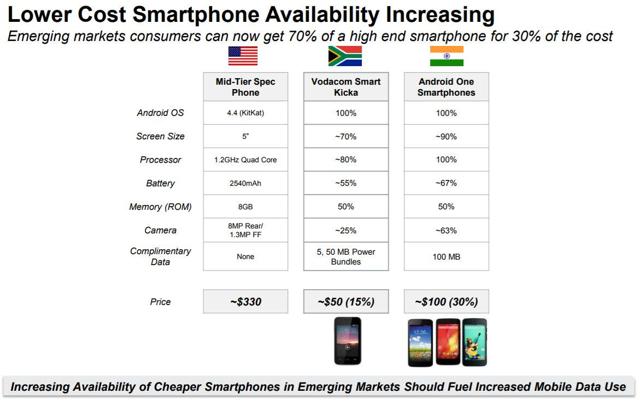 Internationally, AMT invests in Advanced Wireless Markets (Germany and France), Evolving Wireless Markets (Argentina, Mexico, Brazil, South Africa, Chile, and Colombia), and Developing Wireless Markets (Peru, India, Ghana, Uganda, Costa Rica, and Nigeria). AMT's international exposure provides access to significantly less mature wireless markets.
Lower cost smartphone availability is increasing. Emerging markets consumers can now get 70% of a high-end smartphone for 30% of the cost. Increasing availability of cheaper smartphones in emerging markets should fuel increased Mobile Data Use.
In late 2015, AMT acquired a 51% interest (for INR ~76 Billion) in Viom (based in India), and in December 2016, AMT announced it was acquiring FPS Towers in France.
Recently, AMT said it was buying phone towers from Mexico's Axtel (OTC:AXTLY), part of Alfa (OTCPK:ALFFF), for $56M. AMT's MATC Digital unit will take over 142 towers in the deal, and Axtel will rent them back for 15 years.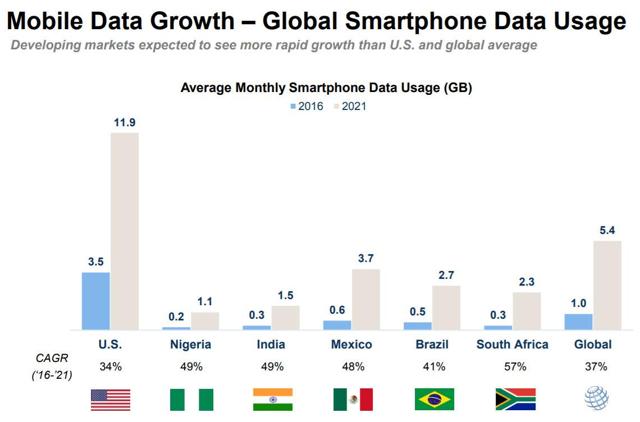 U.S. mobile data usage continues to skyrocket, and the average U.S. smartphone user now consumes more than 4.4 gigabytes of mobile data per month, up over 400% from just three years ago.
Further projections suggest that average smartphone consumption is growing another 200%, reaching more than 14 gigabytes per month by the end of this decade. To serve this demand with 4G technology, which is largely delivered through macro tower sites, AMT's tenants continue to collectively invest around $30 billion per year to improve the quality and expand the capacity of their mobile networks.
AMT expects similar levels of wireless-industry network investment to continue for many years to come based on the limited options for wireless operators to address the exploding demand for mobile bandwidth and signal quality, which are inherently limited by the physics of radio-wave frequency transmission (5G for its first years of wide scale deployment in the 2020s is likely to be limited to an effective transmission radius of 100 to 200 yards). 4G will remain critical, even post-5G introduction: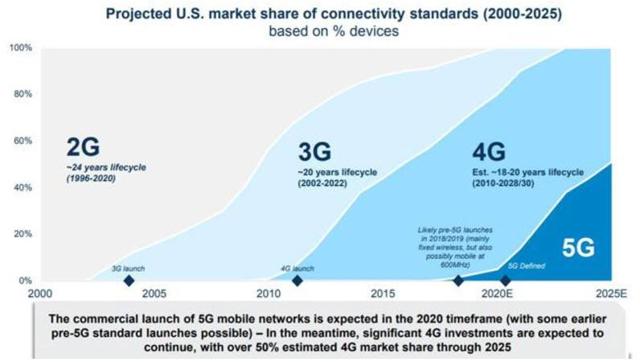 During the second quarter, AMT's property revenue grew nearly 15% to $1.64 billion.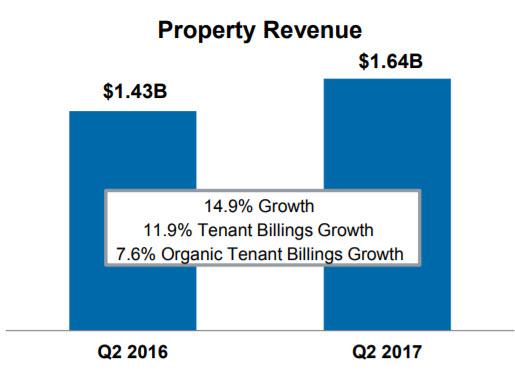 AMT's Organic Tenant Billings Growth was ~8% › U.S. Organic Tenant Billings Growth of over 6% reflects sustained 4G investment activity by key tenants › International Organic Tenant Billings Growth higher than internal expectations due to strength in Latin America and delayed churn in India. International portfolio continues to generate significantly higher organic growth than U.S.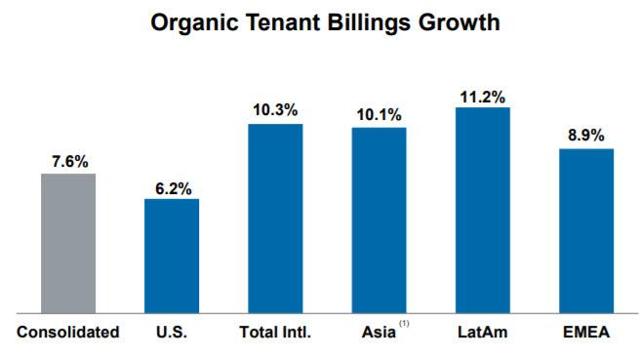 AMT's adjusted EBITDA grew 17.5% to approximately $1.02 billion in Q2-17. The Adjusted EBITDA margin expansion was driven by conversion of a vast majority of organic revenue growth to Adjusted EBITDA, both in the U.S. and in international markets.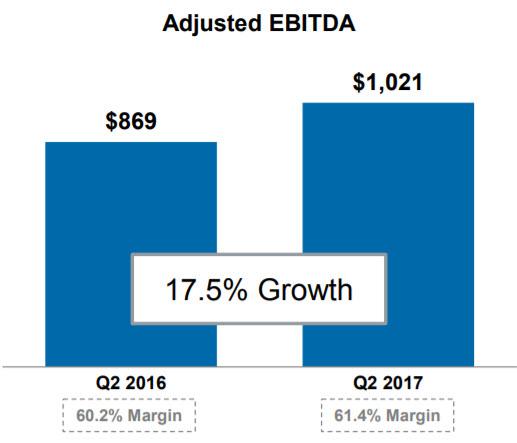 AMT's consolidated adjusted funds from operations increased by over 22% to approximately $725 million. This reflects strong business performance as well as lower than anticipated maintenance CapEx, cash taxes, and cash interest expenses. In addition, consolidated AFFO per share increased by nearly 22% to $1.68, and net income attributable to American Tower Corporation common stockholders increased by more than 114% to $344 million or $0.80 per diluted common share.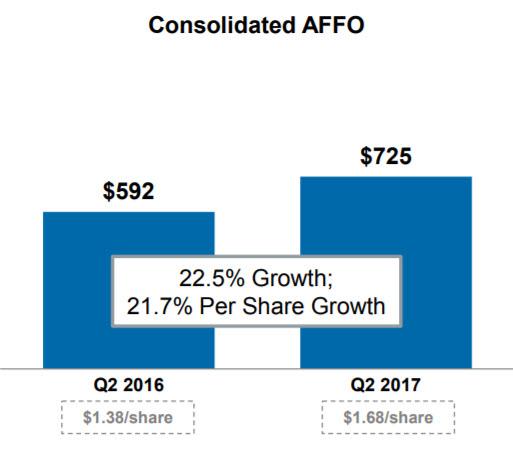 AMT extended its track record of delivering compelling growth across all key financial metrics in the second quarter, highlighted by the 17th consecutive quarter of double-digit growth, property revenue, adjusted EBITDA, and consolidated AFFO. At the same time, AMT continued to grow its common stock dividend by over 21%, and simultaneously repurchased over $400 million shares.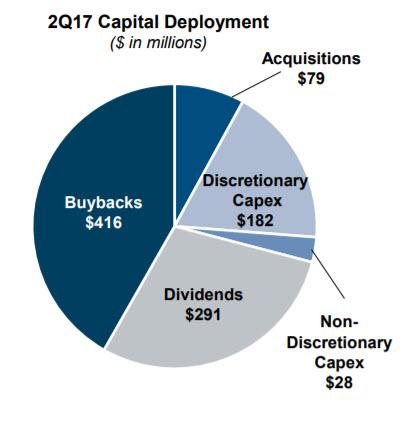 Powerful Capital Deployment
AMT deployed nearly $1 billion of capital in Q2-17, including approximately $79 million for acquisitions and over $400 million for stock repurchases. The company spent more than $182 million for discretionary CapEx to build new sites, enhance the capacity of existing sites, strategically invest in land, and to bring newly-acquired sites up to AMT standards with start-up CapEx.
AMT also spent about $28 million on non-discretionary maintenance and corporate CapEx, representing about 1.7% of consolidated revenues for the period. In addition, AMT paid about $291 million in common and preferred dividends in the quarter, growing the common dividend by around 21% and the payout ratio to around 38%.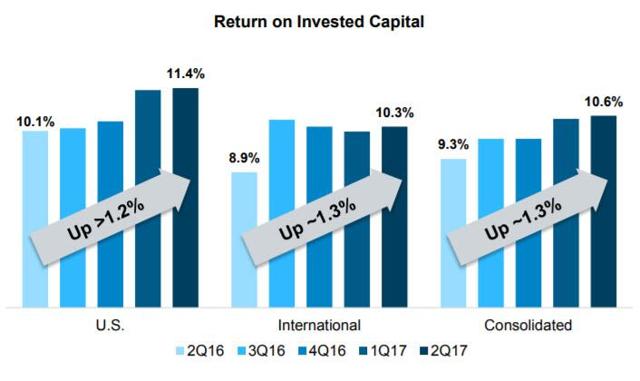 AMT continued to delever and ended the quarter at a last quarter annualized net leverage ratio of 4.5x.
The strength of AMT's capital deployment strategy continues to be evidenced by its track record of growth across key financial metrics, as well as rising returns on invested capital across the business.
The U.S. ROIC, for example, increased over 1.2% year over year to 11.4%, with international ROIC rising 130 basis points to 10.3%. In both the U.S. and international markets, this ROIC expansion continues to be driven primarily by organic new business growth.
As you can see below, the capacity for discretionary capital allocation continues to grow, and AMT expects to use that capacity to help drive compelling total returns for stockholders. Given the 2017 outlook for adjusted EBITDA, of nearly $4.1 billion, AMT anticipates having about $1.7 billion in incremental borrowing capacity for the year, which is about $200 million higher than the prior outlook.
Our view is that American Tower is uniquely positioned on a global basis as a clear leader in the mobile infrastructure industry. We similarly believe that ATC is ideally suited to serve today's primary tenants, which are multi-national mobile network operators, as well as future tenants that may emerge in the IoT space or elsewhere.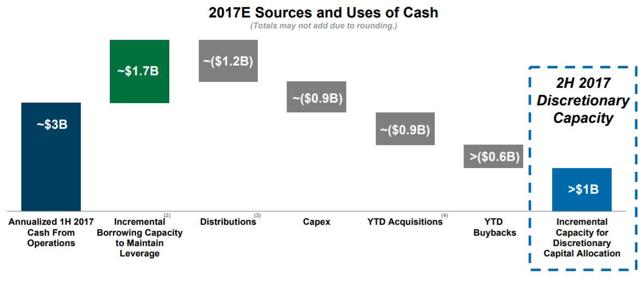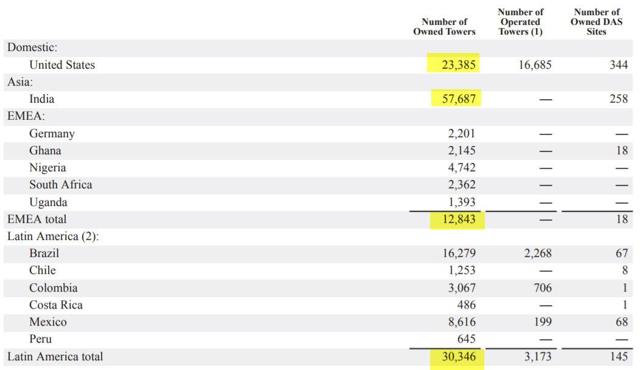 More Dividend Power For American Tower
AMT's foundation is defined by the high quality, comprehensive U.S. portfolio, which is expected to generate significant organic growth for a number of years to come. The REIT also has an international portfolio of nearly three times the size of its U.S. footprint, including key strategic markets like India, Brazil, Mexico, and Nigeria, that the company expects to provide a turbo charger to the U.S. growth. Together, domestic and international operations form a global presence that is unmatched.
Just take a look at the historical FFO/share performance:

Now, take a look at the historical dividend performance:

Now, let's compare the FFO forecast with the Infrastructure peers:

Keep in mind, AMT is precisely the perfect fit for my newly created "DAVOS" portfolio, but I would not BUY shares until there's a better margin of safety. For example, take a look at the current dividend yield:

Now, take a look at the P/FFO compared with the peers:

AMT has performed in-line with the four FANG stocks...

…and AMT has out-performed the Infrastructure REIT peers:

Later this week, I plan to put together a DAVOS article in which I provide monthly updates, comparing DAVOS picks based on FFO growth, dividend growth, balance sheet metrics, and valuation. Similar to Cramer's use of FANG, I will frequently cite DAVOS as the proxy for dividend growth, and these five REITs should collectively deliver the best overall returns on a risk-adjusted basis.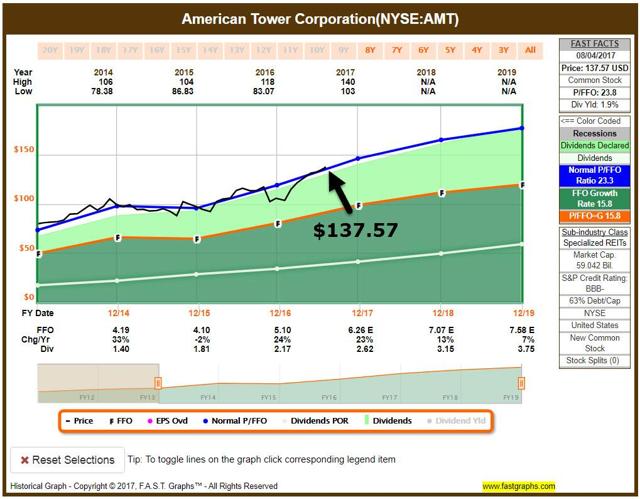 In the future, when you see DAVOS cited by the author, remember that I am referring to not only the most predictable basket of REITs (based on dividend growth) but also the hidden gems that help investors sleep well at night. I hope you enjoyed the series as much as I did, and if you have not followed me yet on Seeking Alpha, please scroll up to the top of the page and do it now.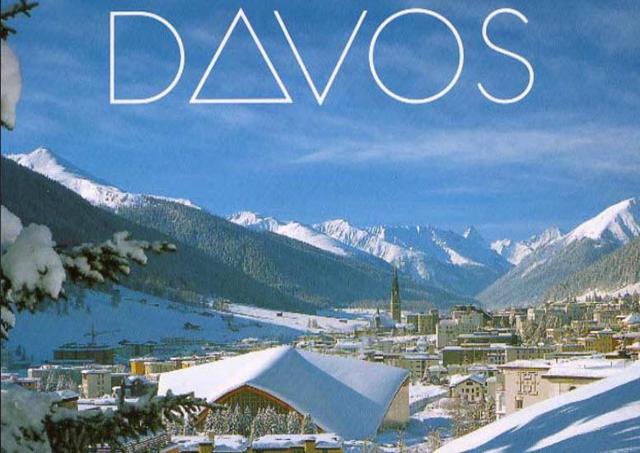 For a limited time, I am providing new subscribers with an autographed copy of The Intelligent REIT Investor. This is a limited offer, so don't miss out!
Note: Brad Thomas is a Wall Street writer, and that means he is not always right with his predictions or recommendations. That also applies to his grammar. Please excuse any typos, and be assured that he will do his best to correct any errors, if they are overlooked.
Finally, this article is free, and the sole purpose for writing it is to assist with research while also providing a forum for second-level thinking. If you have not followed him, please take five seconds and click his name above (top of the page).
Sources: F.A.S.T. Graphs and AMT Investor Presentation.
Disclosure: I am on the Advisory Board of NY Residential REIT, and I am also a shareholder and publisher in theMaven (OTCQB:MVEN).
Disclosure: I am/we are long APTS, ARI, BRX, BXMT, CCI, CHCT, CLDT, CONE, CORR, CUBE, DLR, DOC, EXR, FPI, GMRE, GPT, HASI, HTA, IRM, JCAP, KIM, LADR, LTC, LXP, O, OHI, OUT, PEB, PK, QTS, ROIC, SKT, SNR, SPG, STAG, STOR, STWD, TCO, UBA, UNIT, VER, VTR, WPC.
I wrote this article myself, and it expresses my own opinions. I am not receiving compensation for it (other than from Seeking Alpha). I have no business relationship with any company whose stock is mentioned in this article.