Brad Thomas wrote this article and it has previously appeared on Seeking Alpha.
Over the last few days, I have been writing a series of articles on my newly-created FANG for REITs.
I think Cramer is on to something: FANG has become a household name.
When I think about 'DAVOS', I am reminded of the iconic phrase in Star Wars, "may the force be with you".
I'm sure that you've heard the famous phrase from the Star Wars films, "may the force be with you." As you recall, the Jedi utilized the Force to battle the "dark side" as multiple characters used the iconic phrase.
The Force plays an important role in several Star Wars plot lines, I am sure that you remember the famous line when Obi-Wan Kenobi describes the Force as "an energy field created by all living things".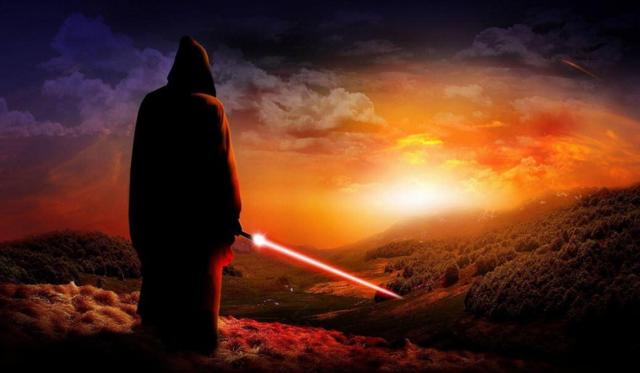 Over the last few days, I have been writing a series of articles on my newly-created FANG for REITs. As I explained in one of the articles,
"I'm sure that you are familiar with the acronym FANG created by CNBC's Jim Cramer a few years ago. It's representative of four of the most popular and best-performing tech stocks in recent memory - Facebook (NASDAQ:FB), Amazon (NASDAQ:AMZN), Netflix (NASDAQ:NFLX), and Google (NASDAQ:GOOG) (NASDAQ:GOOGL)…
I think Cramer is on to something: FANG has become a household name. And I thought to myself, wouldn't it be cool to create my very own REIT version of FANG? Not just to showcase some flashy acronym like SWAN (yes, I wanted to use it but there are no perfect combination of REITs that work), but to create a benchmark of the best REIT performers in one easy-to-use phrase."
Many readers guessed the name of my new "FANG for REITs" in the very first article. I was hoping to keep them guessing, but my readers are way too savvy, and they were able to decipher the 5-letter word in my very first article on Ventas, Inc. (VTR).
What do these 3 REITs have in common?
Size (diversification), Strong Balance Sheet, and Durable Income.
Arguably, these ingredients are the recipe for any successful company, and they are conclusively the primary reason that I have included these REITs in my new FANG for REITs now known as DAVOS.
DAVOS sounds like a planet in Star Wars, but it's really an Alpine town in Switzerland (the highest town in Europe). It's home to the World Economic Forum and the home of Switzerland's biggest ski resorts.
While I hope I can visit the lovely town of Davos one day, the term is more relevant to me as the 5-letter acronym that is derived from 5 of my favorite REITs, all driven by exceptional dividend growth characteristics. So when I think about DAVOS, I am reminded of the iconic phrase in Star Wars, "may the force be with you".

'D' Stands for Digital Realty
The highlight of Digital Realty's (DLR) second quarter was the announcement of the agreement to merge with DuPont Fabros (DFT). This transaction is consistent with Digital's strategy of offering a comprehensive set of data center solution from single-cabinet colocation and interconnection, all the way up to multi-megawatt deployments.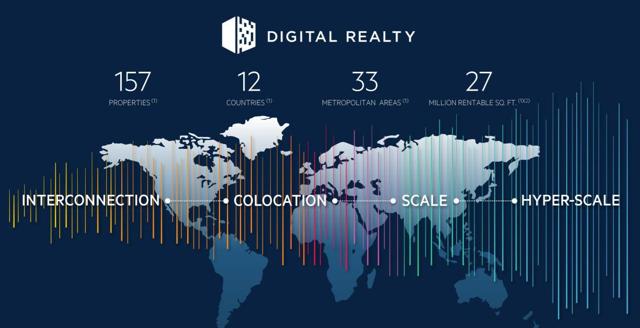 At the far end of the spectrum, this combination significantly expands Digital's hyperscale product offering and enhances the company's ability to meet the rapidly growing needs of the leading cloud service providers. The DFT merger is also consistent with Digital's stated investment criteria, illustrated below: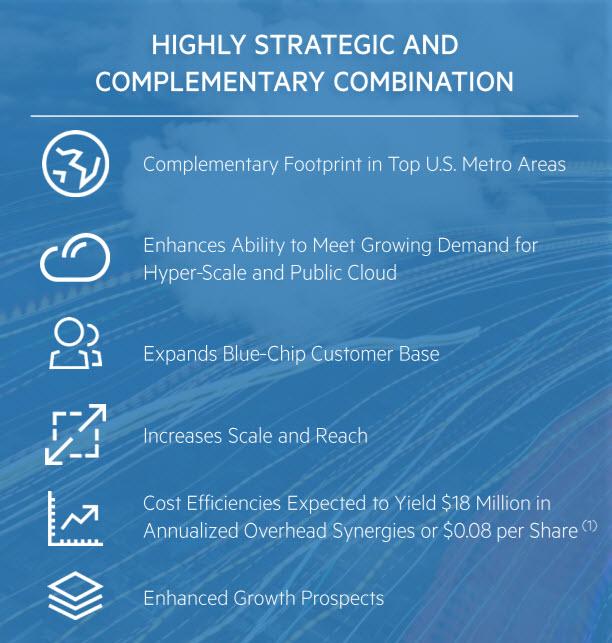 The transaction expands Digital's presence in strategic U.S. data center metros and the two portfolios are highly complementary. The transaction is expected to be roughly 2% accretive to core FFO per share of 2018 and roughly 4% accretive to 2018 AFFO per share. DFT's portfolio viewed below:

The combination also enhances the overall strength of the balance sheet. DuPont Fabros owns a high-quality portfolio of purpose-built data centers, as you can see below: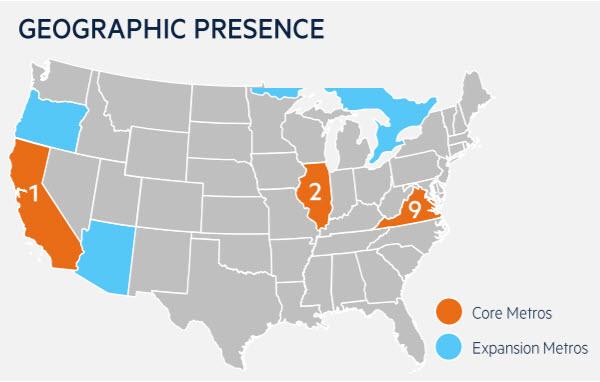 The merger will benefit Digital by bolstering its presence and expanding its product offering in three top tier metro areas, while DFT will realize significant benefits of diversification from the combination with Digital's existing footprint in 145 properties across 33 global metropolitan areas.
The combined company will be the ninth largest REIT in the index with an equity market cap of approximately $24 billion and a total enterprise value of $33 billion.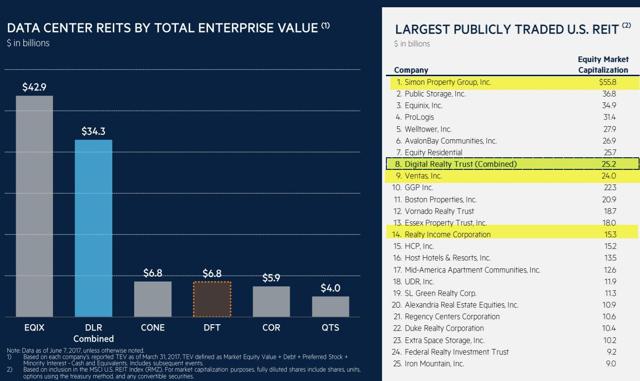 Digital's balance sheet impact will be leverage neutral, but given the exceptional credit quality of the customer base, the long lease terms and the high proportion of owned real estate, the combined companies unsecured debt should improve due to the broader investor base and greater liquidity that should over time result in an even lower cost of capital.
The benefits of this scale translate directly to operating efficiencies as shown below: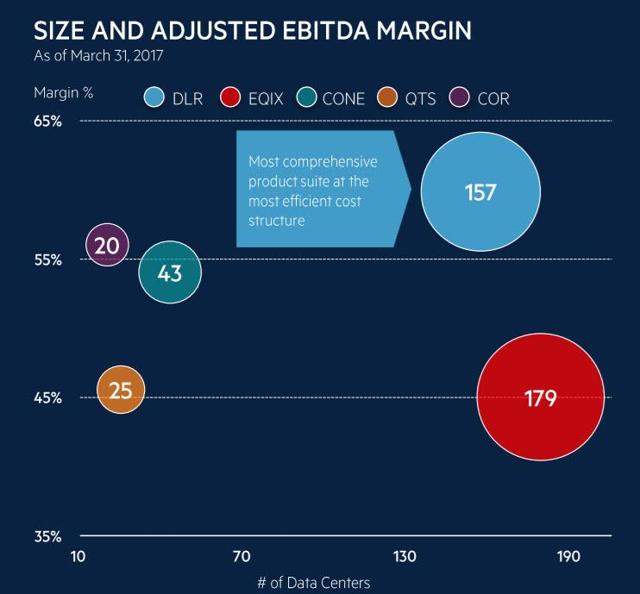 DFT has also run one of the tightest ships in the business and given the additional economies of scale and cost savings achieved through the transaction, the combined organization will have by far the most efficient cost structure and the highest EBITDA margin in the data center sector.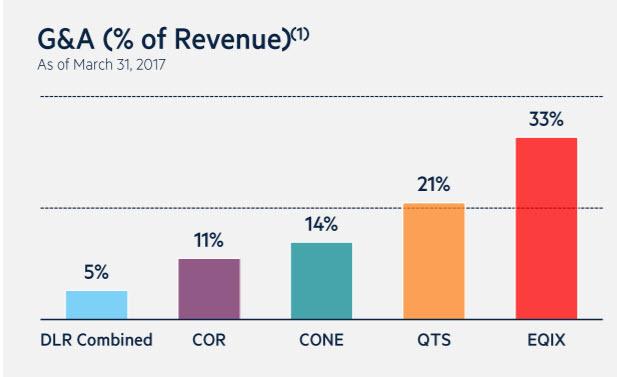 DFT is also unique in the data center sector, in that it owns the dirt under all of its data centers. The combined organization will likewise own the greatest percentage of real estate within the sector.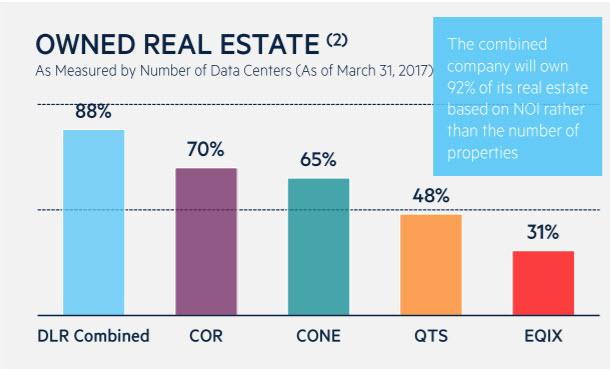 we are very excited about the strategic transaction which will enhance our ability to serve our customers and hyperscale cloud customers, in particular, in the top data center metro areas across the U.S. It will be accretive to earnings and cash flow in year one and strengthens our balance sheet. The complementary nature of the two footprints, customer bases, and product offerings provide mirror image diversification and enhancement benefits, and augment our ability to create significant long-term value for both sets of shareholders.
The Fortress Balance Sheet
As I said above, one of the common threads in the "DAVOS" grouping is that all of the REITs have exceptional balance sheet metrics. In Q2 17, Digital made numerous steps to further strengthen its balance sheet: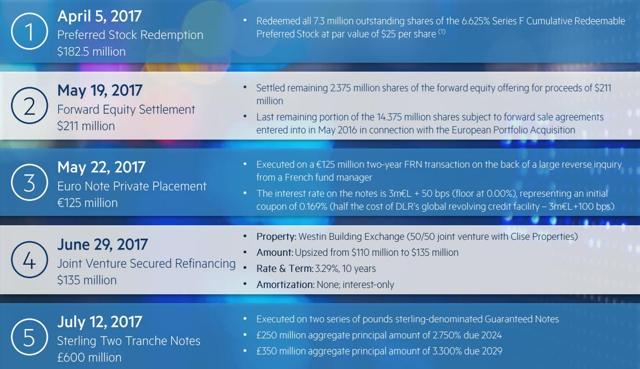 In early April, Digital redeemed $182.5 million of high coupon preferred stock. The preferred redemption was essentially funded with $211 million of gross proceeds from the settlement of the remaining forward equity offering raised one year ago (in conjunction with the inclusion in the S&P 500).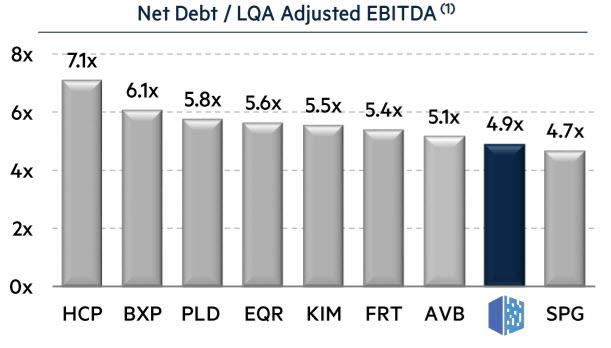 In May, Digital issued a €125 million of two-year floating rate notes to refinance borrowings under its line of credit. The interest rate on these notes is EURIBOR plus 50 bps or half the spread on the line of credit for an all in initial coupon of just under 17 bps.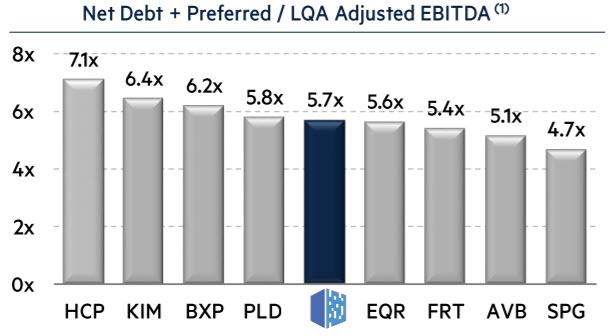 In June, Digital refinanced and upsized the secured loan outstanding on the Westin building, the premier internet gateway for the Pacific Northwest which Digital owns in a 50-50 joint venture partnership. This transaction led to a $3.3 million gain during Q2 17.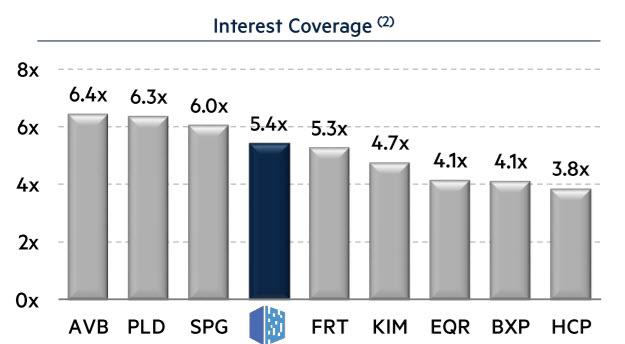 In July, Digital raised a total of GBP 600 million Sterling bonds (or approximately US$770 million) in two tranches subsequent to quarter end. The blended coupon of these tranches is just over 3% and the blended term is just under 10 years.
As illustrated below, Digital has a clear run rate with nominal debt maturities before 2020: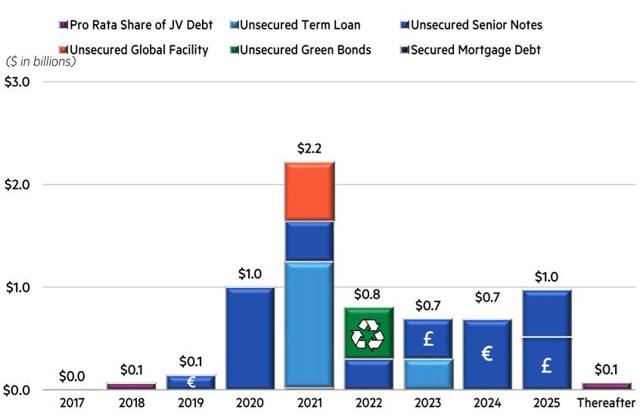 Digital ended Q2 17 with fixed charge coverage above 4x and debt to EBITDA at approximately 5x. The balance sheet remains well-positioned for growth, consistent with Digital's long-term financing strategy.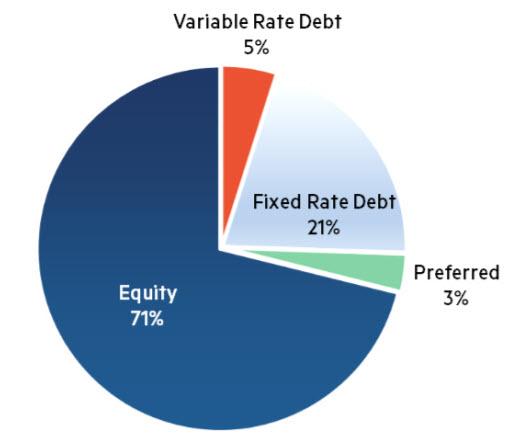 Digital is rated BBB by S&P and as noted above, greater liquidity should over time result in an even lower cost of capital, that should, in turn, grow earnings and dividends.
The Latest Earnings Results
In Q2 17, Digital's total bookings were a little over $34 million, including an $8 million contribution from interconnection. The company signed new leases for space and power totaling $27 million, including an $8 million colocation contribution.
Digital transacted 20 of 33 global metro areas during the second quarter and the majority of the second quarter business was across multiple metros. The largest single deal was 4 megawatts, and colocation and interconnection accounted for more than 40% of total bookings.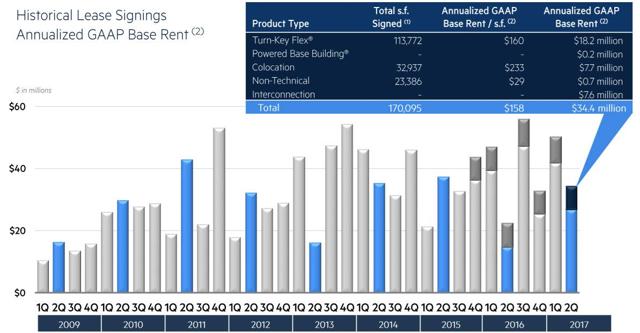 Digital's current backlog of leases signed, but not yet commenced, stands at $64 million. The weighted average lag between Q2 17 signings and commencements remained healthy at six months, in line with long-term historical averages.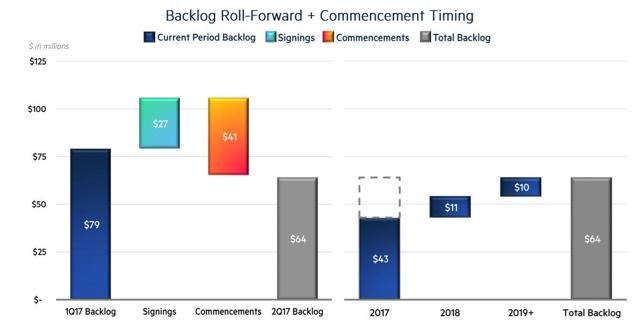 Digital retained 72.5% of Q2 17 lease expirations and signed a record $65 million of renewals in addition to new leases signed. The weighted average lease term on renewals was over eight years and cash releasing spreads were up a healthy 6.5% overall.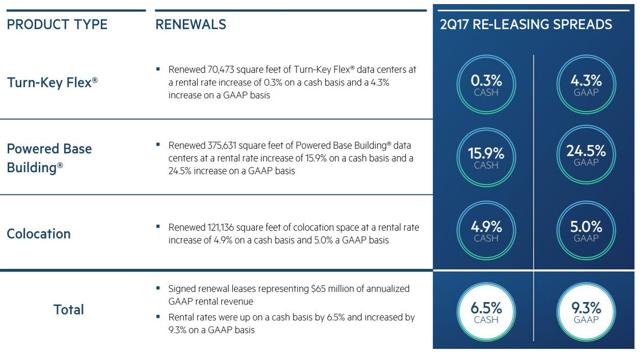 In terms of Digital's Q2 17 operating performance, overall portfolio occupancy was down 30 bps sequentially to 89.1% primarily due to recently completed development deliveries placed in service during the second quarter and two small expirations within Internet gateway buildings in Dallas and Chicago.
Both of these footprints are currently being repurposed as colocation inventory and Digital expects to generate additional upside over time from lease of the space at meaningfully higher rents.
Also in Q2 17, Digital's same capital cash NOI growth was 3.1% on a reported basis and 3.8% on a constant currency basis. Core FFO per share grew by 8.5% on a reported basis and was up a little over 10% on a constant currency basis.
Core FFO per share was $0.05 ahead of consensus although Digital does not expect the quarterly run rate to step down in the second half of the year as shown below: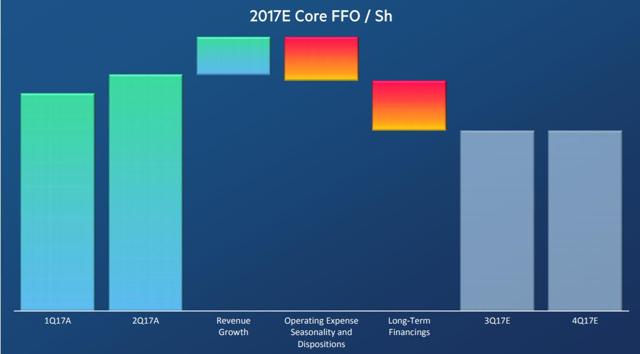 Digital is reiterating guidance despite the $0.05 beat during the second quarter. The merger closing date remains uncertain whereas Digital expects to line up long-term financing as market conditions permit.
As illustrated below, Digital has a strong track record of FFO/share growth: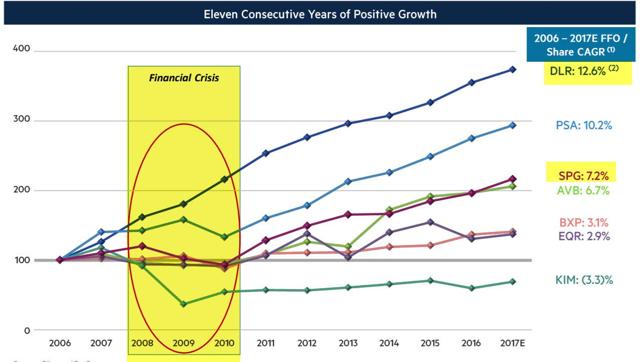 In addition, Digital has a strong track record of dividend growth:

May The Force Be With You
Digital is an obvious fit for DAVOS and there is clearly plenty of "force" driving the dividend.
In terms of valuation, Digital's dividend yield is trading in-line with the peers:

In terms of P/FFO, Digital is also trading in-line with the peers:

I am not recommending shares in Digital at this time, thanks to the run up over the last year or so.

Digital's yield is safe, based upon the payout ratio (below):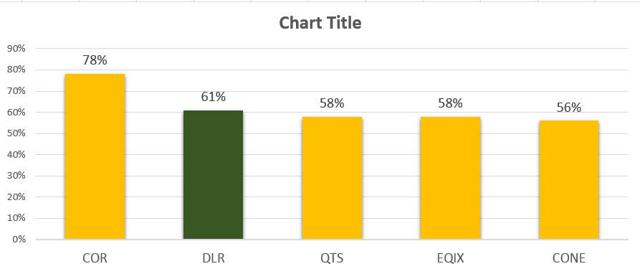 As noted (see article HERE), I also own shares in CyrusOne (CONE) and QTS Realty (QTS), and given their smaller size, I expect these two REITs to generate higher dividend growth. However, I am maintaining an overweight position in Digital given the company's more dominant footprint, lower cost of capital, and track record for dividend growth.

In other words, just as I would not go out and buy all of the companies that make up FANG, I would not recommend purchasing all of the REITs in DAVOS. I would wait for a pullback before purchasing Digital.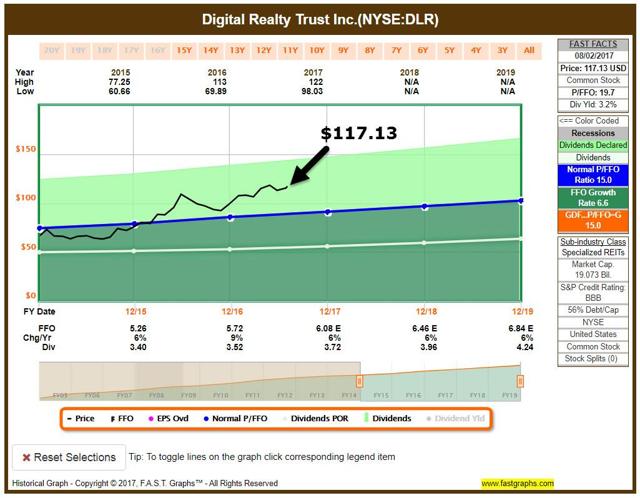 Always remember that the DAVOS REITs are all purposely picked because of their powerful forms of differentiation. They are all unique in the way that they turn their rent checks into durable sources of dividend income. When you think of DAVIS always…..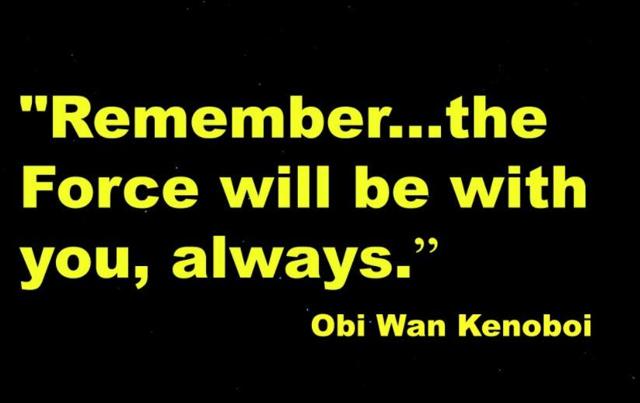 For a limited time, I am providing new subscribers with an autographed copy of The Intelligent REIT Investor. This is a limited offer, so don't miss out!
Note: Brad Thomas is a Wall Street writer, and that means he is not always right with his predictions or recommendations. That also applies to his grammar. Please excuse any typos, and be assured that he will do his best to correct any errors, if they are overlooked.
Finally, this article is free, and the sole purpose for writing it is to assist with research while also providing a forum for second-level thinking. If you have not followed him, please take five seconds and click his name above (top of the page).
Sources: F.A.S.T. Graphs and DLR Investor Presentation.
Disclosure: I am on the Advisory Board of NY Residential REIT, and I am also a shareholder and publisher in theMaven (OTCQB:MVEN).
Disclosure: I am/we are long APTS, ARI, BRX, BXMT, CCI, CHCT, CLDT, CONE, CORR, CUBE, DLR, DOC, EXR, FPI, GMRE, GPT, HASI, HTA, IRM, JCAP, KIM, LADR, LTC, LXP, O, OHI, OUT, PEB, PK, QTS, ROIC, SKT, SNR, SPG, STAG, STOR, STWD, TCO, UBA, UNIT, VER, VTR, WPC.
I wrote this article myself, and it expresses my own opinions. I am not receiving compensation for it (other than from Seeking Alpha). I have no business relationship with any company whose stock is mentioned in this article.