Brad Thomas wrote this article and it previously appeared on Seeking Alpha.
By maintaining local market presence, Acadia can remain somewhat flexible acting on compelling opportunities.
Acadia seeks to acquire urban and street retail properties that offer a high degree of fragmentation.
I get it – street retail deserves a premium – but I 'm not willing to pay up for shares in Acadia, even though the company has strong curb appeal.
I would like to take a position in Acadia Realty Trust, as I view the street and urban retail category as an attractive growth vehicle compared with other investment alternatives. Also, given the reality of shifting retailer demand, Acadia is well positioned to continue to capitalize on the increased scale of urban and street retail tenants.
However, I was a bit too bearish, and in the article, I decided that "I'll have to focus on a "margin of safety" in which I feel as though my capital is safe and appreciation potential is sound. My price target is $28.00, and that represents another 10% pullback from the current level."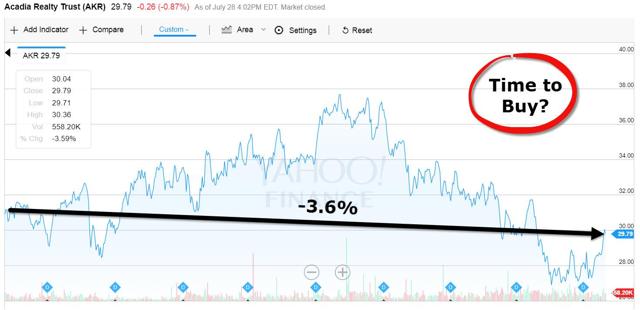 Remember that is unique from the traditional shopping center REITs, the company dual platforms: (1) A "core portfolio" of retail assets that consist of both shopping center properties and street-level properties; and (2) Value-added investments through Acadia's series of discretionary institutional funds.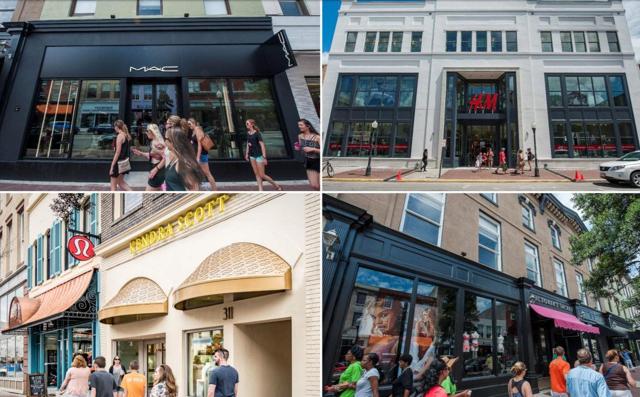 The "core" portfolio consists of primarily street and urban retail properties that offer attractive growth opportunities. Over the past several years, Acadia has increased the scale of its urban and street retail platform, not only in New York, but also in Chicago, Washington DC, Greenwich and Westport, Connecticut, and most recently in San Francisco. Around 8&% of the "core" portfolio value is concentrated in six of the nation's top 11 MSAs.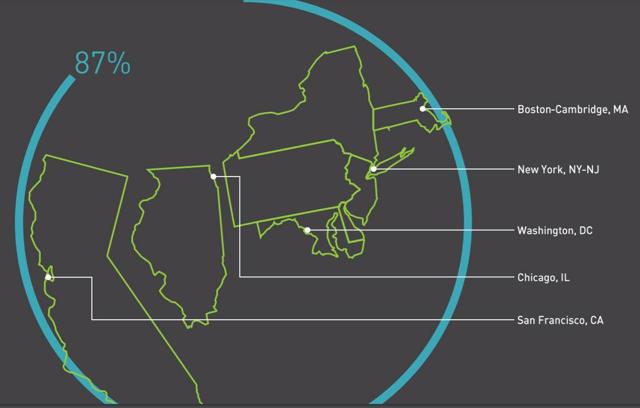 In 2014, Acadia acquired $450 million of "core" assets, of which about 70% was street retail and about 15% was urban retail. The company has more than doubled the size of its "core" portfolio, equating to a compounded annual growth rate in excess of 20%.
One competitive advantage for Acadia's platform is its significant activity in key markets. By maintaining local market presence, Acadia can remain somewhat flexible acting on compelling opportunities, whether they are in New York or Boston or a handful of other high-entry-barrier markets.
Accordingly, within these markets, Acadia seeks to acquire urban and street retail properties that offer a high degree of fragmentation, with owners that are primarily non-institutional. As a result, the composition of the portfolio is unique in the eyes of the retail composition.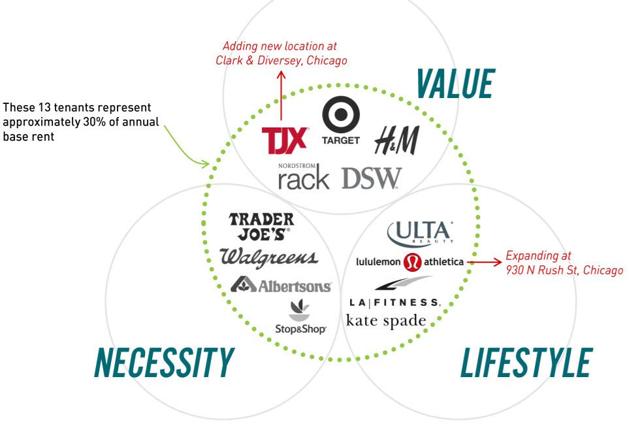 Since Acadia started focusing on street-level and urban properties, the percentage of these sub-sectors has increased and the percentage of traditional suburban shopping centers has decreased. This trend has created an enduring business model in which Acadia can grow NOI by 4% annually.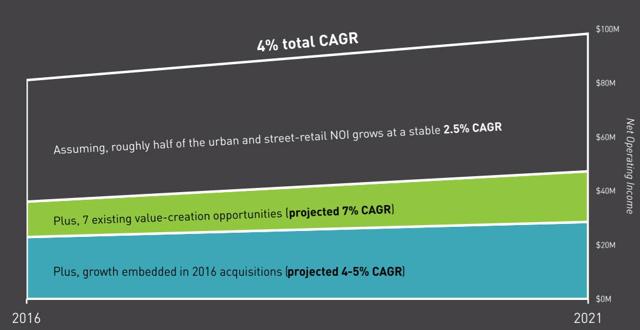 Take a Walk Down the Street
I have visited many of Acadia's street-level properties, and now I'll provide you with a snapshot of several of them. Starting with the "Magnificent Mile" investments located in Chicago.
In December 2014, Acadia acquired an 88.4% interest in 840 N. Michigan Avenue for $144 million. The 87,000-square foot, four-level property anchors a primary corner of the Gold Coast's "Magnificent Mile" directly across the street from Water Tower Place.
H&M has operated at the property since 2003, and recently elected to expand the store and reposition it as a global flagship store. Verizon is the other anchor, and also recently completed an extensive renovation (creating a new two-level Destination Store).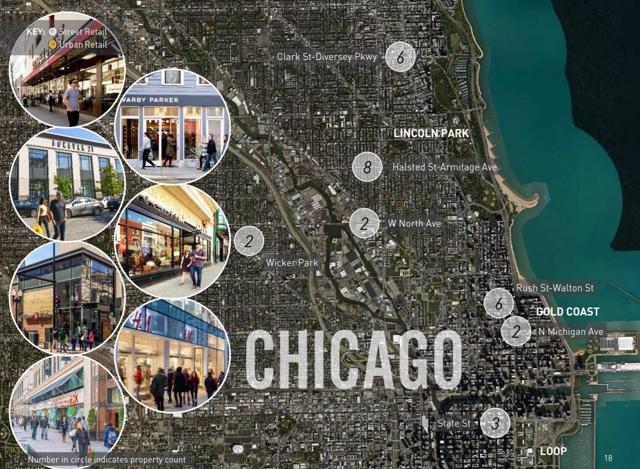 In New York's SOHO district, Acadia has a wide assortment of "curb-side" tenants. Around 65% of the company's $360 million of street-level retail transactions have been partially funded with operating units. That's also a differentiator for this REIT compared with other cash-only buyers - by using "OP Units", Acadia is able to issue units to sellers on a tax-deferred basis.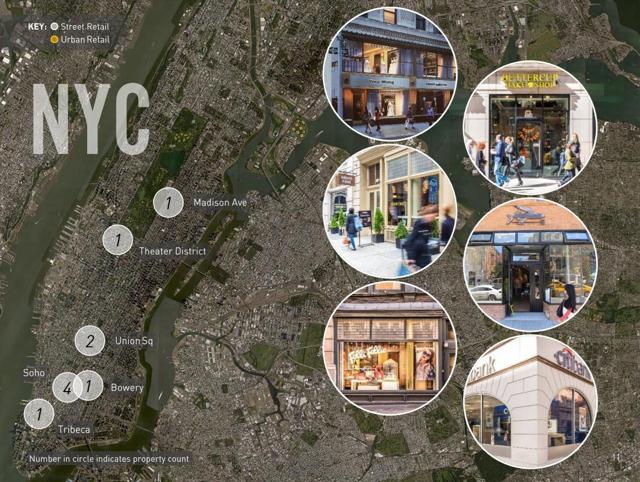 NYC retail represents 8% of Acadia's total core NOI: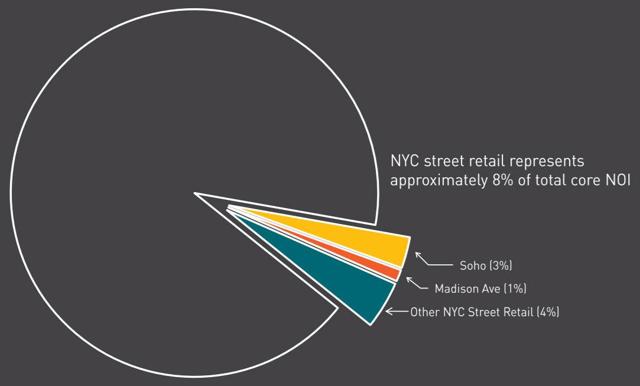 In Washington, DC Acadia owns 25 buildings (in Georgetown) that were acquired between 2011 and 2016.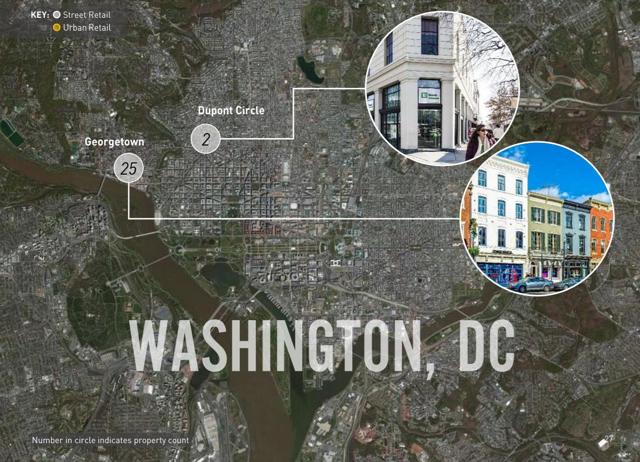 Acadia owns City Center located in San Francisco, a center with comparable demographics to the company's high-profile properties in New York City (and Brooklyn). The 204,000-square foot project was purchased for around $155 million.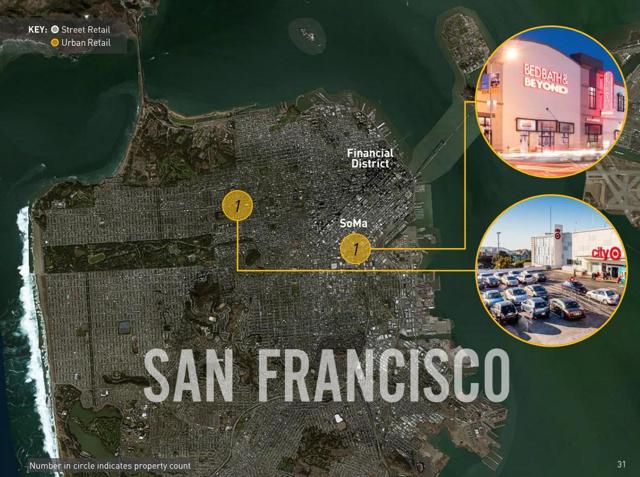 Acadia also owns several properties in Boston…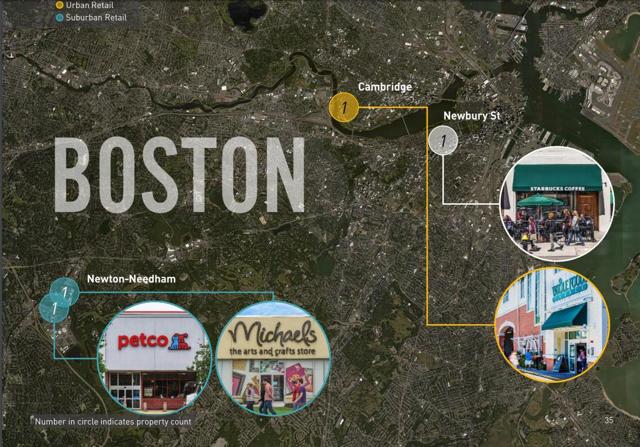 Over the years, Acadia's "buy-fix-sell fund strategy" has proven to be both profitable and highly complementary to its infinite-life core business. Acadia has 5 fund strategies that are structured with embedded redevelopment opportunities. The fund has $520 million of "dry powder," equating to $1.5 billion of buying power on a leveraged basis: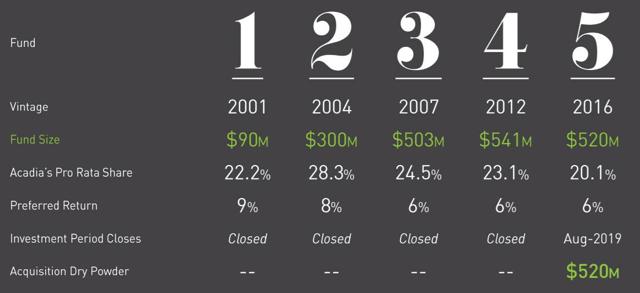 On the earnings call, Acadia's CEO ___________ explains,
"Our fund platform benefits from us having been aggressive net sellers over the past few years and now with plenty of dry powder to deploy, and our balance sheet strength enables us to play-offense without concerns as to the same powder or stability of our Company."
Acadia commenced its first fund in 2001, and over that time, the company has developed a comprehensive value-added skill set. As such, the company has demonstrated its ability to find compelling investment opportunities in retail.
Closer to my hometown, Acadia's partnership has gobbled up a number of storefronts along the Broughton Street corridor, and leases have been signed with J. Crew, Palm Avenue (Lilly Pulitzer), L'Occitane, The Ancient Olive, Lululemon, and Goorin Brothers.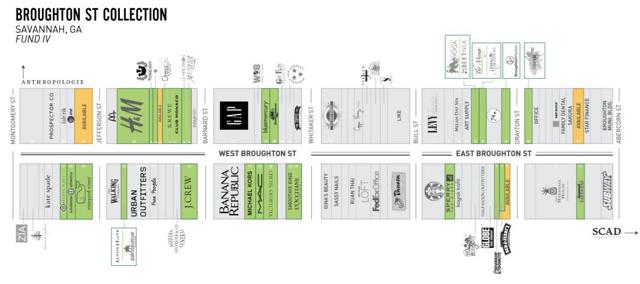 In Brooklyn Acaida has invested in project known as City Point. This mixed-use deal will add nearly 1,300 residential units in three towers. The total retail project cost for the venture is around $350 million, and the first phase is open and food anchors, DeKalb Market and Trader Joe's, are now open on the concourse level.
As you recall, Dekalb market is a 26,000 square-foot food hall with a curated group of 40 vendors and that includes Katz's Deli, Pop Cake Shop, Pierogi Boys and Guss' Pickles. Experiential maybe one of the most overused words in retailing today, however, food and fitness are in fact replacing fashion as retail's critical traffic generating anchors. And with its authentically Brooklyn food, Dekalb market has infused energy into our already strong retail project.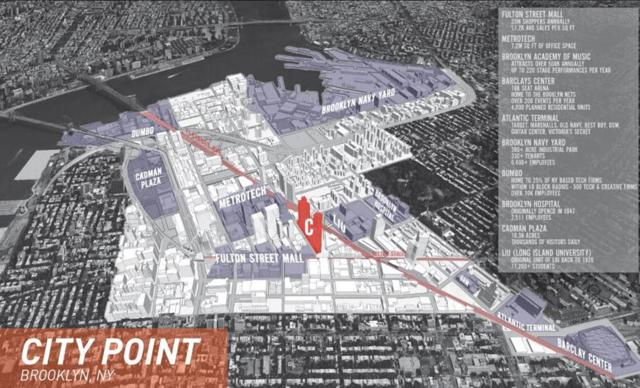 Acadia has strong best-in-class leverage ratios with appropriately staggered maturities and numerous avenues to access capital.

Acadia has not issued any equity in 2017 and has maintained consistent leverage ratios. Through capital recycling (within structured finance and fund portfolios, coupled with dry power remaining within the fund) Acadia has ample liquidity available to make meaningful investments in both core and fund businesses without impacting leverage ratios.
This chart compares Debt to Gross Asset Value: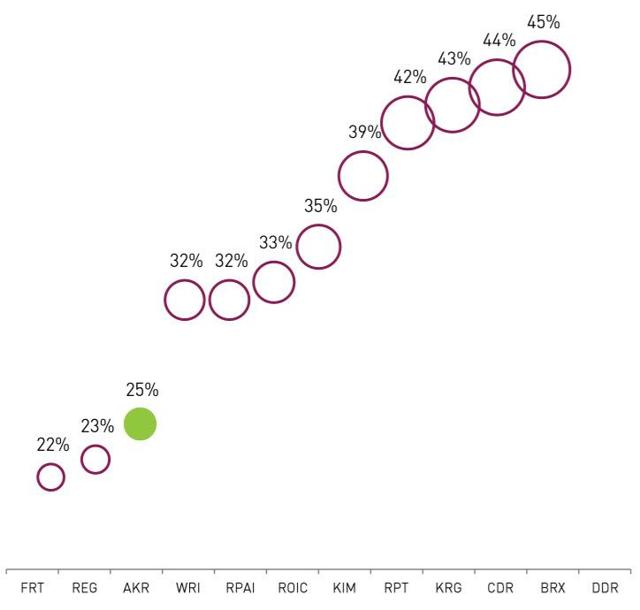 This chart compared Net Dent to Cash EBITDA: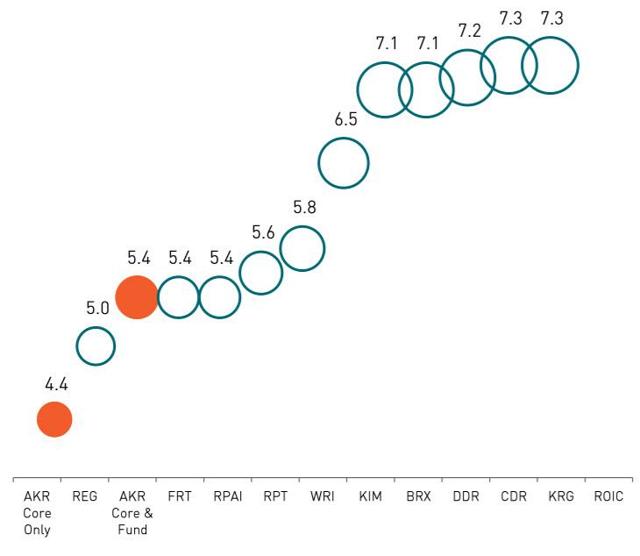 The Latest Earnings Results
Acadia had a solid second quarter with FFO coming in slightly above expectations at $0.38 per share. This represents growth of nearly 9% over the comparable prior year quarter after adjusting for the Promote, and was largely fueled by the continued accretion of 2016 acquisitions.
I like this chart below provided within Acadia's investor presentation, it represents Acadia's reimagined "shopping center" model. Although the company invests primarily in street level retail, it illustrates the concept of owning a high-quality REITs diversified across major gateway markets.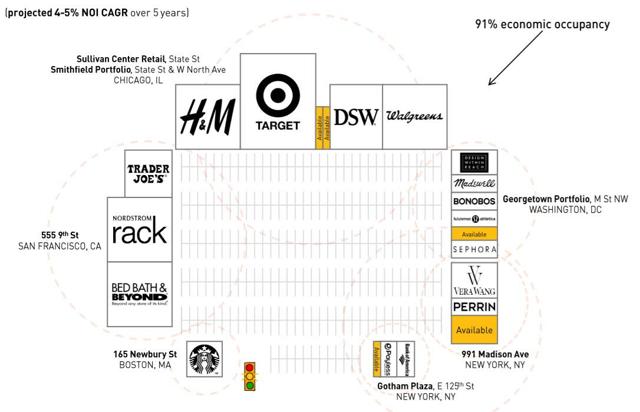 Acadia is projecting that its current core NOI of roughly $130 million grows in excess of $20 million over the next five years, which equates to a cumulative annual growth rate of approximately 4%. This growth will be accomplished with fairly nominal capital expenditures between of $50 million to $75 million. Acadia reaffirmed its same store NOI metrics for the balance of 2017.
Now take a look at Acadia's FFO/share forecast: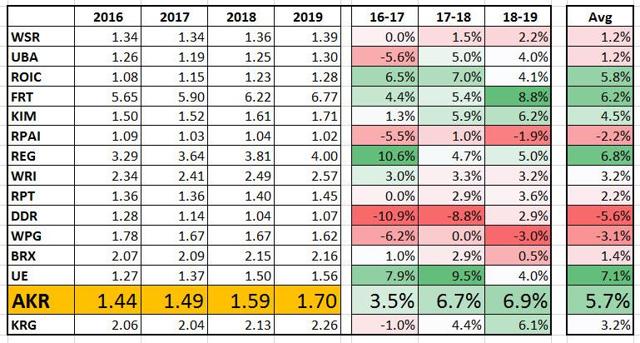 How Much For The Curb Appeal?
As seen above, Acadia has robust growth prospects. Let's now examine the dividend yield:

I don't know about you, but I can't get too excited by the dividend yield. Now let's examine the payout ratio:

As you can see, the payout ratio is 80.5%, so this suggests that dividend growth will be driven primarily through FFO/share growth. Now let's examine the P/FFO multiple:

I like street level retail, and I am a real big fan of Starbucks. However, I am not willing to pay more for a Starbucks landlord in Soho, when I can get more dividend juice out of a Starbucks's landlord in my hometown of Greenville, SC.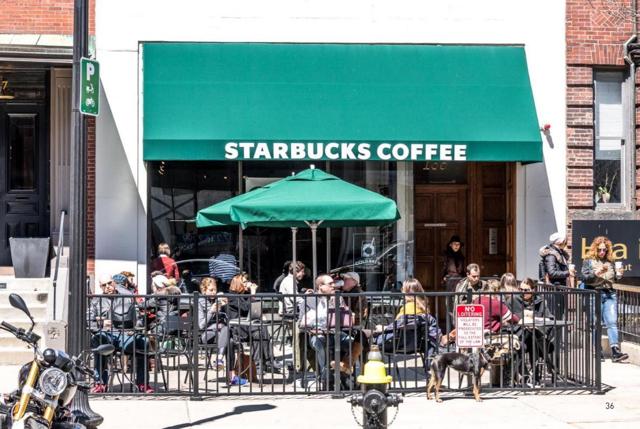 The Bottom Line: Acadia is a cool REIT and I would not mind stashing away a few shares in the company. However, I am not willing to pay more for a REIT that owns street level buildings. I get it – street retail deserves a premium – but I 'm not willing to pay up for shares in Acadia, even though the company has strong curb appeal.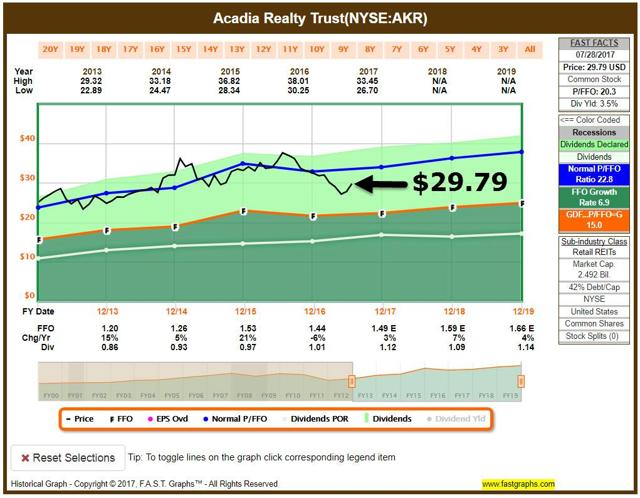 For a limited time, I am providing new subscribers with an autographed copy of The Intelligent REIT Investor. This is a limited offer, so don't miss out!
Note: Brad Thomas is a Wall Street writer, and that means he is not always right with his predictions or recommendations. That also applies to his grammar. Please excuse any typos, and be assured that he will do his best to correct any errors, if they are overlooked.
Finally, this article is free, and the sole purpose for writing it is to assist with research while also providing a forum for second-level thinking. If you have not followed him, please take five seconds and click his name above (top of the page).
Sources: F.A.S.T. Graphs and AKR Investor Presentation.
Disclosure: I am on the Advisory Board of NY Residential REIT, and I am also a shareholder and publisher on theMaven.
Disclosure: I am/we are long APTS, ARI, BRX, BXMT, CCI, CHCT, CLDT, CONE, CORR, CUBE, DLR, DOC, EXR, FPI, GMRE, GPT, HASI, HTA, IRM, JCAP, KIM, LADR, LTC, LXP, O, OHI, OUT, PEB, PK, QTS, ROIC, SKT, SNR, SPG, STAG, STOR, STWD, TCO, UBA, UNIT, WPC.
I wrote this article myself, and it expresses my own opinions. I am not receiving compensation for it (other than from Seeking Alpha). I have no business relationship with any company whose stock is mentioned in this article.