Brad Thomas wrote this article and has previously appeared on Seeking Alpha on January 23, 2017.
Summary
When a company is paying a dividend beyond its earning power it is essentially eroding capital and shares could become worthless.
So why am I recommending this high-yielder?
ARI is not a sucker yield stock AND it's clearly no SWAN!
​
Recently I made the case that Blackstone Mortgage (BMXT) and Starwood Property Trust (++STWD++) are sound BUYS that yield over 7%. However, it's rare that you will see me recommending a REIT with a double-digit dividend yield.
That's right. I'm not a big fan of the traditional mREIT that utilizes high leverage to juice yields that are oftentimes not sustainable. You might recall, I wrote the ++definition++ for the term sucker yield for INVESTOPEDIA:
​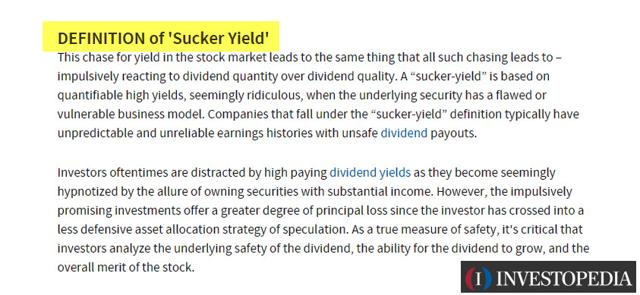 ​
I went on to explain (in Investopedia) that "if a stock seems to pay a dividend yield that is exceptionally high, investors should look harder at the sources of payment behind the dividend. That is, how profitable is the company? Can the sources of income cover the dividend payment? How sustainable is the dividend? Are there threats to the underlying business model?"
When a company is paying a dividend beyond its earning power it is essentially eroding capital and shares could become worthless because of declining earnings induced by poor operating fundamentals. The investor has essentially risked all of his capital for the sake of the high dividend - or sucker yield.
So when a stock is paying an extraordinarily high dividend yield combined with an unsustainable business model, there will almost always be loss of principal.
So why am I recommending this high-yielder?
​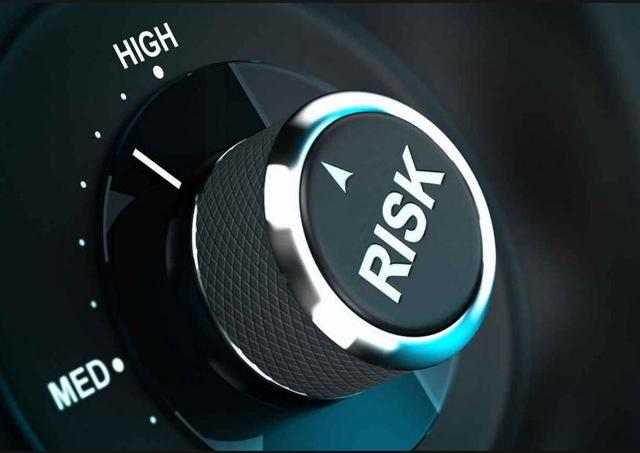 ​
Photo Credit: ++Kiplingers++
Apollo Is An Exception
The commercial mREIT sector is broken down into two categories: pure balance sheet lender and balance sheet/conduit lender.
A pure balance sheet lender originates or purchases loans for their own balance sheet and holds these loans on their balance sheet (although they may sell participation units in the loans to diversify some of the risks). Blackstone Mortgage Trust (NYSE: ++BXMT++) and Apollo Commercial Real Estate Finance (NYSE: ++ARI++) are examples.
A balance sheet/conduit lender originates and/or purchases loans for its own account (balance sheet) or to be sold into a securitized vehicle such as CMBS (conduit). Ares Commercial Real Estate (NYSE: ++ACRE++), Ladder Capital (NYSE: ++LADR++) and Starwood Property Trust (NYSE: ++STWD++) are examples.
There are differences between these two types as well and risk can be further diversified. Balance sheet lenders originate loans with the intent of holding them on their books. Balance sheet/conduit lenders originate loans for both their own books and to sell into securitized markets such as CMBS.
The risk with balance sheet lenders is relatively straightforward - the risk that the loans don't perform as expected. Balance sheet/conduit lenders have the risk of non-performance as well as the risk that the conduit market experiences a disruption and cannot take as many loans as expected.
The bottom line is that investors in commercial mortgage REITs have multiple options and risk profiles from which to choose. How an investor views the world and the market can be accommodated by the type of mortgage REIT they choose.
​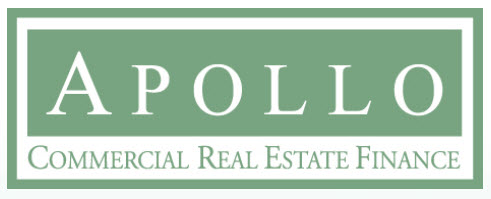 ​
Apollo Commercial Real Estate Finance (NYSE:++ARI++) primarily originates, invests in, acquires, and manages performing commercial first mortgage loans, subordinate financings, commercial mortgage-backed securities, and other commercial real estate-related debt investments.
The REIT is externally managed and advised by ACREFI Management, LLC, an indirect subsidiary of Apollo Global Management, LLC, a leading global alternative investment manager with a contrarian and value-oriented investment approach in private equity, credit-oriented capital markets, and real estate. At quarter-end ARI's commercial real estate debt portfolio totaled $2.7 billion that offers First Mortgage and Subordinate Loans Across a Broad Spectrum of Property Types.
​

​
As seen below, ARI's portfolio consists of first mortgage loans (52%), subordinate loans (34%) and CMBS (14%):
​

​
Around 83% of the portfolio is spread across the US and 17% invested in Europe:
​

​
The loans are diversified across sectors: Hotels (19%), Multi-Family (12%), Retail (10%), Healthcare (5%), etc..
​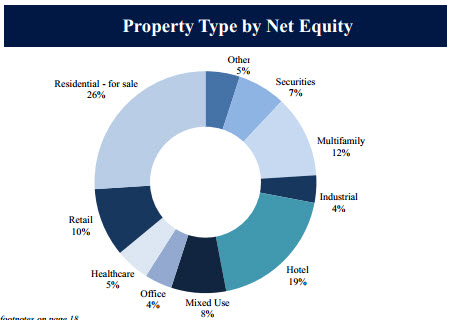 ​
At the end of Q3-16 the weighted average loan to value of the portfolio was consistent at 64% and the portfolio remains diversified both geographically and across property sectors and for the third quarter in a row the asset mix has shifted to reflect an increase in first mortgage loans.
At the end of Q3-16 around 88% of the loans in the portfolio were floating interest rates. The company anticipates that a 50 basis point increase in LIBOR would generate an additional $0.07 per share in annual operating earnings.
​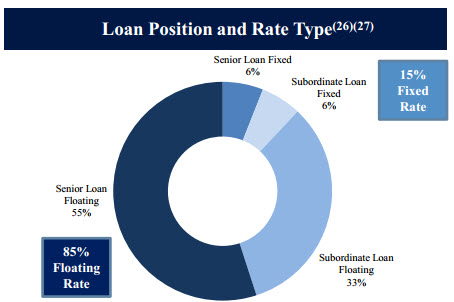 ​
Similar to Blackstone Mortgage (NYSE: ++BXMT++) and Starwood Property, ARI also benefits from its close "big brother" ties with the larger Apollo investment manager. Since the company went public in 2009, since 2011, ARI has continued to find innovative ways to raise over $1.1 billion of debt and equity capital.
​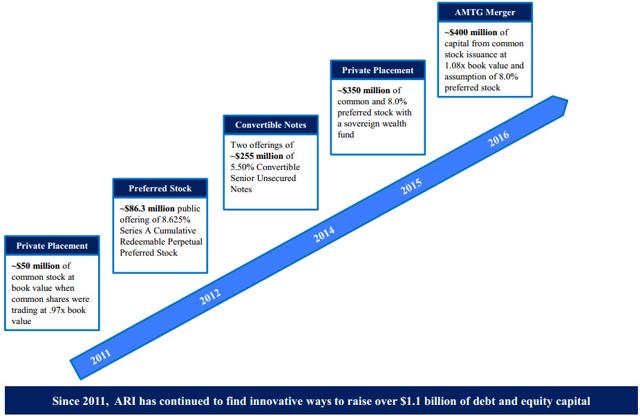 ​
A Favorable Backdrop for Commercial Real Estate Lenders
On September 1, 2016, ARI completed the acquisition of Apollo Residential Mortgage, Inc. Under the terms of the merger, Arrow Merger Sub Inc. was merged with and into Apollo Residential, with the latter continuing as the surviving entity and a subsidiary of Apollo Commercial Real Estate.
Each Apollo Residential common share issued and outstanding immediately prior to that merger was converted into the right to receive $6.86 in cash, without interest, and 0.417571 Apollo Commercial Real Estate common shares.
After the first merger, Apollo Residential merged with and into Apollo Commercial Real Estate, with Apollo Commercial Real Estate continuing as the surviving entity. Each outstanding share of Apollo Residential's 8.00% series A cumulative redeemable perpetual preferred stock automatically converted into the right to receive one newly issued share of 8.00% series C cumulative redeemable perpetual preferred stock of Apollo Commercial Real Estate.
Under an asset purchase and sale agreement, Apollo Commercial Real Estate sold primarily non-agency residential mortgage-backed securities previously held by Apollo Residential to Athene Annuity & Life Assurance Co. for about $1.1 billion. Proceeds from the sale were used to repay approximately $804.0 million in associated financing, $175.0 million to satisfy the Athene USA loan agreement and for general corporate purposes.
​

​
Starwood Property Trust (NYSE: ++STWD++) is a closer peer to ARI. Although larger in size (STWD's market cap is $5 billion), STWD invests in first mortgage loans (56%), subordinate/mezz loans (29%), preferred equity (5%), and other loans (10%).
Remember that first mortgage loans are senior to all debt transactions, so ARI has the riskiest mix of investments (as compared to these three).
As noted, ARI is a commercial mortgage REIT, and the economic backdrop is supported by strong real estate fundamentals. Fueled by job growth and positive consumer sentiment, real estate operating fundamentals have continued to improve. Supply has been limited in most markets and asset classes; pipelines are still subdued.
The pending maturity wall and the CMBS market volatility are creating lending opportunities, as evidenced below:
​

​
At the same time, credit quality is stable and overall leverage is limited:
​

​
Debt originations have continued to grow:
​

​
The Latest Earnings Results
In Q3-16 ARI completed three floating rate first mortgage transactions totaling $245 million and subsequent to quarter end ARI closed an additional $236 million of new investments bringing the year to date capital commitment in deployment to $1.1 billion.
These transactions closed during the third quarter were predominantly floating rate first mortgage loans and ARI expended its capacity to finance these loans with a new three $300 million credit facility from Deutsche Bank.
ARI's commercial real estate debt portfolio totaled $2.7 billion representing 17% growth on a year over year basis and generating a levered weighted average IRR of 13.3%. On the ++latest earnings call++ Stuart Rothstein - President and CEO - explained,
We are extremely confident in our ability to keep our $1.8 billion of capital efficiently deployed and we have leveraged capacity within the balance sheet, so we maintain the ability to add incremental debt to find new investments as warranted.
For the third quarter of 2016, ARI's operating earnings were $32.7 million or $0.45 per share, excluding the onetime merger expenses of $4.9 million, operating earnings were $0.52 per share compared to $0.53 for the second quarter.
ARI's operating earnings per share for the first nine months of 2016 including any one-time merger related expenses totaled the $1.64 which is $0.16 per share above the company's year to date dividends of a $1.38.
Given the strength of ARI's results and previously stated goals, the REIT has established a consistent quarterly dividend that is covered by operating earnings. As Jai Agarwal - CFO, Treasurer and Secretary - explained.
…we have confidence in our ability to earn the quarterly dividend in 2016.
Stuart Rothstein went on to say,
Obviously it's still a great time to be a borrower and we are still seeing enormous capital flows into commercial real estate, both foreign and domestic.
Let's review ARI's operating and dividend history:
​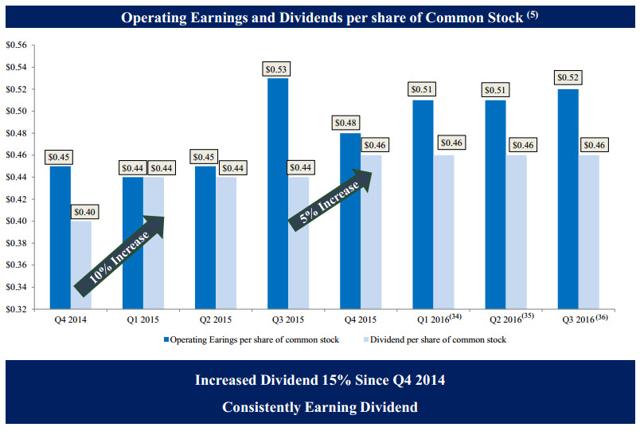 ​
That's Right, I'm Recommending A REIT Yielding 10.8%
As you can see, ARI has maintained a consistent dividend history and the current payout ($.46 / share) represents a dividend yield of 10.80%.
​

​
As I pointed out above, ARI is a more complex commercial mREIT than BXMT and that's one of the reasons you see a dividend yield that's 280 bps higher (than BXMT). Perhaps it's a complexity risk but the capital structure (debt to common equity of 1.0x and fixed charge coverage of 2.2x) are in good shape.
ARI's seven-year track record and "rate ready" portfolio (majority of fixed rate loans) provide reasoning that the dividend is safe for now. Here's a snapshot of EPS history and forecast:
​

​
The above data was provided by FAST Graph and includes consensus estimates. Here's how ARI's P/E compares with the peer group:
​

​
Once again, complexity means risk and that's why ARI is seemingly cheaper than the peer group.
In closing, we believe that ARI is well-positioned to continue paying a dividend covered from operating earnings. While we don't expect to see returns much more than the dividend yield, we believe that ARI has ample infrastructure in place to scale the loan portfolio to over $3 billion. This should provide adequate cushion for the company to generate steady growth and possibly dividend increases in future years.
Keep in mind, ARI is a mortgage lender not a building owner. The income that the company generates is tied to commercial real estate but there is higher risk to lending compared to owning (buildings). We recommend maintaining modest exposure in mREITs as we use these hybrids (much like preferred shares) to generate above average income…ARI is not a sucker yield stock AND it's clearly no SWAN!
​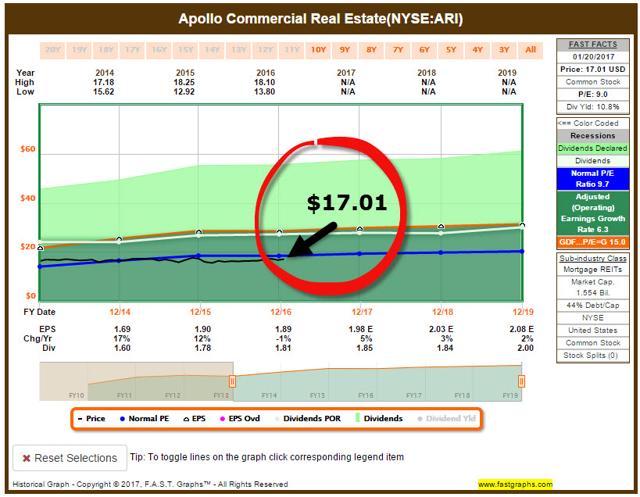 ​
Join me at the DIY Investor Summit where I share detailed tips on my core investment strategies, top advice for DIY investors, and specific ways I'm positioning for 2017.
I am honored to partner with Seeking Alpha and Investor in the Family as a presenter at the DIY Investor Summit. In total, 25 of the best investors on Seeking Alpha have gathered to share detailed tips on our core investment strategies, top advice for DIY investors, and specific ways we're positioning for 2017.
This is a unique event that you will not want to miss. FREE REGISTRATION IS NOW OPEN (for a limited time). Learn more by clicking ++here++.
Source: FAST Graphs, and ARI Filings.
Other REITs: (NYSE:++ACRE++), (NYSE:++LADR++), and (NYSE:++JCAP++).
Author Note: Brad Thomas is a Wall Street writer, and that means he is not always right with his predictions or recommendations. That also applies to his grammar. Please excuse any typos, and be assured that he will do his best to correct any errors if they are overlooked.
Finally, this article is free, and the sole purpose for writing it is to assist with research, while also providing a forum for second-level thinking. If you have not followed him, please take five seconds and click his name above (top of the page).
Disclaimer: This article is intended to provide information to interested parties. As I have no knowledge of individual investor circumstances, goals, and/or portfolio concentration or diversification, readers are expected to complete their own due diligence before purchasing any stocks mentioned or recommended.
Disclosure: I am/we are long O, DLR, VTR, HTA , STAG, GPT, ROIC, HCN, OHI, LXP, KIM, WPC, DOC, EXR, MYCC, TCO, SKT, UBA, STWD, CONE, BRX, CLDT, HST, APTS, FPI, CORR, NHI, CCP, CTRE, WPG, KRG, SNR, LADR, PEB, BXMT, IRM, CIO, LTC, DEA, NSA, HASI, VER, SRG, SPG.
I wrote this article myself, and it expresses my own opinions. I am not receiving compensation for it (other than from Seeking Alpha). I have no business relationship with any company whose stock is mentioned in this article.