Brad Thomas wrote this article and it has previously appeared on Seeking Alpha.
I think Cramer is on to something: FANG has become a household name.
I thought to myself, wouldn't it be cool to create my very own REIT version of FANG?
Over the next few days, I will be writing on five different REITs, each part of my new REIT acronym.
I'll give you my first clue now and we'll see who can figure it out.
I'm sure that you are familiar with the acronym FANG created by CNBC's Jim Cramer a few years ago. It's representative of four of the most popular and best-performing tech stocks in recent memory - Facebook (NASDAQ:FB), Amazon (NASDAQ:AMZN), Netflix (NASDAQ:NFLX), and Google (NASDAQ:GOOG) (NASDAQ:GOOGL).
"Three of the four companies, Amazon, Netflix and Google have recently reported second-quarter results that have been more than well received by investors.
Following earnings, shares of Netflix and Google rose 18% and 16%, respectively. Amazon shares were set to open 21% higher on Friday, after the company posted better-than-expected second-quarter results."
I think Cramer is on to something: FANG has become a household name. And I thought to myself, wouldn't it be cool to create my very own REIT version of FANG? Not just to showcase some flashy acronym like SWAN (yes, I wanted to use it but there are no perfect combination of REITs that work), but to create a benchmark of the best REIT performers in one easy-to-use phrase.
Over the next few days, I will be writing on five different REITs, each part of my new REIT acronym. I'm not going to tell you the new word until the last article. It's kind of like playing "Wheel of Fortune." I'll give you my first clue now and we'll see who can figure it out. Oh, yes, here's a hint: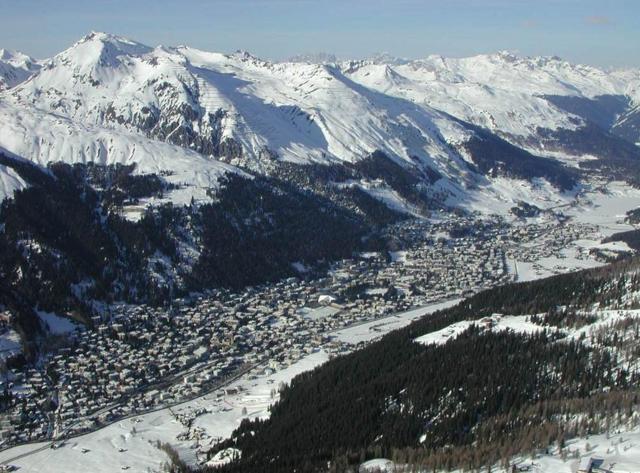 V Is One of The Letters in My New REIT-Version OF FANG
…recognize that investing is a process, and it's important to build an intelligent REIT portfolio, brick by brick, starting with companies that are the most durable and that can be purchased at or below sound value.
Picking the best Healthcare REIT can also be an especially agonizing task since there are 20 companies, all investing in various property sectors and sub-sectors. I can see why so many investors get frustrated with stick picking and opt to purchase shares in a REIT ETF.
I just finished my newsletter (published on the first of every month) and I am excited to say that my Durable Income Portfolio has generated sound returns year-to-date (about 8% weighted average). It validates the argument that picking good stocks can be rewarding, especially if you're picking companies with strong fundamentals.
Ventas (NYSE:VTR) definitely deserves to be a player on my newly-created REIT "FANG" squad. As you may recall, I recently wrote an article on Care Capital Properties (NYSE:CCP), a skilled nursing REIT that was once part of the Ventas, Inc. umbrella. I recently SOLD CCP, and as you know, Ventas was the first of the "big 3" diversified REITs to successfully bifurcate the risk within the more volatile government pay sector.
By spinning most of the skilled nursing properties (to CCP) and selling ~$700 million SNF of properties to Kindred (NYSE:KND) (at a very favorable cash rent yield to Ventas of 7%), VTR has made smart divestitures that have allowed the REIT to further differentiate its excellent portfolio mix.
Concerns over structural headwinds in skilled nursing have continued to plague the operators' rent coverage and lead to lower valuations. By selectively exiting the skilled nursing sector, VTR has orchestrated a tactful strategy of focusing on best-in-class operators.
As a result of 2016 activities and the 2015 spin-off of most of the skilled nursing properties, VTR has created an industry-leading differentiated portfolio, highly diversified by asset type, business model and tenant. Specifically, the owned portfolio generates 93% of its revenue from private pay sources.

VTR has essentially removed its riskiest holdings (more volatile) from the balance sheet and replaced them with lower-risk hospitals and life science properties. Arguably, hospitals are exposed to government pay risk, but when was the last time you saw a dark hospital? (More on that below).
By partnering with Sam Zell's firm EGI, VTR provides innovative capital solutions to fund acquisitions of acute care hospitals for the Ardent platform. In addition, VTR made or committed to investments of nearly $2 billion, including the accretive $1.5 billion acquisition of a high-quality new life sciences and innovation center portfolio, affiliated with leading universities, academic medical centers and research institutions.
This deal is a winner with great yield approaching 7%, attractive real estate, long-term leases with institutional quality tenants and a leading developer partner in Wexford. It also added an important new channel for growth for Ventas.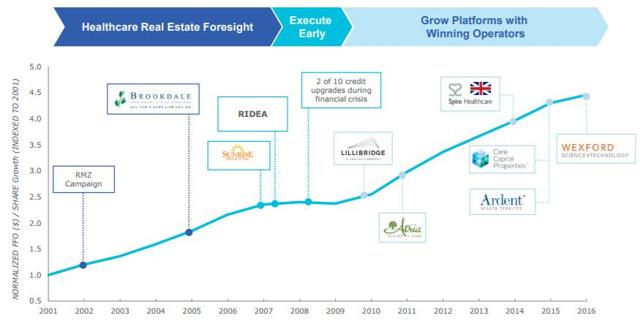 VTR's operating and development partners are the best in their respective businesses. The company's triple-net leases, representing 42% of NOI, have virtually no lease expirations through the end of 2018, and none of the tenants represents more than 10% of NOI. Most importantly, at the end of this year, VTR expects to generate only 1% of NOI from skilled nursing facilities.
VTR's insight to allocate capital wisely in five asset types across the capital structure has provided the company with an undeniable competitive advantage that should allow it to generate better overall dividend quality.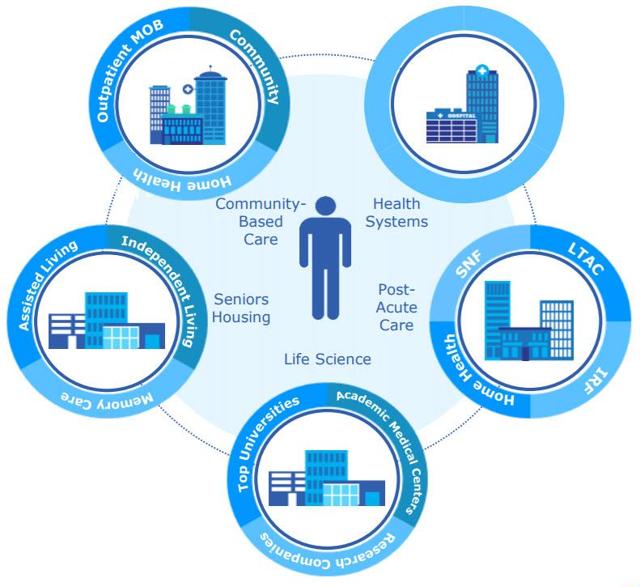 VTR is one of three larger diversified healthcare REITs, as noted above; the company invests across the capital structure in the following five asset types: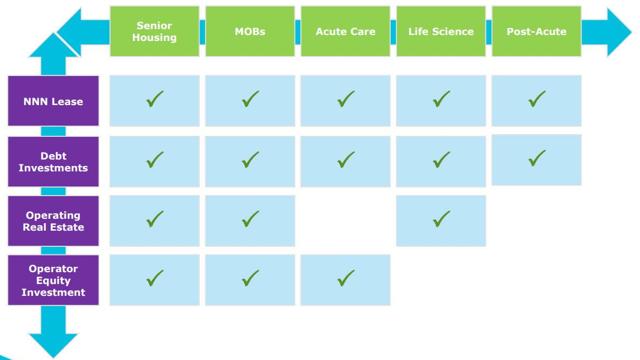 The U.S. healthcare real estate market is large - around $1 trillion - and care delivery is increasingly interconnected. By consolidating healthcare assets into a securities (REIT) structure, VTR is well positioned to dominate.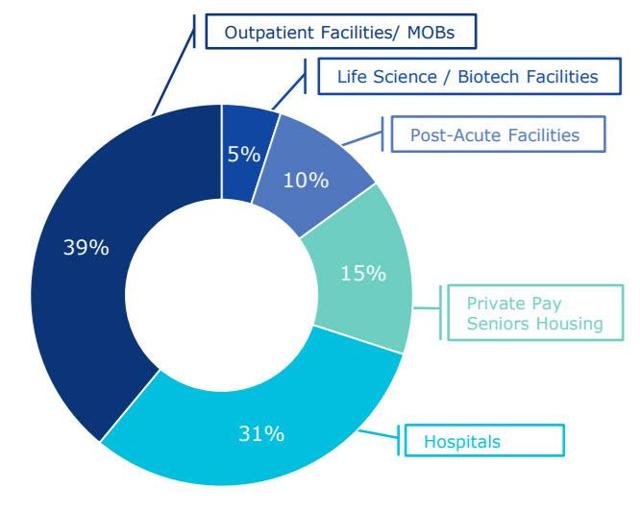 Also, for VTR and all healthcare REITs, there is considerable opportunity. As the chart below illustrates, Healthcare REITs own just 12-15% of all institutional-quality healthcare properties, much lower than these other REIT property sectors: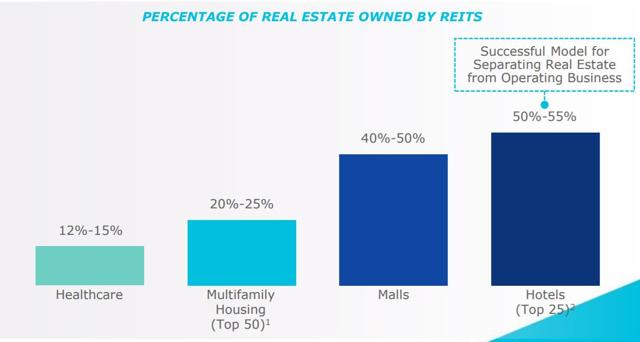 As the consolidation continues, VTR remains in an enviable position to maintain its dominance by using its low cost of capital advantage to gain scale. The chart below illustrates the market share of the top 10 operators and this suggests that the winners will emerge and these consolidators will need capital partners like VTR.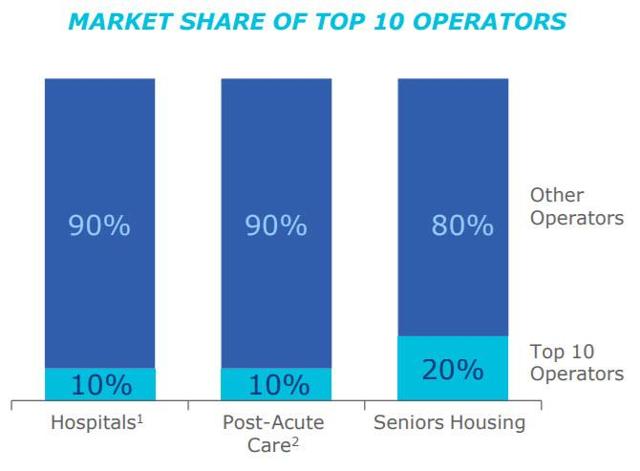 The healthcare sector is especially attractive as spending is expected to grow by 5.8% annually (2014-2024). The demand drivers - large and growing aging population - will provide enhanced spending power. The healthcare sector is huge, and because of the fragmented ownership base, the industry is ripe for consolidation. Healthcare real estate under-owned by REITs is less than 15% (well below other REIT sectors).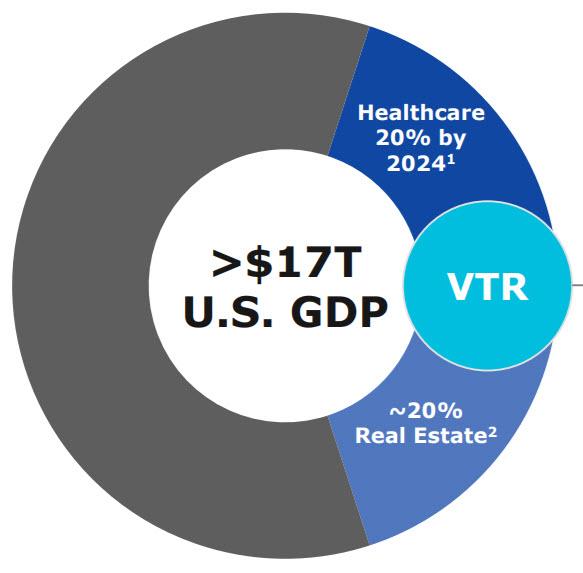 The senior population in the U.S. will grow rapidly, and with it, demand for VTR buildings where essential home, care and comfort are provided to individuals and their families and groundbreaking research is conducted. Senior housing and healthcare providers will work with each other and with managed care companies to limit re-admissions and control healthcare costs.
VTR focuses on managing the risk and capturing the opportunities that a changing environment presents through development of the right strategies, prudent capital allocation and excellent innovation and execution.
VTR has partnered with key leaders within their respective sub-sectors:
Within VTR's Senior Housing Portfolio (or SHOP), the company generates around 30% from SHOP and 25% from Net Lease. The senior housing sector has tremendous industry tailwinds due to aging population trends.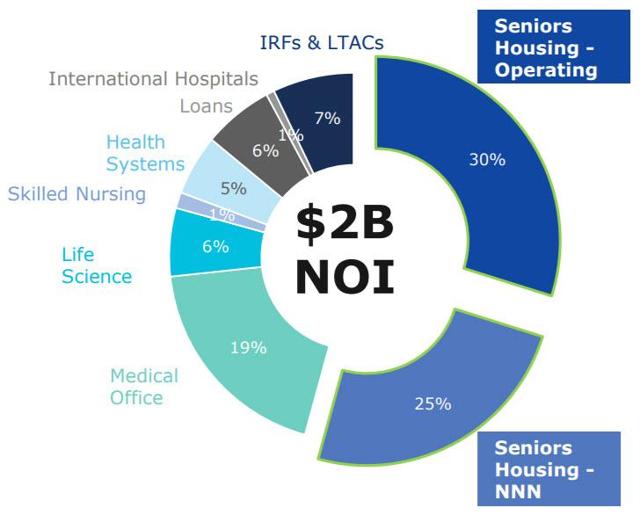 Over 67% of the SHOP NOI is generated in high barrier-to-entry coastal markets where media home values are 2.2x the national average. In Q1-17, VTR had a positive start to the year in the SHOP business: same-store cash NOI in the quarter grew 2.9%, in line with expectations.
Consistent with prior guidance assumptions (NOI range of 0% t0 2.0%) Ventas' same-store cash NOI in the second quarter grew 0.4%. Unpacking the P&L further, second-quarter same-store revenues increased nearly 2%, driven by attractive rate growth of over 4%. Rate growth was partially offset by 200 basis points of year-over-year occupancy decline.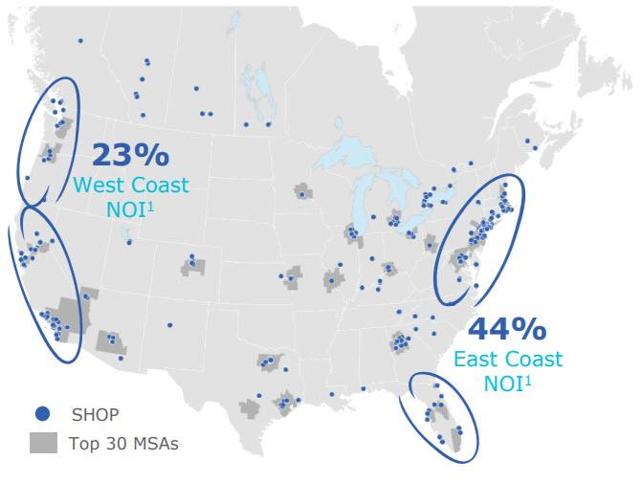 Over 90% of VTR's SHOP revenue is generated from Atria (63%) and Sunrise (30%). Atria's five-year NOI CAGR is nearly 400 bps better than the industry average.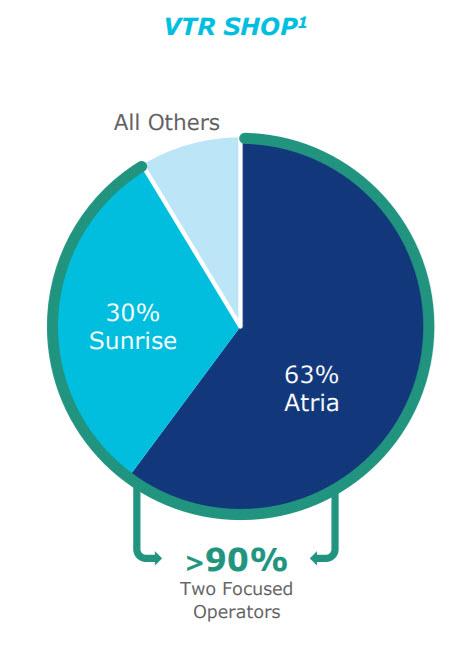 Within VTR's acute care hospital portfolio, the company generates over $100 million of annualized rent or around 5% of NOI. VTR is only investing in the highest quality hospitals. The recent deal with Ardent Care Hospital was, in my opinion, a transformational transaction.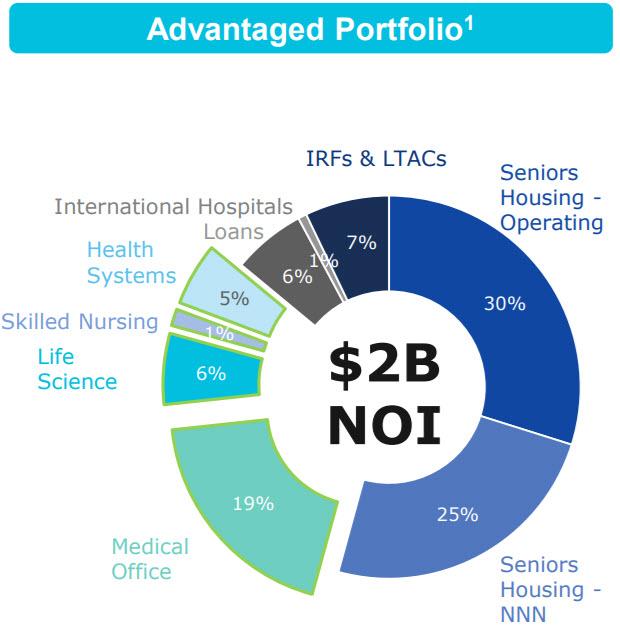 Debra Cafaro, VTR's CEO, had previously worked with billionaire investor Sam Zell, and last year, the two deal-makers structured a $1.75 billion deal that provides broad reaching synergies (Zell's EGI purchased the majority of Ardent's operating company valued at $475 million).
VTR paid $1.4 billion to acquire 10 hospitals leased back to Ardent (2.5% annual rent bumps) at an unlevered cap rate of 7.5%. In addition, VTR funded ($26 million) to own a 9.9% stake in Zell's operating entity.
Ardent now generates $3 billion in annual revenues, employs 18,000 individual, and serves patients in six states. 48% of Ardent hospital (i.e. in the 4 walls) revenue is derived from outpatient services, and as illustrated below, Ardent compares favorably to leading public hospital operators: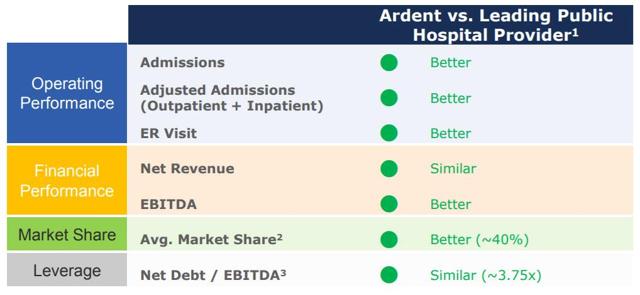 There are over 5,000 hospitals in the U.S. and many public companies are looking to spin off assets. VTR has the lowest cost of capital (more on that below) in the hospital sector and the company is well positioned to capitalize on the fragmentation by maintaining a prudent underwriting platform.
Ventas generates around 19% of NOI from its medical office building (or MOB) portfolio. The company has over 400 hospital relationships and over 96% of the MOBs are located on affiliated or on-campus settings.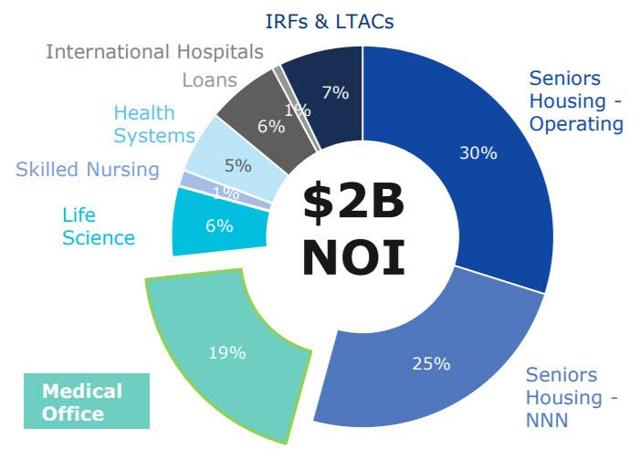 Secular trends make MOB an attractive asset sector due to increased insured population, increasing visits to the doctor offices and increased spending. Here's a snapshot of Lillibridge (VTR's MOB operator) and the company's nationwide MOB footprint: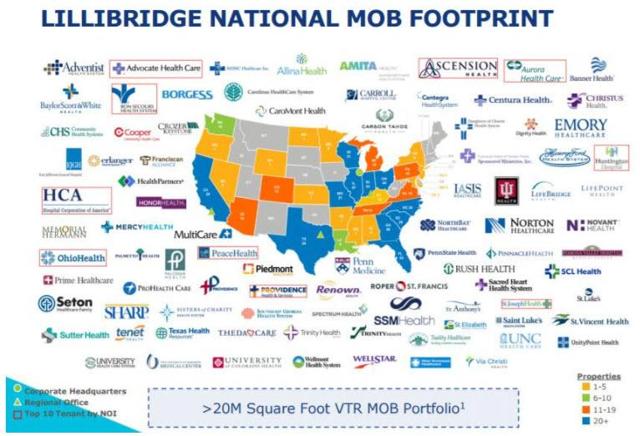 Ventas' MOB business generates nearly $400 million in net operating income annually comprising 20 million square feet and represents 19% of NOI. It is 95% on-campus or affiliated with 84% of NOI derived from buildings with investment-grade tenants and HCA.
As Debra Cafaro, CEO at Ventas, explained on the recent earnings call:
"Our unleveraged yield on our MOB portfolio is an incredible 7.5%, inclusive of all of our post acquisition capex.
Given the recent benchmarks for MOB transactions in the mid-to-high 4s, our investment has created literally billions of dollars of value for our shareholders."
Ventas recently entered the Life Science sector where the company generates around $100 million in rent (6% of NOI) from high-quality tenants.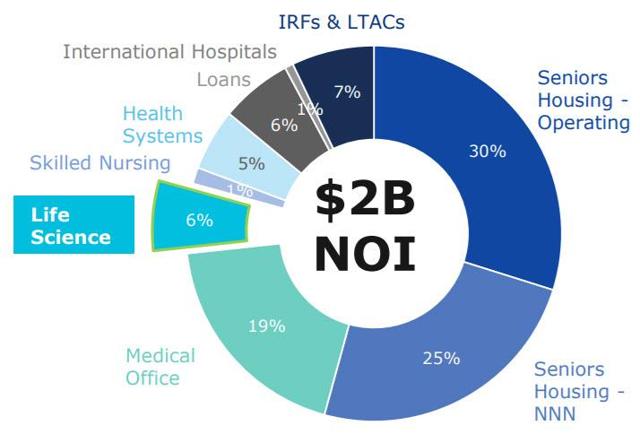 Ventas' life science portfolio consists of over 4.1 million square feet of purpose-built real estate with an average age of sis years. All of the buildings are located on or contiguous to major campuses. Here is a snapshot of VTR's top 10 Life Science tenants: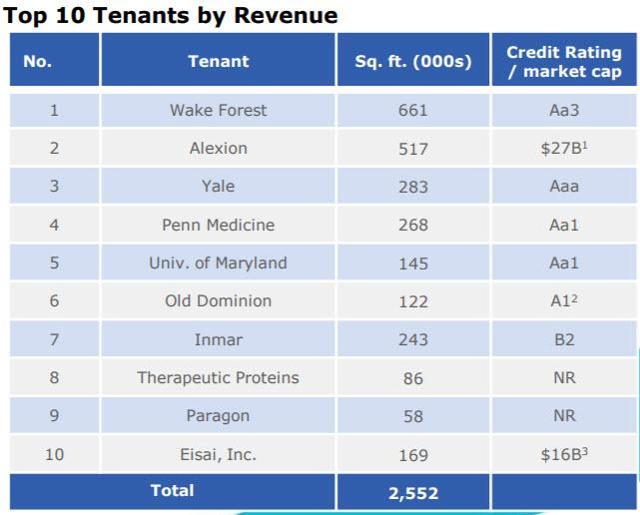 The life science sector is complementary to VTR's hospital business in that both sub-sectors represent highly fragmented categories. Life science represents around $38 billion of total university R&D spend across 100+ universities. VTR is well positioned to benefit from consolidation.
As Debra Cafaro explained on the recent earnings call:
"Our thesis is that this attractive portfolio should ultimately be valued at cap rates comparable to high-quality MOBs. That's why we are so excited about the opportunities and are committed to dedicated dedicating significant capital with Wexford to build out this attractive value creating business."
Kindred recently announced it had signed a deal to exit its entire skilled nursing business. As part of that transaction, Ventas expects to sell its 36 SNFs for $700 million at a very attractive 7% cap rate on cash rents. With the sale, SNF will represent only 1% of NOI, and private pay revenues as an enterprise will rise to 94%.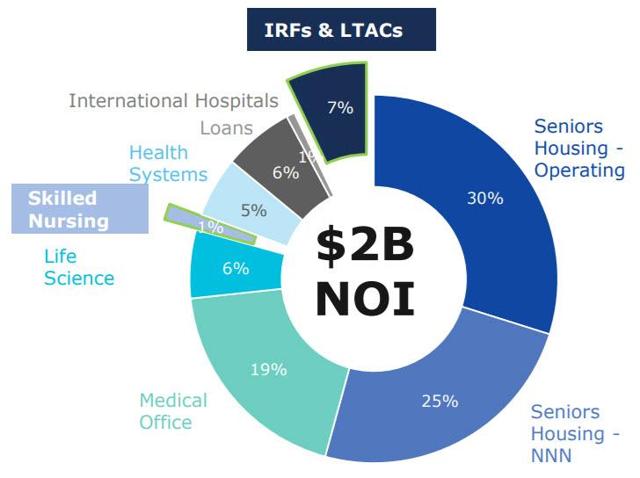 Ventas is in the process of completing $1 billion of dispositions to improve its portfolio while also continuing to strengthen its balance sheet. Ventas' top capital allocation priority is expansion of the institutional university-based life science business. In Q2, Ventas opened two brand new assets.
Ventas funded investments of $110 million in the second quarter, including $53 million of acquisitions, helping operator partners grow in the senior housing triple net portfolio, and $57 million of funding for its share of development and redevelopment projects currently underway.
VTR's credit metrics include best-in-class fixed charge coverage of 4.6x, debt-to-gross assets of 40%, and secured debt to total indebtedness holding steady at 6%.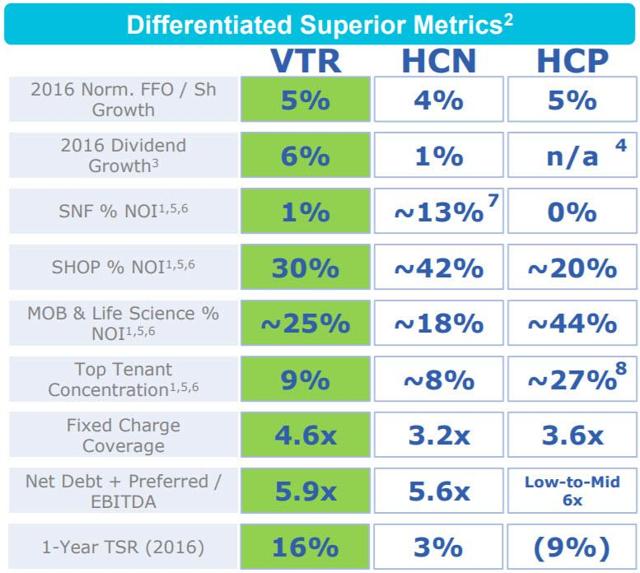 VTR has proven that it can access capital and be in the right place at the right time. VTR is rated BBB+ (by S&P) and similar by the other rating agencies.

Liquidity will enable VTR to take advantage of opportunities and preserve value for stakeholders.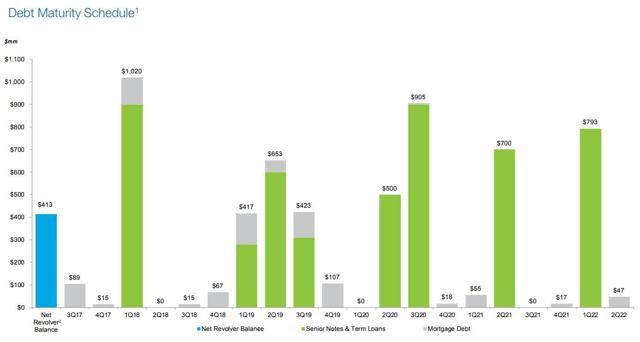 The Latest Earnings Results
As a testament to the strength of Ventas' portfolio that even with all the expected portfolio changes, asset sales, leveraging the funding of developments and senior housing supply, the company's normalized FFO grew year-over-year in Q2 and is expected to grow full year at the midpoint of the guidance range.
In Q2-17, Ventas grew normalized FFO per share by 2% to $1.06, driven principally by property and NOI growth from the high quality diverse portfolio. Here's a snapshot of Ventas' historical FFO growth compared to the peer group:

Ventas delivered attractive cash flow growth in the second quarter with 5% growth in net cash provided by operating activities. Ventas also paid a quarterly dividend of $0.775 a share, representing 6% year-over-year increase. Here's a snapshot of Ventas' dividend history:


Ventas also reaffirmed full-year guidance of $4.12 to $4.18 per share compared to $4.13 in 2016.

Why I'm Including Ventas in my REIT-version of FANG?
Now I've provided you with the first clue for my first version of FANG. As I said above, I plan to provide you with an article a day over the next few days so that you can soon know my REIT version of FANG.
Let's examine the dividend yield:

I've already provided evidence that Ventas has an exceptional history of dividend growth. Now let's take a look at the prospective dividend growth (by analyzing the FFO growth forecaster):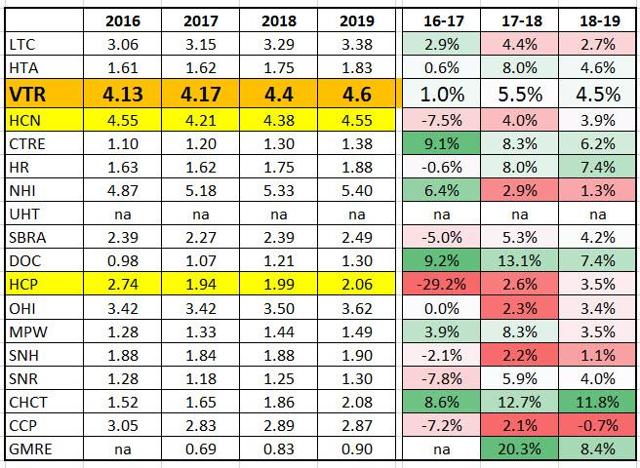 As you can see, Ventas has no red-shaded growth (like HCN and HCP). I recognize that there is no green either, but Ventas is one of just a handful of Healthcare REITs with a credit rating of BBB or higher.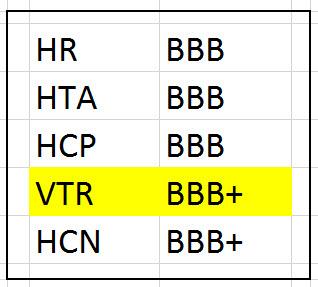 So now let's examine the P/FFO multiple (and I have identified the REITs rated BBB or higher):

Here's my conclusion: Ventas is a leading healthcare REIT and I am making the case that this company belongs in my FANG for REITs model. The company has an exceptional management team and a proven history of managing risk. Shares are now trading a "sound value", arguably a bit cheap when comparing to the other BBB-rated REITs. This is an easy pick for my FANG for REIT Model.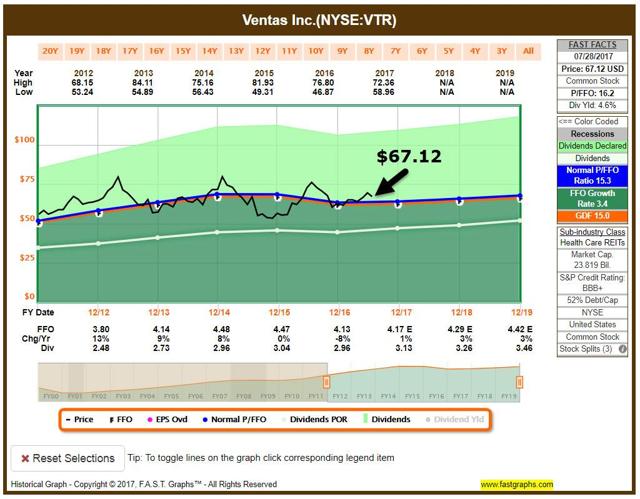 Turning to the macro front political and policy uncertainty continues to weigh on healthcare, taxation, regulation and trade. Washington has been wildly unpredictable, although last night or I should say, this morning's - early-morning vote should restore some stability to the healthcare environment as the majority leader of the Senate concluded that it is "time to move on" from the efforts to repeal some or all of the Affordable Care Act.
Now the real estate community can buckle up for the tax reform rollercoaster ride as major changes to the tax code are proposed, many of which would have significant consequences for all public and private real estate companies. Yet the debt and equity capital markets remain remarkably favorable.
Therefore our view is that we should in all events remain financially strong and liquid, maintain diversification and balance in our portfolio continue to drive cash flow and efficiency in our enterprise allocate capital wisely, staying nimble, and opportunistic, and continue to elevate the mix and quality of our portfolio. We want the Ventas team to work together to deliver superior long-term performance and reliable enterprise growth in income on a strong balance sheet to our holders.
For a limited time, I am providing new subscribers with an autographed copy of The Intelligent REIT Investor. This is a limited offer, so don't miss out!
Note: Brad Thomas is a Wall Street writer, and that means he is not always right with his predictions or recommendations. That also applies to his grammar. Please excuse any typos, and be assured that he will do his best to correct any errors, if they are overlooked.
Finally, this article is free, and the sole purpose for writing it is to assist with research while also providing a forum for second-level thinking. If you have not followed him, please take five seconds and click his name above (top of the page).
Sources: F.A.S.T. Graphs and VTR Investor Presentation.
Disclosure: I am on the Advisory Board of NY Residential REIT, and I am also a shareholder and publisher on theMaven.
Disclosure: I am/we are long APTS, ARI, BRX, BXMT, CCI, CHCT, CLDT, CONE, CORR, CUBE, DLR, DOC, EXR, FPI, GMRE, GPT, HASI, HTA, IRM, JCAP, KIM, LADR, LTC, LXP, O, OHI, OUT, PEB, PK, QTS, ROIC, SKT, SNR, SPG, STAG, STOR, STWD, TCO, UBA, UNIT, VER, WPC.
I wrote this article myself, and it expresses my own opinions. I am not receiving compensation for it (other than from Seeking Alpha). I have no business relationship with any company whose stock is mentioned in this article.