Brad Thomas wrote this article and it has previously appeared on Seeking Alpha.
The cat is out of the bag; readers were quickly able to figure out that my 5-letter FANG for REITs is DAVOS.
When it comes to the size of the moat, Simon gets the nudge.
Simon turned an excellent quarter and the 9% dividend boost is just icing on the cake.
If you haven't been following my series, I recently decided to create a REIT-version of FANG in an effort to mimic the most popular and best-performing REITs, just as FANG's tech constituents: Facebook (NASDAQ:FB), Amazon (NASDAQ:AMZN), Netflix (NASDAQ:NFLX), and Google (NASDAQ:GOOG) (NASDAQ:GOOGL)… I wrote,
FANG has become a household name. And I thought to myself, wouldn't it be cool to create my very own REIT version of FANG? Not just to showcase some flashy acronym like SWAN (yes, I wanted to use it but there are no perfect combination of REITs that work), but to create a benchmark of the best REIT performers in one easy-to-use phrase.

As you know, I remain bullish with Tanger as I believe shares are substantially mispriced. However, when it comes to the size of the moat, Simon gets the nudge. As illustrated below, Simon is larger than all of the Mall REITs combined.

As of Q3-16, SPG owned or had an interest in 234 properties comprising 191 million square feet in North America, Asia and Europe. Simon also has a 20.7% ownership interest in Klepierre, a publicly traded, Paris-based real estate company, which owns shopping centers in 16 European countries. Simon's portfolio consists primarily of high-productivity Malls/Outlets (80.6%), The Mills (11%), and International properties (8.4%).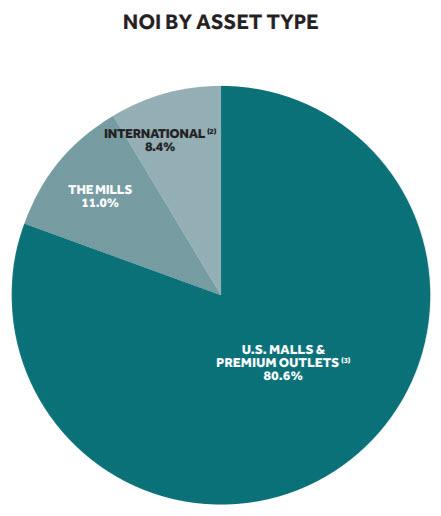 Simon's geographic diversification is unmatched in both the Mall sector and all property sectors. As illustrated below, Simon is well-diversified in both the US and abroad.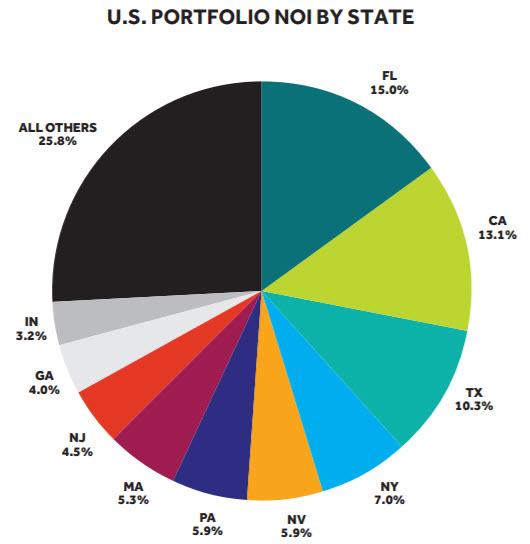 Simon's mall and premium outlets occupancy ended Q2-17 at 95.2%, a decrease of 40 basis points compared to occupancy at the end of Q1-17. Tenant bankruptcies processed during the second quarter for retailers included, but not limited to, Rue 21, Payless, and BCBG impacted occupancy by approximately 100 bps.
However, leasing activity remained solid. Simon reported average base rent (or ABR) of $52.10, up 3.3% compared to 2016, reflecting strong retailer demand. And for the company's locations, Simon's malls and the premium outlets recorded leasing spreads of $8.13 per square foot, which was an increase of 12.9%.
Simon's reported retailer sales per square foot for malls and outlets was $618 compared to $607 in the prior year period, an increase of 1.8%. Simon's portfolio NOI increased 5% (or more than $70 million) for the second quarter and more than $150 million year-to-date.
Here's a snapshot of Simon's to In-line tenants:

On the Q2-17 earnings call, one analyst said, "Given the re-leasing you're doing in the face of this challenging retail market, are you starting to decrease your exposure to apparel?" David Simon, CEO at Simon said,
Then, Simon's Richard S. Sokolov provided more details,
"Let me just give you a couple of metrics. Literally, our apparel now is down to the low-40% as an allocation of our GLA. More importantly, when you look at our new deals over the years, (09:52) we're literally having almost 20% less in terms of allocated to the apparel and shoes and food services, allocated is going up substantially."
The analyst then said, "And the new tenants coming in, are they able to match or even perhaps beat the rents that the exiting apparel guys are paying?"
"Absolutely. As you see in our spreads and our average base rent increases, we're able to continue to drive our growth in rents."
Then Sokolov reeled off a list of companies, many of which I have never heard of (and I apologize if the names are incorrectly spelled from the earnings transcript),
"And these are all tenants that we have in fact executed leases with and are opening stores in both our mall portfolio and our premium outlet portfolio. In the mall, UNTUCKit, Eloquii, b8ta, Peloton, Juice Generation, thredUP, Tommy John, Indochino, Flying Tiger, Calzedonia, Muji, Deavaley, Rituals. And these are from international, and Shinola, Nespresso. We've got – and frankly, I could keep going for another 15.
On the premium side, we literally have Dockers, Cody, Basler, Hackett, Havaianas, Hickey Freeman, Karl Lagerfeld, Schua, Lafayette 148, Marmo..."
"And frankly, I could go on for another 30 names. The important message is, these properties are vibrant, there is a lot of demand and we're able to execute leases that are growing our rents."
Now let's examine Simon's top anchor tenants:

At the end of Q2-17, Simon's redevelopment expansion projects were ongoing in 25 properties across all three platforms, with Simon's share of net cost at approximately $1 billion. The company completed the Galleria in Houston in Q2-17 and opened up the former Saks space for a small shop, tenants and restaurants.

Construction continues on several major redevelopment expansion projects at some of Simon's most productive projects, including La Plaza, The Shops at Riverside, Aventura, and Allen Premium Outlets.
On new development Simon had another busy quarter, opening four new outlets, three international; Provence, France; Siheung, Seoul, South Korea; Kuala Lumpur in Malaysia; and in the U.S., one in Northbrook, Virginia. Construction continues in the mixed-use development in Fort Worth at The Shops at Clearfork, which will open in the fall of this year.
The Fortress Balance Sheet
SPG is the only Mall REIT with an "A" rating, and all rating agencies concur: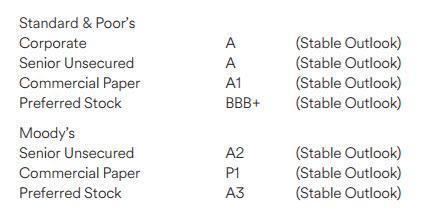 In Q2-17, Simon completed a dual-tranche senior offering, a total of $1.35 billion with a weighted average coupon of just over 3% and weighted average term of 7.8 years. The company completed the two early redemptions of senior notes totaling $1.85 billion.

Simon has an industry-leading balance sheet, and the company has current liquidity of around $6.5 billion and its debt-to-market cap is around 34.2% During the quarter, Simon closed six mortgage loans totaling $1.1 billion, of which the company's share is $573 million with a weighted average interest rate of approximately 3.5% and a term of 8 years.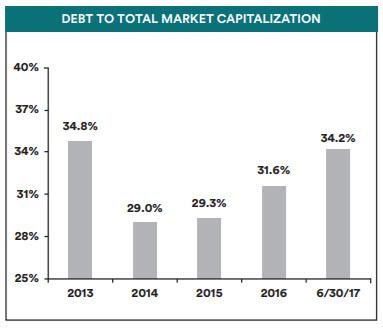 During Q2-17, Simon repurchased 1.5 billion shares of common stock for $244 million. As illustrated below, Simon has strong credit metrics: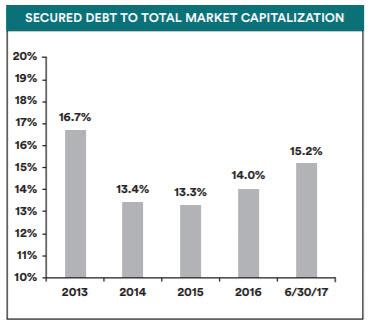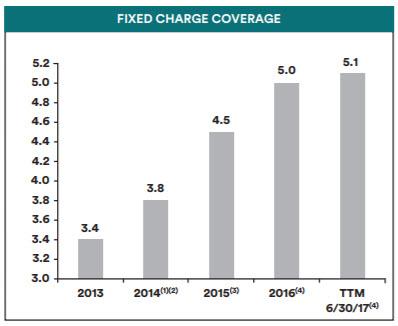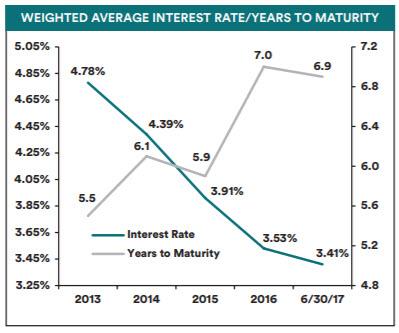 This Is Why Simon Made The DAVOS List
Simon's Q2-17 earnings results validate the strength of the dominant Mall REIT. Simon's funds from operation (or FFO) were $2.47 per share, which included a $0.36 charge for the early redemption of 5.65% notes. On a comparable basis, excluding the debt charge, FFO per share was $2.83 and increased 7.6% year over year.
Simon also raised guidance to a range of $11.14 to $11.22 FFO per share. This – the midpoint of this range is an increase of $0.04 from the company's prior-year guidance after giving effect to the charge related to the debt extinguishment of $0.36.
Now let's examine Simon's FFO per share growth forecast compared with the Mall REIT peers:

As you can see, Simon has the best 2017 and 2018 growth estimates (analyst consensus) and when you combine the fortress balance sheet, strong diversification, and highest quality real estate, you get a sense of the SWAN (sleep well at night) ingredients that make up the DAVOS recipe.
But most importantly, Simon has DIVIDEND POWER...
Simon also increased its quarterly dividend to $1.80 per share, a year-over-year increase of 9.1%. The company will pay at least $7.10 for the year of 2017, which is an increase of 9% compared to $6.50 last year. Here's how that looks:

As you can see (above), Simon has a history of robust dividend growth and as you know, dividend growth is a key driver for share price appreciation. Simon's payout ratio is sound.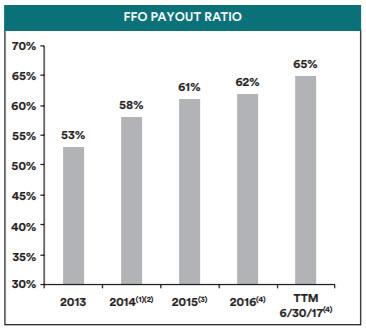 I just published the August edition of The Forbes Real Estate Investor and Simon is the only Mall REIT with a STRONG BUY Rating. I remain bullish as it related to the highest-quality retail REITs as I believe the market will continue to draw a line in the sand when it comes to the A Malls and the others (B- and C+). Here's how the Mall REITs have performed year-to-date:

Now let's compare these REITs based on dividend yield:

Now let's compare these REITs based on P/FFO multiples:

The Bottom Line: Simon turned an excellent quarter and the 9% dividend boost is just icing on the cake. I was not expecting such a big lift and this signals the confidence of the management team. I am maintaining a STRONG BUY on Simon as I consider this REIT to be of the best opportunities in the entire REIT sector. As David Simon summed up on the latest earnings call,
There is no company in our industry that has our breadth and quality real estate is as diversified by type of retail real estate and as active in the mixed-use development of real estate and has built and operated successfully in Europe and Asia, has consistently increased earnings cash flow and dividends, has the access to capital with an A-rated balance sheet or as innovative in terms of operations, including connecting with the consumer in deal making from retail to entertainment to venture capital or various corporate transactions like we have.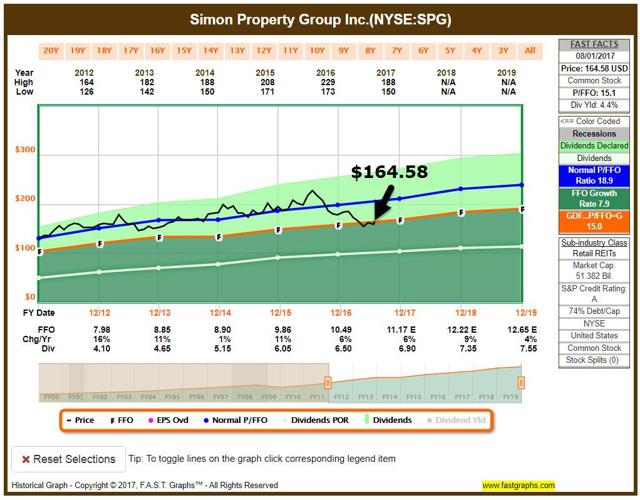 For a limited time, I am providing new subscribers with an autographed copy of The Intelligent REIT Investor. This is a limited offer, so don't miss out!
Note: Brad Thomas is a Wall Street writer, and that means he is not always right with his predictions or recommendations. That also applies to his grammar. Please excuse any typos, and be assured that he will do his best to correct any errors, if they are overlooked.
Finally, this article is free, and the sole purpose for writing it is to assist with research while also providing a forum for second-level thinking. If you have not followed him, please take five seconds and click his name above (top of the page).
Sources: F.A.S.T. Graphs and SPG Investor Presentation.
Disclosure: I am on the Advisory Board of NY Residential REIT, and I am also a shareholder and publisher in theMaven (OTCQB:MVEN).
Disclosure: I am/we are long APTS, ARI, BRX, BXMT, CCI, CHCT, CLDT, CONE, CORR, CUBE, DLR, DOC, EXR, FPI, GMRE, GPT, HASI, HTA, IRM, JCAP, KIM, LADR, LTC, LXP, O, OHI, OUT, PEB, PK, QTS, ROIC, SKT, SNR, SPG, STAG, STOR, STWD, TCO, UBA, UNIT, VER, VTR, WPC.
I wrote this article myself, and it expresses my own opinions. I am not receiving compensation for it (other than from Seeking Alpha). I have no business relationship with any company whose stock is mentioned in this article.