When I see shares in blue chip REITs decline, I am like a kid in the candy store.
I decided to stay in my wheelhouse and "max out" my position with the world's largest skilled nursing REIT.
I am maintaining a Buy on Omega with a target annualized return target of 16%.
That was certainly a memorable day as it signaled the day on which Donald Trump was elected President of the United States, but it also validated my investment philosophy as it relates to owning shares in high-quality REITs.
When I see shares in blue chip REITs decline, I am like a kid in the candy store, and I begin to salivate, waiting for panicking sellers, or as John Templeton said,
To buy when others are despondently selling and sell when others are greedily buying requires the greatest fortitude and pays the greatest ultimate rewards."
So while many investors were pre-occupied with the results of the last election, I decided to stay in my wheelhouse and "max out" my position with the world's largest skilled nursing REIT. As I wrote (back in November),
Much of the fear with OHI has been driven by the broader implications of the skilled nursing sector. Although the reimbursement model is somewhat confusing, I consider one of the biggest misconceptions in skilled nursing to be the new payment systems. Oops, they aren't really new.
The process started over a decade ago and the new CMS systems are just an evolution of the payment scheme. In fact, I view the issues in a more positive light, it's simply a way to handle all of the masses of people getting ready to enter the skilled nursing space."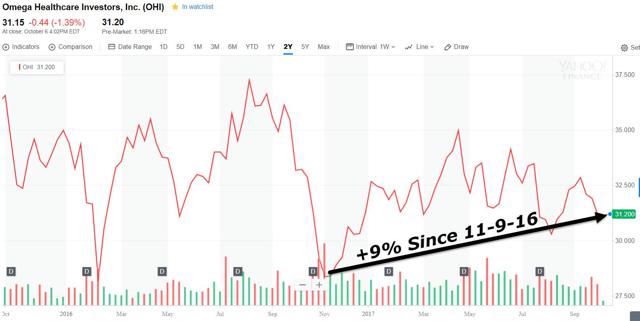 I certainly did not "call the bottom" but I did know that the market was completely wrong with Omega. I explained that "many get confused with the skilled nursing issues in the 1990s, but that fallout was due to a bad payment scheme - more of a fiscal issue - and the new changes are simply to make patient care more efficient, and as previously noted, to deal with the massive volume of new patients entering the system."
The catalysts supporting my over-weight exposure in the name and based on pure logic – that there will be more demand for skilled nursing operators. Aging demographics will continue to drive SNF occupancy beyond capacity in less than 10 years without efforts to reduce lengths of stay and increased utilization of alternative care sites.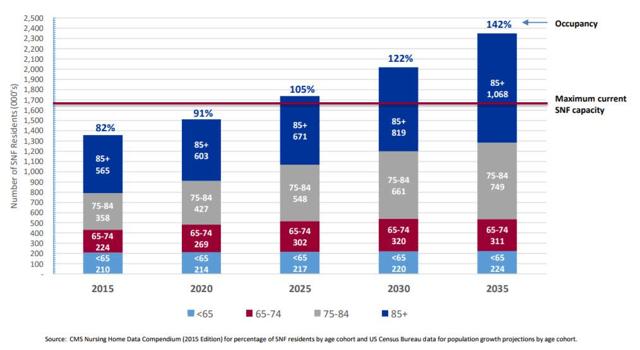 High-Performing SNFs will continue to gain business as Post-Acute networks narrow. Supply of facilities and beds to meet increasing future demand is limited due to CON restrictions, increasing occupancy prospects for existing facilities.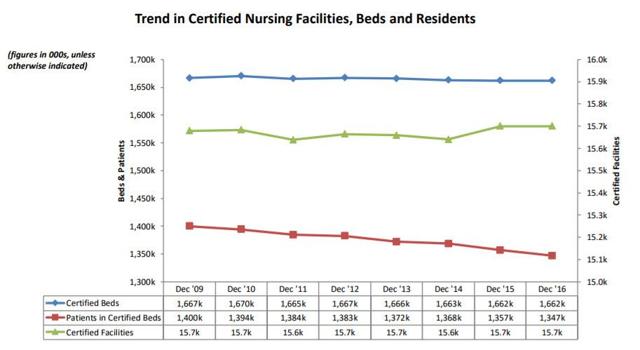 Rather than acquire more Post-Acute assets, many hospitals will continue to outsource. SNF Medicare patient days are projected to grow due to increasing enrollment, even while lengths of stay decline under alternative payment models (bundling, managed care, ACOs, VBP).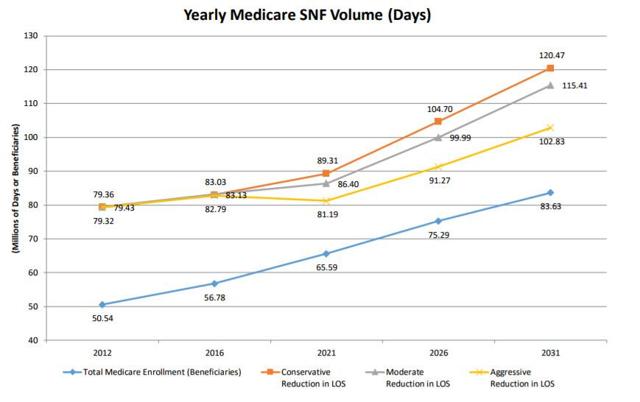 Medicare: Growth in alternative payment models is expected to continue under new DHHS/CMS leadership, but at a slower pace. Inflationary increases for fee-for-service PPS rates reduced to 1% for the next two years under current RUG classification system. Potential CMS PPS reform commencing in 2018 would eliminate RUG system and use alternative patient characteristics system, effectively reducing payments for therapy services while enhancing payments for complex nursing care and incentivizing lower lengths of stay.
Medicaid: Will likely change federal funding to states from current matching program to capped per capita program; impact currently unknown but long phase-in process likely to minimize state financial burden while eligibility and other potential state reforms enacted. Omega's geographic diversification helps minimize the impact of rate changes in any particular state.

On the most recent earnings call, Omega's CEO Taylor Pickett explained,
We believe that some of the negative news regarding the reliability of our future rents and the ability to continue to deliver dividend growth to our shareholders significantly overstate the issues that our operators are managing through today and ignores the enormous demographic wave at seniors that will have greatly expanded healthcare needs over the next 5 years."
That wave, that Pickett is referring to, is the "alpha" that will move shares in "Omega." This demographic landscape presents opportunities across many aspects of the healthcare REIT universe, and especially the high-quality REITs that have demonstrated success over many economic cycles.