The portfolio repositioning has left the REIT in a better place than it has been in years, but is it enough?
Activists are on its tail, causing the stock price to increase.
Our thoughts on this mid-Atlantic shopping center REIT.
A subscriber recently asked us to take a look at Cedar Realty (NYSE:CDR), a beaten-down shopping center REIT as he was aware we are very familiar with shopping center REITs - both as a developer (as Brad was) and analyst/investors (as both Brad and Rubicon are). We have been meaning to do an update on this smaller retail REIT as it has recently been in the news and it has recently released its third-quarter results.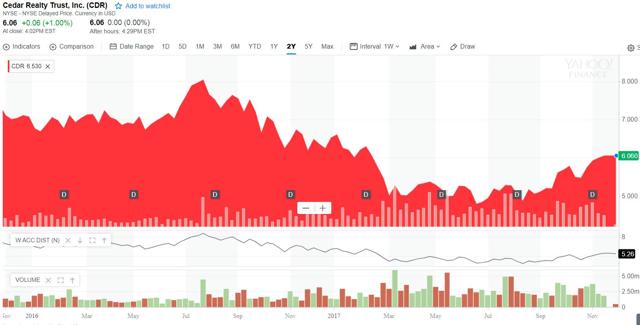 Cedar Realty Trust, Inc. is a fully-integrated real estate investment trust which focuses on the ownership, operation and redevelopment of grocery-anchored shopping centers in high-density urban markets from Washington D.C. to Boston. The company's portfolio (excluding held for sale) comprises 61 properties, with approximately 9.0 million square feet of gross leasable area.
Before getting into Cedar, it must be stated that the REIT has an activist investor on its tail - Snow Park Capital.
In fact, Snow Park estimates Cedar to have an NAV of $7.00 to $8.25 per share. We believe such NAV levels are readily attainable should the Company take the appropriate steps because its portfolio is comprised of highly liquid grocery-anchored shopping centers for which investment demand remains robust. Snow Park has communicated with multiple firms, both financial and strategic, that have specifically expressed interest in Cedar's portfolio.
Many of these parties have either formally or informally reached out to the Company, only to be rebuffed. Cedar's lack of willingness to even entertain a market check on the Company's assets has left shareholders suffering in an inefficient and underperforming REIT with very little hope that Cedar's discount to private market value will ever be closed.
Furthermore, we do not find credible management's claims that the "next leg of value creation" will come from the high-risk, mixed-use developments that it has described only in abstract terms and for which the Company has no core competence or identifiable experience. Even more baffling to us is that after researching certain projects, we have been unable to even find plans or permit information for them.
We believe that management's claims are nothing more than an attempt to obfuscate their performance and garner another seven years to earn compensation packages more typically seen at Fortune 500 companies or professional athletic teams rather than tiny, subscale REITs.
On November 27, 2017, Cedar responded to Wheeler's correspondence by publicly releasing incorrect information suggesting that Wheeler offered to purchase Cedar. In fact, the letter from Wheeler to Cedar's Board of Directors was simply a request for a meeting to discuss methods to enhance shareholder value, including possible acquisition opportunities. Wheeler's correspondence did not include an offer.
In full disclosure, earlier this month, Nancy Mozzachio, Cedar Realty's former chief operating officer, filed a sexual harassment suit against the company and its CEO. Snow Park is also using this to discredit management. We disclose this because it has come up from the activist, not because we have an opinion or a complete understanding of the suit and/or its merits.