Brad Thomas wrote this article and it has previously appeared on Seeking Alpha.
KIM shares have experienced a dramatic decline in price over the last year.
The truth is that many retailers are growing their store count.
"Omni-channel is a win-win for the retail sector." Conor Flynn, CEO at KIM
KIM has successfully reduced complexity of the balance sheet with 100% emphasis on US high-quality shopping centers.
I'm sure you remember the classic folk song,
There was a farmer had a dog,
and Bingo was his name-o.
B-I-N-G-O
B-I-N-G-O
B-I-N-G-O
And Bingo was his name-o.
Well, in full disclosure, I wrote the rap review column when I was in high school and I do have a passion words that rhyme. Here's my modern-day REIT version for "Kimco Is Its Name-O."
There is a REIT I like a lot,
And Kimco is its name-o
K-I-M-C-O
K-I-M-C-O
K-I-M-C-O
And Kimco is its name-o.
Ok. Enough of the rapping, unless you really want me to bang out some sucker yield rap in my upcoming sucker yield smack-down.
Seriously, Kimco Realty (KIM) is one of my favorite shopping center REITs, and one of two retail REITs that have a STRONG BUY rating on now. Back in April I explained that "given the more recent price decline (and subsequent mis-pricing), I am upgrading KIM from a BUY to a STRONG BUY…I am targeting KIM to move in-line with the closer peers (FRT, AKR, etc..) and generate annual returns in excess of 18%."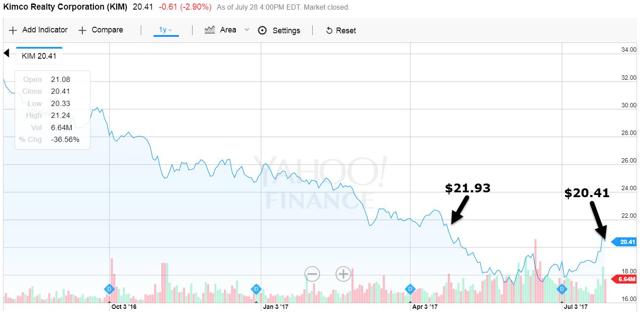 As the chart indicates, KIM shares have experienced a dramatic decline over the last year, and the Amazon news has not helped the cause. Just take a look at some of the gross exaggerated media headline…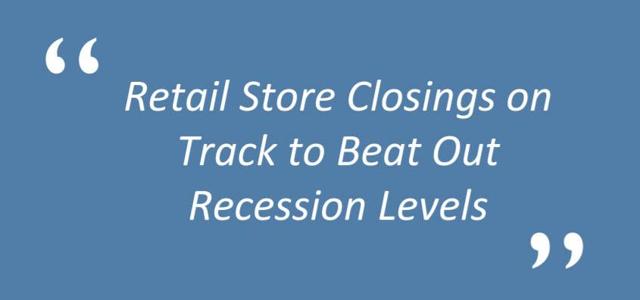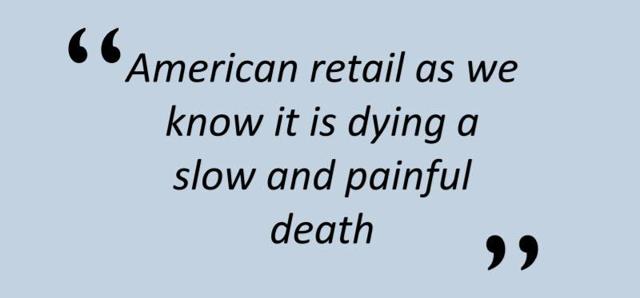 It's really astonishing to see the continued media pressure in the shopping center sector and while I do recognize the fact that many retailers are experiencing pressure, the death of the shopping center sector is far from extinct. Here's the reality…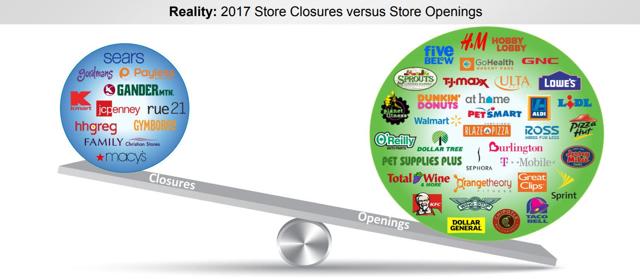 The truth is that many retailers are growing their store count…
While some shopping center landlords may be experiencing trouble, KIM's 2-17 stoe closures have had a limited impact, as evidenced below: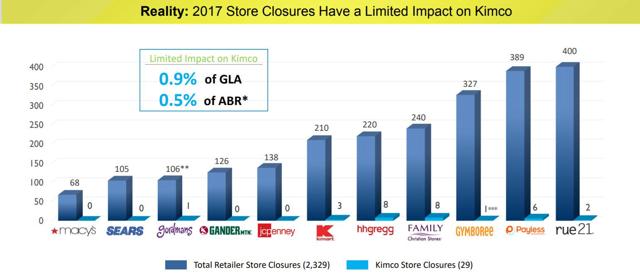 What about the recently announced Whole Foods (WFM) acquisition by Amazon (AMZN). KIM's CEO, Conor Flynn had some interesting commentary on the latest earnings call,
I think it is fair to say that the debate surrounding the death of physical retail is over. The Amazon-Whole Foods transaction, Alibaba's growing grocery concept in China, Walmart's quick-and-collect Pickup Discount program integrated with Jet.com, and Target's flex format Express, all point to a vibrant, albeit different-looking retail real estate world.
In this new world order, omni-channel is the new normal, and that is where the retail barrels will take place. Those that embrace and master the omni-channel approach that combine technology, social media and physical real estate will thrive. Those that ignore it will do so at their own peril.
Omni-channel is a win-win for the retail sector. For the consumer, it provides convenience, lower prices and optionality. For the retailer, it provides opportunity to reach more customers, generate add-on sales upon pick up, reduce shipping costs and limit the number of returns.
Physical retail has a large role to play in this effort to bring the best shopping experience for the customer, especially as retailers continue to explore different ways to overcome the last-mile challenge. And let's not forget that notwithstanding the changes and challenges that confront retail, off-price, grocery, home improvement, fitness, beauty and other service retailers continue to thrive in this environment.
Kimco Realty is the owner and operator of the largest publicly traded portfolio of neighborhood and community shopping centers in North America. The company was founded in 1958 and listed shares in 1991. In 2006 Kimco was added to the S&P 500 Index.
As of Q2-17, KIM's well-balanced portfolio consists of 511 U.S. shopping centers comprising 84 million square feet of leasable space across 35 states and Puerto Rico. KIM focuses on major U.S. metropolitan markets: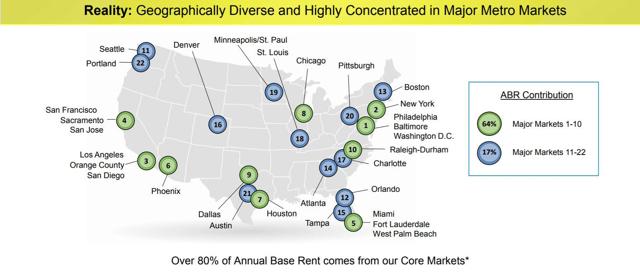 KIM has a very diverse revenue model with over 8,800 leases with 4,100 tenants. The company has well-staggered lease maturities with limited rollover in any given year; averages ~8% of GLA over next 10 years. 4 of KIM's top 5 tenants are Moody's investment grade and only 14 tenants have ABR exposure greater than 1.09%.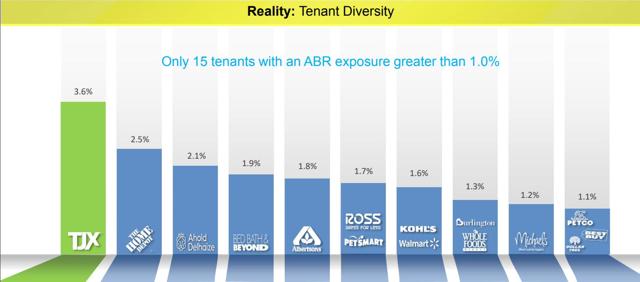 Community centers are the most recession resistant shopping centers and KIM's "open-air" focus makes the case that the company will continue to benefit from growth. As illustrated below, only 5% of KIM's portfolio is internet vulnerable: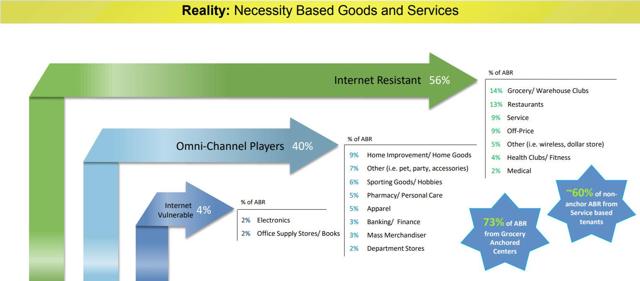 Low new supply also benefits KIM, there has been a 38-year low in new shopping center supply, while KIM continues to grow ABR (average base rent) by ~4% annually. As of Q2-17 KIM's ABR was $15.25 per SF. Record low supply has created pricing power for retail landlords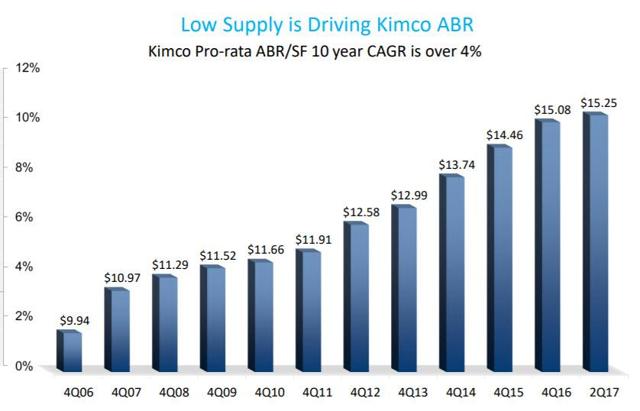 The Fortress Balance Sheet
In Q2-17 KIM repaid $405 million of mortgage debt and unencumbered an additional 19 assets, bringing the total number of unencumbered assets to 382. As illustrated below, KIM has a fortress balance sheet: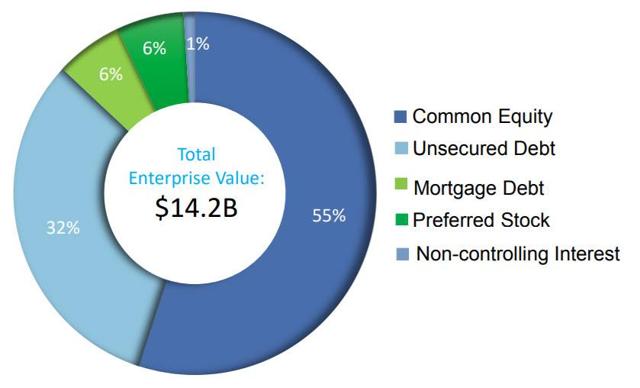 At the end of Q2-17 KIM's net debt-to-EBITDA adjusted was 6.2x (and including the earnings from the Albertson's investment, net debt to EBITDA is only 5.4x). KIM finished the quarter with over $1.8 billion of availability in immediate liquidity.

KIM's fixed charge coverage is in the mid 3x range with a weighted average debt maturity profile of 8.7 years, one of the longest in the REIT industry.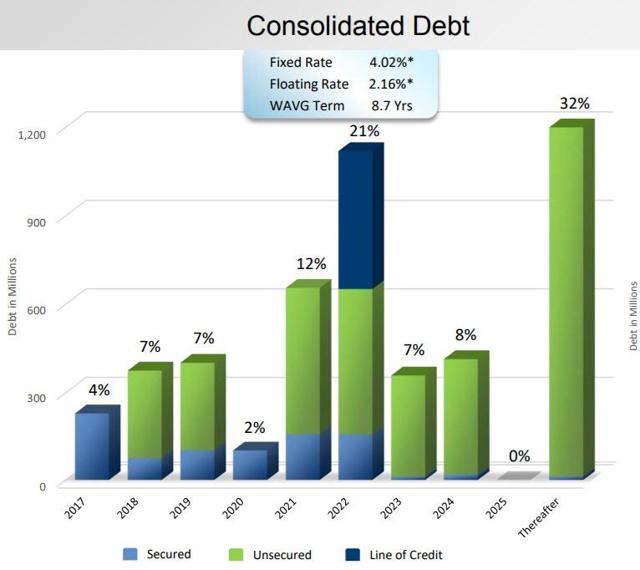 As I explained in a recent article, "it appears that Kimco could become an 'A' rated REIT during the next year or two. KIM has similar ratings with Moody's and Fitch". Recently KIM completed a new $2.25 billion revolving credit facility with borrowings priced at LIBOR plus 87.5 basis points. This new 5-year facility with a final maturity date in 2022 replaces the $1.75 billion revolving credit facility which was priced at LIBOR plus 92.5 basis points.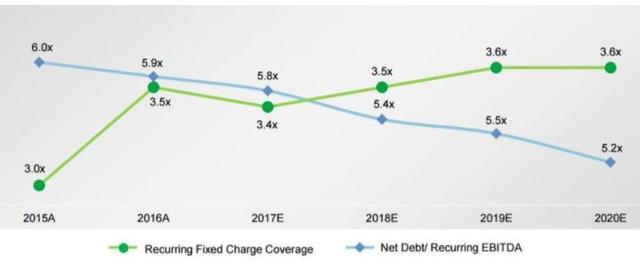 I only mention the likely credit upgrade because I want to compare KIM with the peers when I examine the valuation metrics at the end of this article. It's important to recognize the quality of KIM's dividend power, and the potential for multiple expansion.

The Latest Earnings Results
As I alluded to above, KIM has sold off substantially and while some shopping center REITs may suffer as a result of retail bankruptcies, KIM is well-prepared to manage the risk, as evidenced by the latest earnings results. As Glenn Cohen, KIM's CFO explained,
"Our second quarter results present solid evidence than our company comprised of open-air shopping centers continues to perform well. The strength of our real estate portfolio continues to shine as we had another strong quarter led by our leasing activity, which produced positive double-digit leasing spreads and an increased occupancy level."
In Q2-17 KIM's NAREIT-defined FFO was $0.41 per share, which includes $23.7 million of $0.05 per share from the equity-invested distribution received from the company's Albertsons investment.
KIM also recorded a $9.5 million impairment charge of $0.02 per share related to an accepted offer on undeveloped land parcel in Canada, which the company expects to close by the end of the year.
KIM's NAREIT FFO per share for Q2-16 was $0.38 and included $0.01 per share from a preferred equity profit participation.
FFO as adjusted (recurring FFO, which excludes transactional income and expense in non-operating impairments) was $160.7 million or $0.38 per share for Q2-17, compared to $155.5 million or $0.37 per share for Q2-16.
KIM's operating team has been successfully executing on replacing the lost NOI from the Sports Authority bankruptcy, which totaled $4.8 million for Q2-17. KIM has signed leases for 15 of the vacated TSA boxes, has 8 under LOI negotiations, sold one and has one remaining. (nice work KIM).
To-date, KIM has invested over $420 million in its development pipeline, which is non-income-producing today and therefore causes a short-term drag on FFO growth.

Beginning in Q2-17 KIM will start generating NOI and FFO from the recently-opened Grand Parkway project with other development projects expected to come online in the latter half of 2018 and during 2019. The operating portfolio continues to deliver positive results: Anchor occupancy was up 20 basis points from last quarter to 97.5% and small-shop occupancy increased another 10 basis points to 89.7% for total occupancy of 95.5%.
Year-to-date, KIM's gross value of dispositions totaled $269 million with Kimco's share at $194 million. Demand remains solid for quality assets, particularly those with the grocery components, even in the secondary markets, buyers range from private institutions, 1031 exchange buyers, pension funds and REITs, both public and private. Given the robust demand and pricing, KIM has increased its dispositions guidance to match-fund acquisition estimates of $300 million to $400 million for the year.

In terms of acquisitions, KIM had a great quarter, and I'm specifically referring to the Jantzen Beach purchase. KIM utilized $75 million in 1031 exchange proceeds to fund this $131 million acquisition.
This acquisition enhanced KIM's ownership position in one of the premier coastal markets of Portland with a 67-acre asset that has several below-market leases and substantial redevelopment opportunities, including out-parcel expansion and mixed-use potential.

Together with the flagship Jantzen Beach property, KIM now has eight centers and a local office providing a strong presence in the Portland market that creates significant operating efficiencies and economies of scale.

Last week, after KIM announced Q2-17 earnings, Mr. Market perked up a bit…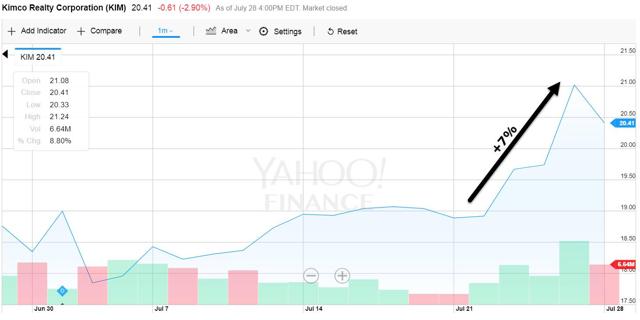 Don't get too excited, KIM shares have been beaten down hard, and it will take a while to claw back from the deep hole that Mr. Market dug…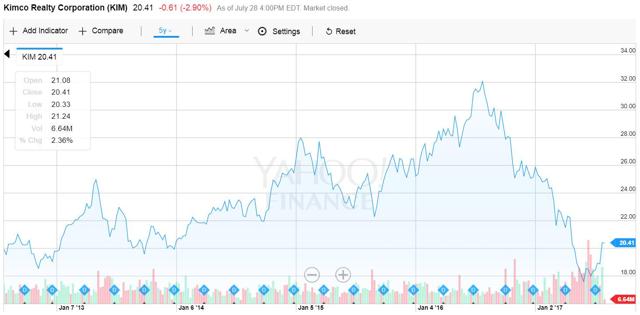 Who knows when (and if) KIM shares will "normalize", maybe we must expect a "new normal"….but ignoring the price being offered, let's take a look at the dividend yield:

As noted above, KIM is yielding 5.1%, while peers FRT (rated A- by S&P) and REG (rated BBB+ by S&P) are yielding 3.2% or below. Why is that?
Before we answer that, let's take a look at KIM's forecasted FFO/share growth compared to the peer group. Remember, FFO growth is directly correlated to dividend growth…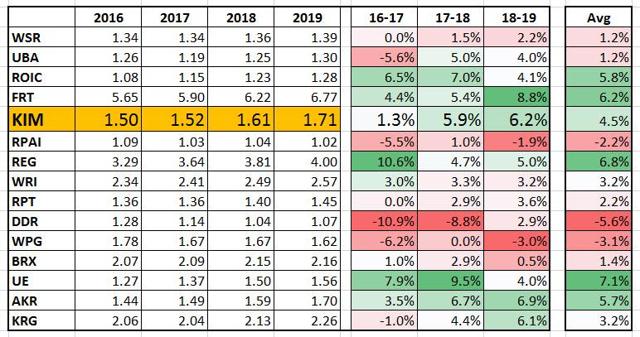 While KIM's FFO/share growth is not robust in 2017 (thanks to the dispositions and development), the future for KIM looks bright. What about the payout ratio?

Now let's take a look at KIM's P/FFO, compared to the peer group:

KIM is cheap and I am maintaining my STRONG BUY recommendation.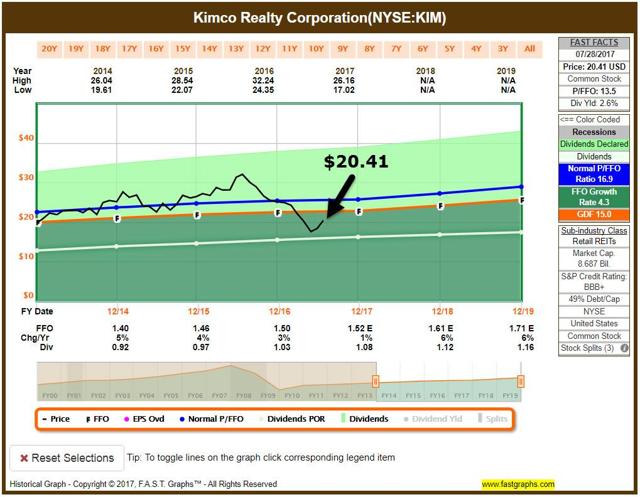 Even if KIM moves into a valuation range (of 18x) below REG (19x), the forecasted annualized returns could be 22.6%. However, I would argue that KIM deserves a multiple similar to REG.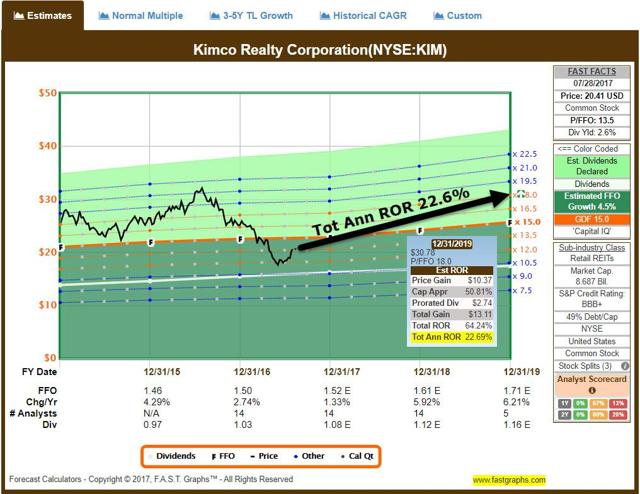 KIM's 5-year average P/FFO is 17x so even if the company closes the valuation gap to 16.5x, investors could see average returns of 18.7%. Keep in mind, KIM has successfully reduced complexity of the balance sheet with 100% emphasis on US high-quality shopping centers. Also, as noted, a credit upgrade would serve as a catalyst as it would reduce KIM's weighted average cost of capital.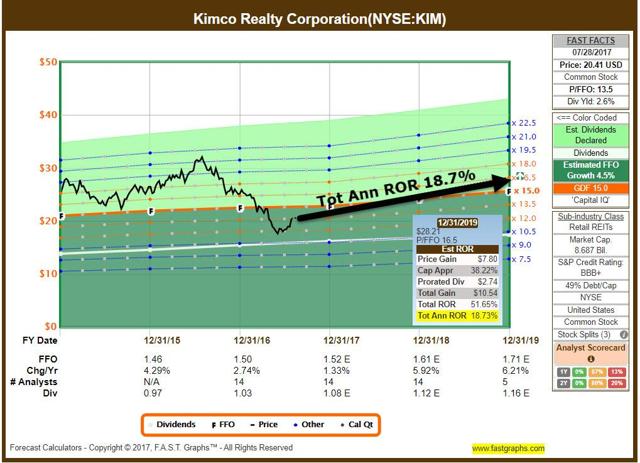 I'll conclude the article with a picture on KIMCO as its Name-O: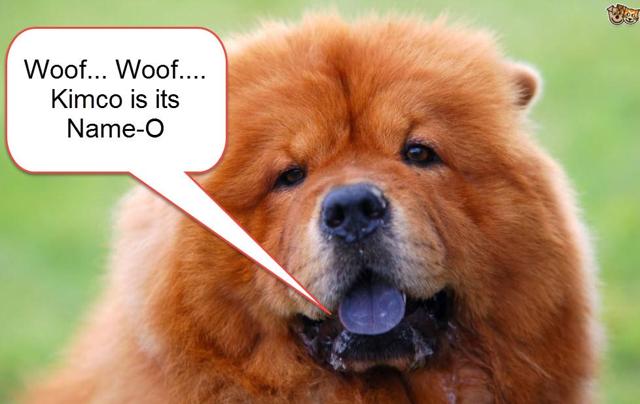 For a limited time, I am providing new subscribers with an autographed copy of The Intelligent REIT Investor. This is a limited offer, so don't miss out!
Note: Brad Thomas is a Wall Street writer, and that means he is not always right with his predictions or recommendations. That also applies to his grammar. Please excuse any typos, and be assured that he will do his best to correct any errors, if they are overlooked.
Finally, this article is free, and the sole purpose for writing it is to assist with research while also providing a forum for second-level thinking. If you have not followed him, please take five seconds and click his name above (top of the page).
Sources: F.A.S.T. Graphs and KIM Investor Presentation.
Disclosure: I am on the Advisory Board of NY Residential REIT, and I am also a shareholder and publisher on theMaven.
Disclosure: I am/we are long APTS, ARI, BRX, BXMT, CCI, CHCT, CLDT, CONE, CORR, CUBE, DLR, DOC, EXR, FPI, GMRE, GPT, HASI, HTA, IRM, JCAP, KIM, LADR, LTC, LXP, O, OHI, OUT, PEB, PK, QTS, ROIC, SKT, SNR, SPG, STAG, STOR, STWD, TCO, UBA, UNIT, VER, WPC.
I wrote this article myself, and it expresses my own opinions. I am not receiving compensation for it (other than from Seeking Alpha). I have no business relationship with any company whose stock is mentioned in this article.