New Senior is the highest paying health care REIT, sporting a 12.7 percent yield.
Holy Cow, New Senior certainly looks cheap – on all metrics – but if the company "cuts the cheese" investors are likely gonna' get shellacked.
I have a better solution, and this also comes out of the comic books, in the form of the legendary super-hero, Super Woman.
My first article on New Senior (SNR) was back in June 2015 and at the time I was mostly bullish on the externally-managed Senior Housing REIT. Although I don't generally recommend shares in externally-managed equity REITs, I liked the fact that New Senior is affiliated with Fortress Investment Group (FIG), a private equity firm with a long track record in senior housing.
Because of the relationship with Fortress, New Senior appeared to be a promising pick since it could tap into the vast resources of Fortress ($69 billion in AUM), capitalizing on the experience within the senior housing sector (i.e., Brookdale and Holiday). Early on, I was hoping to see the benefit of owning shares in New Senior because of its relationship with Fortress, a competitive advantage for sourcing new deals and potential sale/leaseback opportunities.
One negative for an externally managed operation is the fee structure, and while I am not a fan of REITs that grow simply for the sake of AUM (assets under management), New Senior's fee structure appears to be aligned with shareholders, as the base management fee is 1.5 percent of invested equity and the incentive fees must be earned (25% above 10% return on "invested" (cumulative test) equity.
In other words, Fortress is not paid on just AUM (growth), nor can it acquire expensive properties because of the built-in performance thresholds. As I wrote (back in June 2015),
New Senior is a dedicated REIT, and so Fortress is not competing with it whatsoever (to source new assets). New Senior also benefits from the economies of scale in which Fortress can exploit its purchasing power to lower costs (i.e., food, utilities, maintenance, etc...)."
New Senior began trading (on the NYSE) the common shares on November 7th, and since that time, shares have gotten hammered - down 57 percent…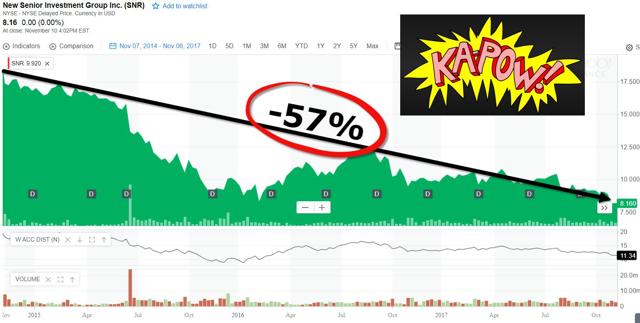 The whole plan (and my original speculative Buy thesis) was that New Senior would become a consolidator. In order to do so, New Senior would have to improve its cost of capital by de-leveraging the balance sheet and getting more exposure.
I could not help with the debt reduction, but I certainly could with exposure. Since my original article I wrote over a dozen articles on New Senior, always hoping to see signs that the company was turning the corner. The dividend appeared to be well-covered so I kept punching the time card, until a few months ago.
On August 17th (almost 90 days ago) I threw in the towel, as I explained,
I am downgrading New Senior from a Speculative BUY to a SELL. The company has not been able to generate any alpha and it's essentially boxed in with no ability to grow the dividend. I see no catalysts to support price appreciation and no evidence that the company will internalize management operations."
I have not discontinued coverage on New Senior however, as I consider the asset base sound. However, I explained,
New Senior is teetering on a dividend cut. My biggest concern with the company today is the relative age of the portfolio and the capital that is required to maintain the facilities."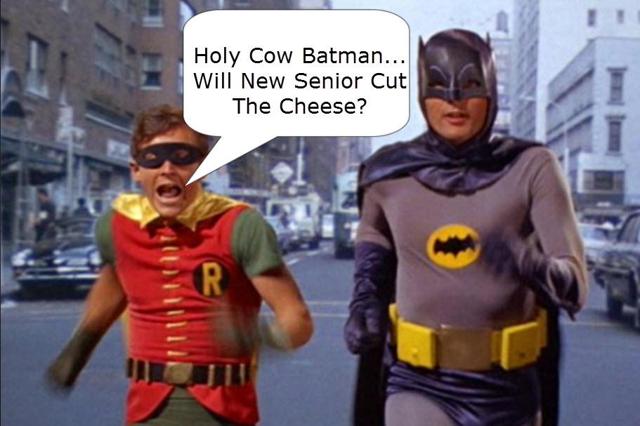 Holy Cow Batman, New Senior May Cut The Cheese