I opted to wait for more clarity related to MTA, but now that is in the rear view mirror and there's absolutely no reason to throw OUT "under the bus".
Now that the MTA deal is finalized, there is more clarity as it relates to OUT's earnings stream – the forward runway (2018 AFFO/share forecast) is 13%.
Show me another REIT that invests in New York City real estate that yields 5%?
"I see value in OUT, as a means to benefit from the continued growth in the US economy. Specifically, I am bullish as it relates to OUT's superior assets (in top markets) and hard-to-replicate portfolio. OUT's assets are located in prime, iconic locations and the cell tower leasing business should be an extremely profitable extension of the business."
I did initiate a BUY rating and one reader commented as follows,
"OUT is waiting for a decision from the MTA. They are the incumbent, but there's competition from Lamar and Intersection for this lucrative contract…If OUT doesn't retain the business the stock will take a big hit."
The reader was referring to New York OUT's long-term deal with New York Metropolitan Transportation Authority (or MTA), the largest public transit authority in the country. The deal from the MTA gives OUT the ad and communications concessions for subway, commuter rail and buses along with billboards.
Last week OUT announced that it had solidified the contract and the billboard REIT will deploy more than 50,000 digital ad displays systemwide, installed on a rolling basis starting next year. It will also continue maintaining more than 500 billboard locations for the MTA.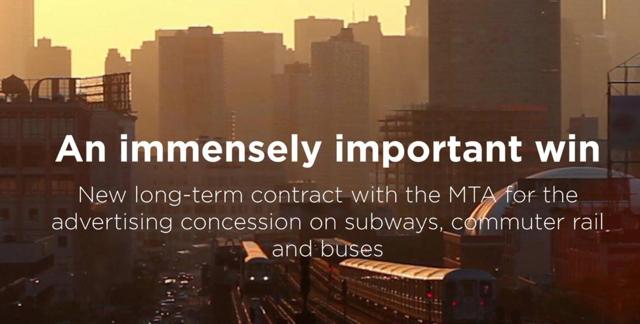 The MTA is North America's largest transportation network, serving a population of 15.3 million people in New York City, Long Island, southeastern New York State and Connecticut. The MTA system includes 472 subway stations, 6,407 subway cars, 247 commuter rail stations, 2,429 commuter rail cars and 1,255 buses.
"This contract represents an entirely new approach for the MTA, offering dramatically improved customer communications, and an upside potential for more advertising revenues," commented Joseph Lhota, Chairman of the MTA.
"OUTFRONT Media's commitment to installing digital screens in stations and on rolling stock will provide us with new ways of generating advertising revenue, while at the same time giving us a new platform to quickly and effectively get relevant information to our customers."

In a more recent article (July 24th) I explained, "it may be time to initiate a position in OUT, I have now (as per my disclosure) forecasted Total Annual Return of 31% per year." As my disclosure suggests, I own shares in OUT but now that the MTA deal has been announced, I am increasing exposure. I opted to wait for more clarity, but now that is in the rear view mirror and there's absolutely no reason to throw OUT "under the bus". Shares are up ~6% since my last article…