Brad Thomas wrote this article and it has previously appeared on Seeking Alpha.
I did some extensive digging to determine why CCP did not pursue other deals and the SBRA deal appears to have been a quiet deal.
Now that I'm no longer a shareholder in CCP or SBRA, I don't really have a "dog in the hunt."
Except for the fact that I am a large shareholder in Omega.
As you have heard me say before, "the cream always rises to the top."
I have no interest in owning a lower-quality REIT (referring to SBRA) that is attempting to become a Ventas (VTR) wannabe. I already own a healthy chunk of Ventas stock - and remember, the company was the very first to pivot away from skilled nursing.
In fact, I took a chance on the Ventas spin [CCP] because I simply trusted the management team and I felt as though there was an opportunity to capitalize on the mis-pricing in the skilled nursing sector.
While I recognize that Ray Lewis (CCP's CEO) will remain on the SBRA Board, he is not running the company. I feel as though the writing is on the wall and the time has come to hit the eject button.
In other words, I sold CCP because I had no interest in owning shares in Sabra Healthcare (SBRA). It's a well-known fact that the skilled nursing sector is under pressure and I have no interest in owning shares in a diversified operation, unless it has a proven management team.
While commenting on my article yesterday I began to ponder the question as to why Omega Healthcare Investors (OHI) did not pursue CCP. After all, it would seem logical that CCP's Board present all opportunities related to an M&A deal and it does not appear that this deal was shopped.
In fact, I did some extensive digging to determine why CCP did not pursue other deals and the SBRA deal appears to have been a quiet (almost hush-hush) deal. In other words, this seems to have been a Board decision.
Now that I'm no longer a shareholder in CCP or SBRA, I don't really have a "dog in the hunt" except for the fact that I am a large shareholder in Omega.
Like many of you reading this article, I am sure you also have skin in the game, Omega is a heavily-followed REIT with considerable retail-investor exposure. I'm sure you witnessed the sell-off Thursday after Omega posted Q2-17 earnings results:

Omega fell by around 4% and closed the day at $32.20 per share (keep in mind the company also went ex-dividend yesterday). As viewed below, it's been a choppy year for the company, largely because of the questions surrounding government pay operators.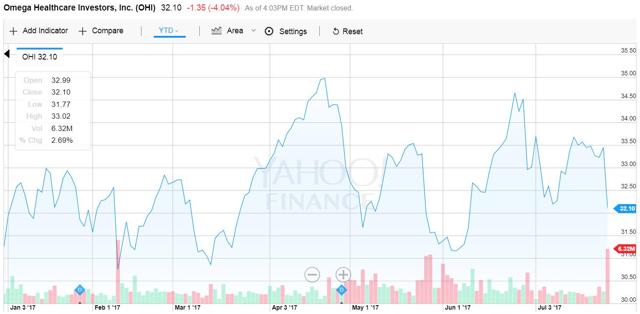 Let me be clear, although I have sold out of CCP, I have no interest in selling out of Omega. Although it has been a volatile few quarters, I am encouraged by the fundamentals and strong demographic drivers fueling the skilled nursing sector.
Demographics drive the Healthcare sector, like no other property sector. As you can see below, aging demographics would drive skilled nursing facility (or SNF) occupancy beyond capacity in less than 10 years without efforts to reduce the lengths of stay and increased utilization of alternative care sites.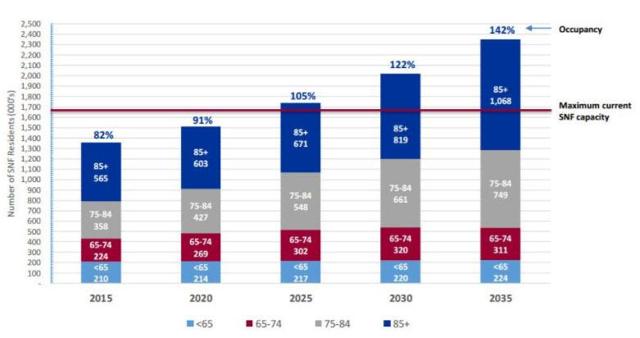 While the market perceives the operator risks weighing shares in Omega (and most Healthcare REITs) there is no argument that the demographics provide compelling clarity that the growth in the senior population is enormous and the winning consolidators will emerge.
In my article today, I am going to make the argument that Omega is a better fit for CCP than Sabra. There is more power in being a "pure play" consolidator than being a high-leveraged diversified healthcare REIT. As stated, I have no stake in SBRA or CCP but the argument to be made for owning shares in Omega can be summed up as follows (as per Howard Marks, author of The Most Important Thing):
When you boil it all down, it's the investor's job to intelligently bear risk for profit. Doing it well is what separates the best from the rest.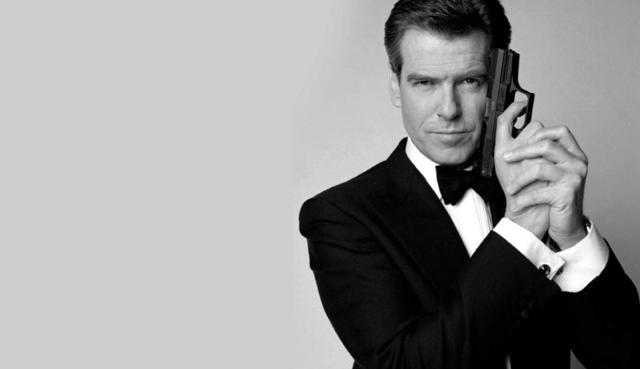 (I picked the picture because I'm a OO7 fan)
Starting with the Rear-View Mirror
Back in the late 1990s, Omega faltered after cuts to Medicare and Medicaid drained the company's business clients. As Federal budget cuts rippled through the system, Omega became wounded. Several of its tenants went into bankruptcy, and that set in motion a massive dividend cut, as the stock fell under $2.00 a share in 2001.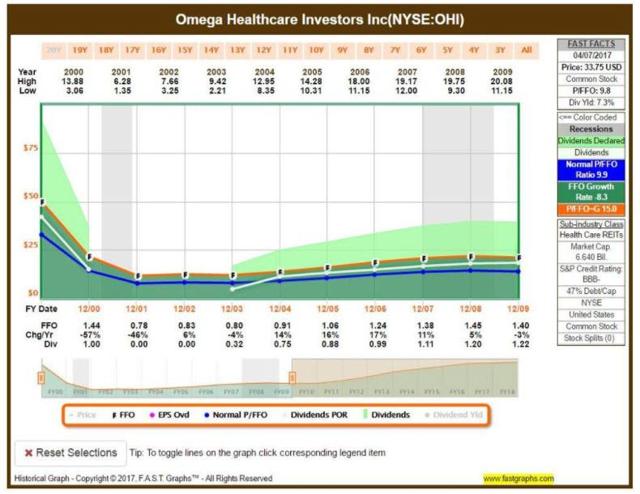 Omega has come a long way proving it can manage risk, the senior management team moved on, and under new leadership, the company has become a dividend diva.
Propelled by increased investor demand for medical real estate and changes wrought by healthcare reform, Omega's portfolio has almost quadrupled from 256 facilities at the beginning of 2009 to 992 as of Q1-17:

However, increasing competition and cost pressures, in part prompted by healthcare reform, have changed real estate needs, as hospitals release patients earlier, often into nursing care, and move more care into outpatient clinics. Some are responding to cost pressures by consolidating in order to achieve economies of scale.
The entire healthcare system is going through a major change, partially due to what the Centers for Medicare and Medicaid Services is doing, and now also being driven by the market. The new bundling programs have created a level of complexity, and many operators are under pressure to respond to the new business climate.
But the issues today are much different than those in the late 1990s.
Today, the fear - or cloud in assisted living - has more to do with the complex regulations that have put stress on operator coverage. These days, it is more of an evolution than a game changer, and it essentially boils down to survival of the fittest.
Government programs and increased regulation have forced REITs like Omega and CCP to become more complex as penalties have increased and regulators have become more aggressive.
While I was disappointed to see a delay in healthcare reform, I am hopeful that the new version of healthcare will be simpler and less hostile (less aggressive and pro-business), where operators will become less burdened, and eventually, I see the clouds going away, eventually.
Remember, this is not a supply and demand issue, it simply boils down to a complexity issue. Intelligent investors should recognize the risks and manage them well.
Keep in mind, the clouds did not just form for Assisted Living Operators, the shift in reimbursement commenced years ago. The problem today is that operators are now faced with risks on multiple battlefields: reimbursements, DOJ investigations (big fines), etc.
If an operator has 2 or 3 battles taking place at one time, it can lead to reduced cash flows (which we are now seeing).
One of the reasons that I remain bullish on Omega is because of the management team's ability to manage operator risk. Let's take a look at Omega's top 10 operators: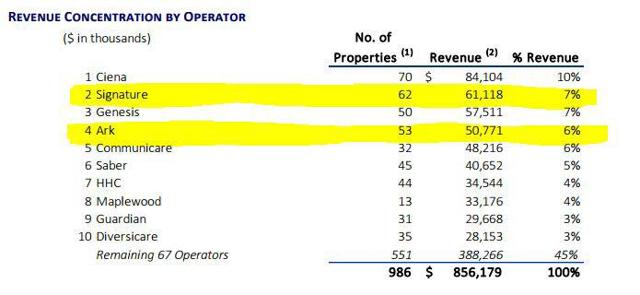 3 top 10 operators are responding to information requests made by the DoJ. 1 top 10 operator is ongoing discussion for the DoJ with respect to potential settlement. At this time, it's too early to determine the outcome of this operator's settlement discussions or any of the other DoJ inquiries.
Then Dan Booth, COO of Omega, said:
The first of these private operators and one which we discussed on our last earnings call, has continued to experience the quarterly pressures, despite finally showing signs of operations improvements.
Coverage for the trailing 12-months ended March 31, 2017, remained slightly below 1x. However, results for the standalone first quarter was 1.12x and year-to-date results through May remained consistent.
Efforts to manage previous operational pressures have included the following initiative, replacing the entire executive management team, including a very recent and significant downsizing of both corporate and regional staff; establishing a new disciplined corporate culture which involves replacement of majority of facility level management; rebranding its corporate identity; revising its mission statement; and implementing new business practices; negotiating numerous vendor contracts; and lastly establishing a centralized reform network.
Additionally, Omega has helped concentrate this operator's geographic footprint by selling off 6 of the 7 Northwest facilities to third-party operators. One remaining facility in the Northwest is expected to be sold on August 1st pending regulatory approval. Omega has also transitioned this operator's entire Texas region which consisted of 9 facilities, to another existing Omega tenant.
We're consciously optimistic that the combination of these efforts will result in steadily improving margins and eventually return to its formal profitability…any further deterioration and or the failure of tenant to achieve its budgeted plan may result in cash basis accounting and a potential review of the value of these capital lease assets.
This operator that Booth is referring to is Ark that represents around 6% of Omega's revenue, or approximately $44 million annually. My back-of-the-napkin analysis suggests that the worst case for Omega is to reposition all of the Ark properties and rent them out for $35 to $38 million. At the midpoint this re-trade would cost Omega around $.01/share in quarterly FFO.
The second of the aforementioned top 10 private operators, while experiencing modest labor and SNF issues, has had the added challenges of recent slow appeal geo plans particularly in Kentucky and OIG DoJ investigation that has resulted in ongoing settlement discussions.
While Omega has reached a tentative amicable restructured plan with this tenant, the ultimate successful resolution with these other constituents will possibly be necessary to conclude a successful adequate settlement. It is important to note that Omega's specific standalone portfolio, while down from its historical performance, continues to produce coverage levels only slightly below Omega's overall portfolio need.
In addition, Omega has considerable security deposits and significant personal guarantees to support, what we believe, our short term liquidity issues. As of today, this operator is currently nearing 90 days past due without the application of its security deposit which, in conjunction with our personal guarantees, more than covers the entire past due balance.
This operator is Signature Healthcare and as noted in my article yesterday, CCP owns 45 properties (leased to Signature) that represents around 15% of Net Income.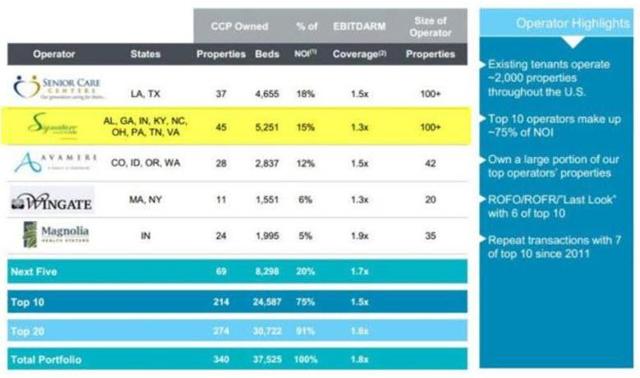 Signature operates around 100 properties; so between Omega (62 buildings) and CCP (45 buildings), the two REITs have considerable concentration levels. Booth (COO at OHI) provided the following commentary,
Overall, while the ultimate outcome of these two portfolio issues could potentially cause a continuing but temporary interruption of current rent and from further discussions, we remain confident in both current management team's expertise. Furthermore, we're confident that the physical assets themselves and strong markets within which they are located provide comfort in the long-term longevity and future success of these facilities.
In addition to these measures referenced above, Omega has also re-positioned a number of assets within the portfolio, including the sale of 23 facilities through year-to-date end of June 30, 2017, the subsequent sales of 1 additional facility in the Q3-17 and a closing of 2 additional facilities. Omega expects to continue these re-positioning efforts throughout 2017.
During Q2-17, Omega completed 3 investments totaling $133 million plus an additional $48 million of capital expenditures. The first of these transactions was a $113-million purchase lease back for 18 U.K. care homes in greater London and Birmingham. These facilities were leased back to Gold Care homes, a new Omega tenant, pursuing a new 12-year master lease agreement with an initial cash yield of 8.5% and annual escalators of 2.5%.

This Gold Care transaction establishes Omega's second operator in the U.K. and similar to Healthcare Homes, Omega's first in the U.K., Gold Care Homes has a highly experienced management team with strong aspirations to grow.
Omega's holdings in the U.K. now consist of 53 care homes across Central London and the Southern and Eastern regions of England. In addition, during the second quarter, Omega completed an $8.6-million purchase lease transaction for 1 skilled nursing facility in North Carolina with an existing operator and provided $11 million in mortgage financing for 3 facilities in Michigan to an existing Omega operator.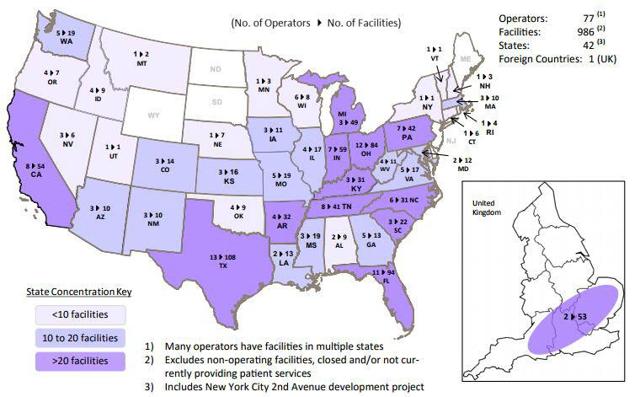 In Q2-17, Omega sold 8 facilities for approximately $46 million, recognizing a loss of slightly under $1 million. The company recorded approximately $600,000 in Q2-17 revenue related to these 8 facilities (5 of the 8 facilities were classified as investments and direct financing leases and 2 as held-for-sale).
In April, Omega completed the issuance of $700 million of new bonds by issuing $550 million, 4.75% notes due 2028 and adding $150 million to the existing $250 million, 4.5% notes due 2025. Proceeds from the bond deal were used to redeem $400 million 5.875% notes due 2024, repay a $200-million term loan and the balance to repay credit facility borrowings.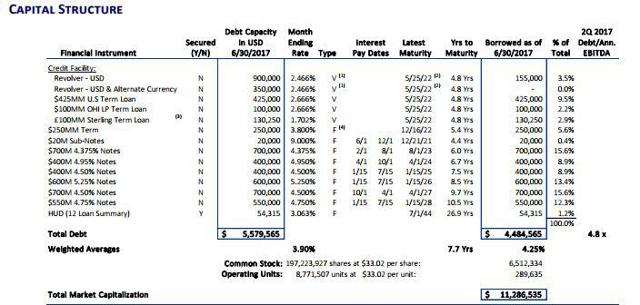 In May, Omega terminated its existing $1.25-billion credit facility and repaid the $550-million term loan while simultaneously entering into a new $1.25-billion 4-year credit facility, a $425-million 5-year term loan and a $100-million 5-year British Pound Sterling term loan.
Omega's balance sheet remains exceptionally strong for the 3-month period ended June 30, 2017. The company's net debt to adjusted pro forma annualized EBITDA was 4.77x and the fixed charge coverage ratio was 4.3x.

As of today, Omega has approximately $1.1 billion of combined cash and revolver availability to fund future investments and provide capital funds to the existing tenant base. Omega is rated BBB- by S&P and the company's robust credit metrics provide an adequate buffer against the possible effects of tenant-related operating headwinds amid Medicare reimbursement changes and regulatory/licensing risk.
Note that Omega is in much better shape than SBRA (rated BB-).
The Latest Earnings Results
At the end of Q2-17, Omega's reportable FFO on a diluted basis was $151 million or $0.73 per share, compared to $172 million or $0.87 per share for the second quarter of 2016.
The company's adjusted FFO was $179 million or $0.87 per share for the quarter and excludes the impact of $23.5 million in interest refinancing cost, $3.7 million of noncash stock-based compensation expense, $2.7 million in provision for uncollectible accounts and $1.9 million of one-time revenue.
Omega's operating revenue for the quarter was $236 million versus $229 million for Q2-16. The increase was primarily a result of incremental revenue from over $600 million of new investments, net of asset sales completed since the second quarter of 2016. The $236 million of revenue for the quarter, includes approximately $18 million of noncash revenue and $1.9 million of one-time revenue related to operator earnout that did not happen.

Omega's trailing 12-month operator EBITDARM and EBITDAR coverage for the portfolio remained stable in Q1-17 at 1.69x and 1.33x, respectively, versus 1.69x and 1.33x, respectively, for the trailing 12-month period ended December 30, 2016. Both periods represent a slight uptick over trailing 12-month results for the third quarter ended September 30, 2016.

In Q2-17, Omega also increased the quarterly common dividend by $0.01 to $0.64 per share. The company has increased the dividend by 20 consecutive quarters in a row. Also, the dividend payout ratio remains very conservative at 74% of adjusted FFO and 82% of FAD.
Omega increased the low of the 2017 adjusted FFO guidance range by $0.02. The new range is $3.42 to $3.44 per share which reflects $219 million in new investments, including capital investments completed year-to-date.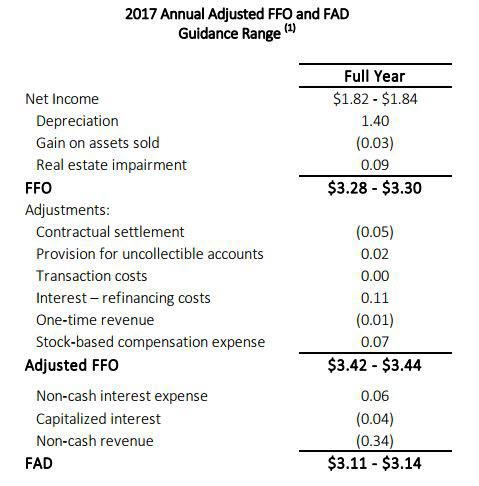 Doing It Well Is What Separates The Best From The Rest
There is no doubt that Omega's business model has been under pressure, but the fundamentals remain sound. I give the management team credit for continuing to drive the dividend, it has become something that investors expect.
Here's a snapshot of Omega's dividend yield compared with the peers (note: SBRA and CCP are shaded in light green):

Now let's compare the P/FFO multiple:

At the end of the day, Omega's superior balance sheet strength provides ample room to capitalize on opportunities in skilled nursing and to enable the company to navigate through some of the challenges that individual operators are facing.
Here's my take on Omega: We know there is risk in owning shares in a Skilled Nursing REIT. Mr. Market also recognizes the operator-driven risks and the likely occurrence that some operators could (and likely will) fail. I consider Omega's management team superior to many other Healthcare REITs' and the forward-looking indicators provide me with some level of clarity that I can still sleep well at night: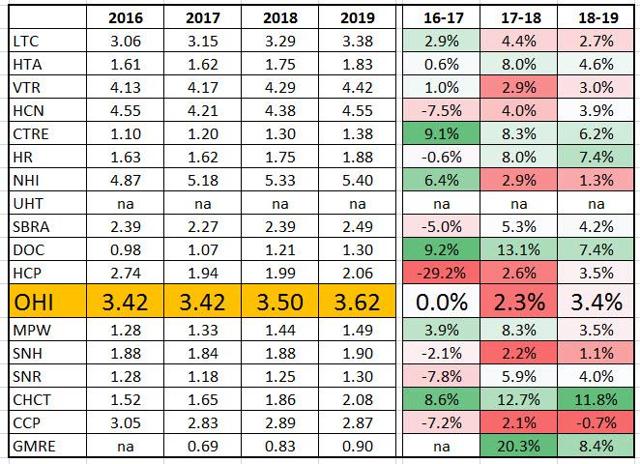 I agree 2-3% FFO/share growth is not exciting, but there is ample cushion to protect the dividend.
Eventually, the skilled nursing sector will fall back in favor, once the industry rationalizes, and the weak hands fold. As you have heard me say before, "the cream always rises to the top" and Omega is well-positioned to be the froth on the Vanilla Latte. I am maintaining a Buy.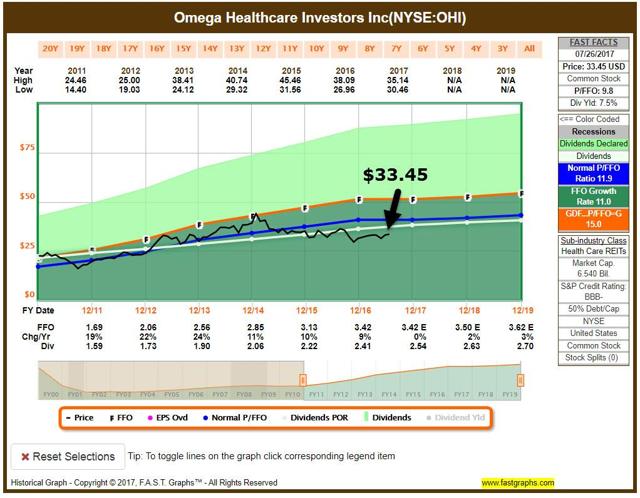 "Second-level thinkers know that, to achieve superior results, they have to have an edge in either information or analysis, or both. They are on the alert for instances of misperception." - Howard Marks
For a limited time, I am providing new subscribers with an autographed copy of The Intelligent REIT Investor. This is a limited offer, so don't miss out!
Note: Brad Thomas is a Wall Street writer, and that means he is not always right with his predictions or recommendations. That also applies to his grammar. Please excuse any typos, and be assured that he will do his best to correct any errors if they are overlooked.
Finally, this article is free, and the sole purpose for writing it is to assist with research while also providing a forum for second-level thinking. If you have not followed him, please take five seconds and click his name above (top of the page).
Sources: F.A.S.T. Graphs and Q2-17 OHI Supplemental and Transcript
Disclosure: I am on the Advisory Board of NY Residential REIT, and I am also a shareholder and publisher on theMaven.
Disclosure: I am/we are long APTS, ARI, BRX, BXMT, CCI, CHCT, CLDT, CONE, CORR, CUBE, DLR, DOC, EXR, FPI, GMRE, GPT, HASI, HTA, IRM, JCAP, KIM, LADR, LTC, LXP, O, OHI, OUT, PEB, PK, QTS, ROIC, SKT, SNR, SPG, STAG, STOR, STWD, TCO, UBA, UNIT, VER, WPC.
I wrote this article myself, and it expresses my own opinions. I am not receiving compensation for it (other than from Seeking Alpha). I have no business relationship with any company whose stock is mentioned in this article.